Color block garments are all the rage this season, so Carrie is going to take a turn to blog about making a color block Tee with the new Tabula Rasa Knits pattern.
I've been thinking about this project for months, seeing lots of color block garments in the fashion news and magazines. I had collected ponté knits in several solid colors so, as with most projects, I began with design decisions. I printed out a copy of our TRJ Knit Tee flats to sketch my design ideas with color pencils. I tried lots of arrangements until I found a design I liked.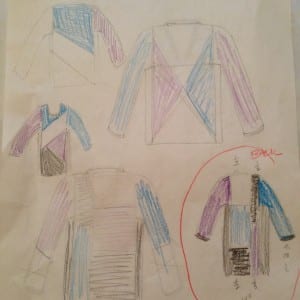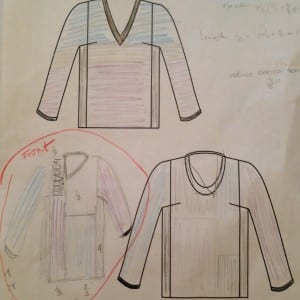 Before getting into the color block construction, here are a few other preliminary design decisions I made:
• Since Tabula Rasa construction really lends itself to piecing, I decided to cut each sleeve and each side from a single color and piece only the front and back together.
• I was concerned that all those interior seams would be irritating, so I planned to reduce bulk by pressing the color block seams open and topstitching them down. You could choose other finishing methods for those color block seams, such as zigzagging the edges or serging.
• I thought it would be helpful to have a full front and full back pattern piece to keep my design in order.  I cut them out of gridded pellon, but you could also cut them out of tissue.  ( The pellon grid also made it easier to measure the color block units and is see-through enough to allow you to "fussy cut")
• I added 3" to the length of front, back and side patterns to make my top longer and less fitted than usual, more like a tunic. This seemed appropriate for ponté, which is a little thicker and heavier knit.
• Because I wanted the top to be looser, and because ponté is not as stretchy as many of the knits we use, I decided to sew 3/8" seam allowances when inserting the sleeve/side unit into the body of the top.
• As part of the design, I also decided to shift the point of the V-neckline to make it asymmetrical (but the process of inserting the neckband is the same).
These are the steps I followed to assemble my color blocked front and back: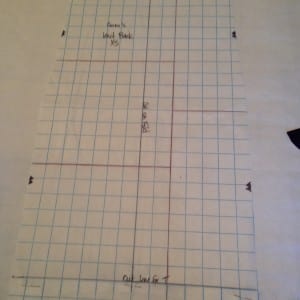 • I drew my color block design lines from the sketches onto my front and back pellon patterns.
• I measured each block and added 1¼" to both height and width for seam allowances. Then I cut out blocks of ponté in the planned colors and laid them out on top of the pattern pieces.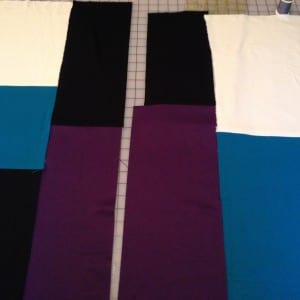 • First, I sewed blocks together along horizontal seams, both front and back.  I pressed each seam allowance open and topstitched each one ¼" from seam line in matching color thread.
• I laid the assembled sections on top of the pattern piece again, matching the drawn seam lines.  Next I sewed these sections together along vertical seam lines, pressed seam allowances open and topstitched as before.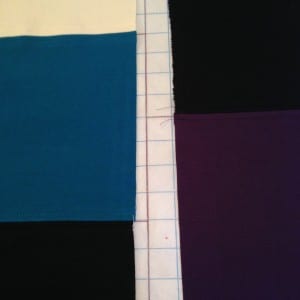 • I laid the full pellon patterns on top of the blocks assembled for front and back, aligning the lines drawn on the pattern with the color block seams, and pinned them in place.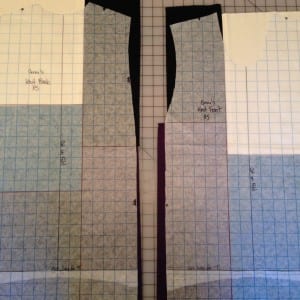 • I used my Styling Design Ruler to determine the shape and location of the V-neckline and drew it on with chalk.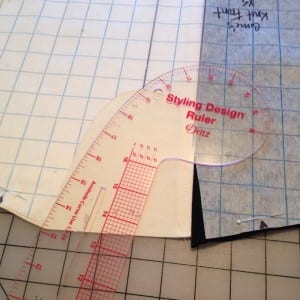 Finally, I cut out the front and back, sleeves and sides.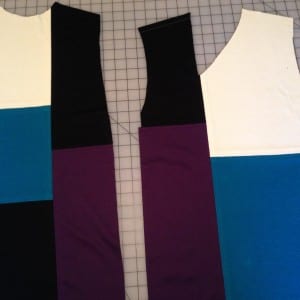 Now I was ready to construct my color block top according to the Tabula Rasa Knit Tee & Tunic instructions!  I hope you will try a  color block project, too.  We'd love to see your top if you do!
You will be able to see this finished top and lots of new samples at our upcoming shows:
We hope to see you there!