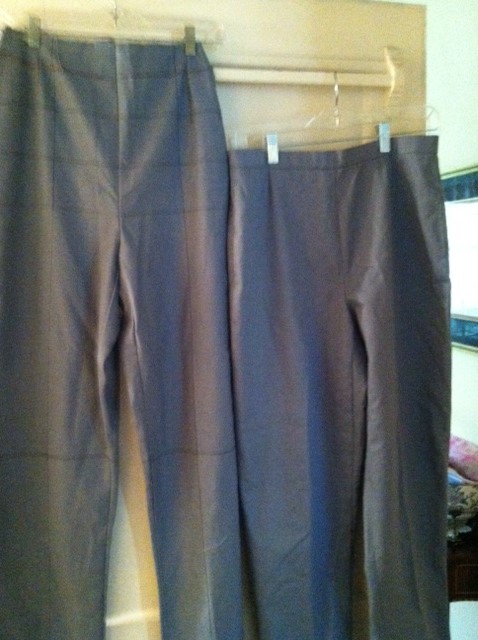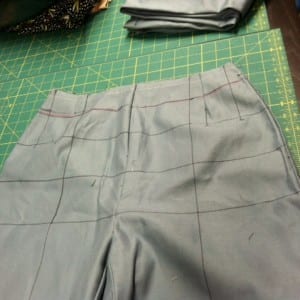 Teaching weekend pants classes is one of my passions; each time I teach pants I meet new sewing friends who want to begin their Eureka! Pants that Fit journey with Fit for Art.  This past weekend I was in East Berlin, PA at The Manning's Handweaving Center helping 9 wonderful sewers learn about sewing great pants with a personalized fit.
Each participant in any pants class I teach is asked to bring 5 yards of light colored bottom weight fabric, without stretch, to use for their mock-up and their first pair of pants.   Since this seems to be a directions many stitchers find impossible to follow, I am going to explain my reasoning with the hope that if you begin a Eureka! Pants journey, you will begin in a way that assures the journey will be a long and successful trip.
Lets unpack each element of the fabric requirement separately:
5 yards of fabric – This yardage allows you to make both your mock up and your first pair of pants from the same fabric.  Based on years of experience, I can attest to the fact that each piece of fabric makes a little different pair of pants.  The drape is different and therefore the way the pants fall down the leg and sit into the waist can also be different. A bit of adjustment is often required for each pair of pants to be perfect.  If you work on your pattern using the same fabric for your mock-up and your first pair of test pants, then you do not have this difference to contend with.  It makes the process move more quickly and your pattern work more accurate.
Bottom weight fabric – This is essential to getting a good pattern from your mock-up and test pant.  If you use muslin, the pant does not have enough drape to sit like a real pair of pants.  The fit, which already requires a fair amount of tweaking during the pattern making process, will need even more adjustments because you have begun with a very different fabric than you will use to make finished pants.  Choosing a stable twill or other pant weight cotton or cotton/poly blend will assure that the mock-up and test pant hang correctly and do not stretch during the fitting process. It allows you get a good fit and therefore a good pattern more quickly.
Light colored fabric – Maybe you do not like wearing light colored pants, but there is good reason for this request. On your mock-up you will draw a number of horizontal balance lines, grain lines and dart guidelines which must be visible to assist in the process of fitting the pant.  It is hard to see the lines on a dark fabric; it is also harder to see the problems on pants in a dark fabric.  That is why we like dark pants so much, but for pattern development purposes, light to medium colored fabric is essential.
No stretch – Here again, you love pants with a little stretch, but be patient.  Fabrics that contain spandex or other stretchy thread in the weave are quite variable in their stretch-ability.  If you make your mock-up and test pant in a stretch fabric, then when you use a fabric that is not stretchy or has less stretch, the pants will be too tight.  Likewise, if you use a fabric with more stretch, the pant will be too big.  Our direction book tells you how to adjust the pattern to accommodate stretch fabrics after you have established the fit for your curves in a woven fabric,.
We are in such a hurry to have great pants, and I truly understand that, but taking the time to do the fitting and pattern work and then wear the test pant is worth the time and effort.  This investment will ensure your pattern is correct; it is the most important tool you need to make pants that fit your body and your lifestyle.  Read my previous blog posts "Black Pants Weekend" part 1 and part 2 about making pants once the pattern is tested and dependable.  Consider your fitting process time as the time you would be spending searching store after store to find pants that fit.
I will be writing about pants in this space on the last week of each month. The photos for pants blogs are not very exciting but I believe that information about fitting pants and encouragement in the pants making process is so important.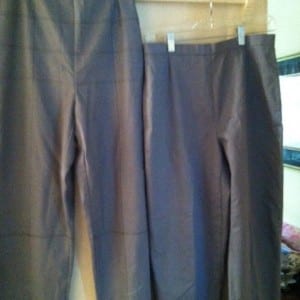 We would love for you to sponsor a pants class in your area or purchase the Eureka! Pants that Fit pattern and sew along as we explore the process of making great pants.  If you are a sewing professional, or looking for a way to turn your hobby of sewing into a business, consider becoming a Licensed Eureka! Pants Professional.  This training will help you provide excellent pants fitting services to your clients and prepare you to offer classes for home sewers and sewing stores in your area.  Our next licensing event is December 8-12 in Baltimore.  We would love to have you join us!