Our winter, spring and summer sewing was great fun this year because we were testing our Tabula Rasa Knit Tee and Tunic patterns.  It is so easy to stitch up these two great square armhole knit tops!  Plan to make several because the more knits you sew, the easier it is to predict the unexpected nature of these stretchy fabrics and to sew with good results.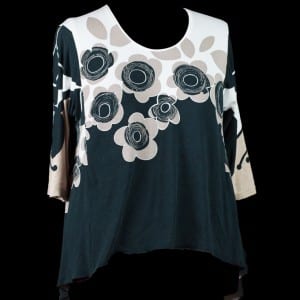 Both the Tee and Tunic look great all in one fabric or in several; consider livening your top up with contrasting band finishes or by mixing several knits to create a very unique top.  In a few weeks I hope to offer tips and tricks for working with knit trims in this weekly blog post since they can really perk up a simple knit top as well.
Just like all the other Fit for Art Patterns, the Tabula Rasa Knits pattern is full of sewing tips and helpful design information in addition to the illustrated step-by-step directions.  You can always find additional inspiration from the samples in our photo gallery.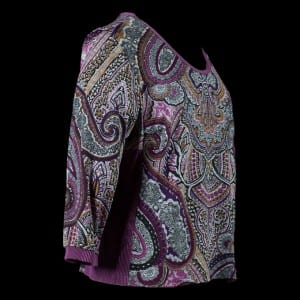 All the testers at our June sew-in loved the swingy Tunic.  It is similar to the Tabula Rasa Jacket with swing variations, but this pattern is designed especially for knits so it fits closer to the body.  The Tee is perfect for wearing under your Tabula Rasa Jackets.  Both feature the same sizing options as offered in our Jacket pattern.  These knits are not skin tight, but you can choose the sizing options that suit your curves so your Tee or Tunic will hang smoothly and comfortably.
We encourage you to order a copy of the Knit Tee and Tunic pattern, find the knits in your stash, and start stitching.
Find fitting information and resources on the Helpful Hints for Knits page or follow my Sewing with Knits Pinterest page for inspiration, ideas and links to tutorials that we found helpful.  There are also some knit specific Common Fitting Adjustments for Knits to help you make a petite or rounded back adjustment in your tops or to add room for a full bust.  The rounded back adjustment, in particular, is a bit different because of the stretchy nature of knit fabrics.
I was just packing for a trip to New York City and had to stop myself from packing only Tabula Rasa Knit Tunics in my suitcase.  For me they are easy to make and effortless to wear.  And of course, we were shopping for knits in New York. We have purchased some lovely french jersey's so we can put together beautiful knit bundles for your Tabula Rasa Knit Tops. We are looking forward to having them at our fall shows, our other fall appearances, and in our web store so stay tuned.
Happy Sewing!  RAE