A celebration of sewing is my description for the annual ASG conference.  Fit for Art Patterns was proud to be right in the middle of the celebration last week in St. Louis introducing our new Tabula Rasa Knits pattern and our new Shirt Variations for the Tabula Rasa Jacket.
I taught everyday: a full day mock-up fitting class on Thursday with the Tabula Rasa Jacket, a 3-hour Sew Drapey class on Friday, a 3-hour Finding Pants Heaven class on Saturday, and on Sunday 3 hours of  Perfect Pockets.  The students who worked with me in each class were wonderful and I appreciate ASG for giving me the opportunity to explore these topics with such engaged sewists.  I hope this message welcomes many of my students to this Sew! Let's Get Dressed Blog.
The Fit for Art booth was, as always, a hive of activity with complimentary jacket fittings, pants fittings by appointment with Sarah Veblen or me, lots of folks looking at our inspiring samples, and of course buying patterns and fabric or adding new variations to their Fit for Art collection.  A special thanks to Tina and John Colombo for their help with set-up, and to Tina, Monica Walker and Wendy Grossman for their help during our busy booth hours.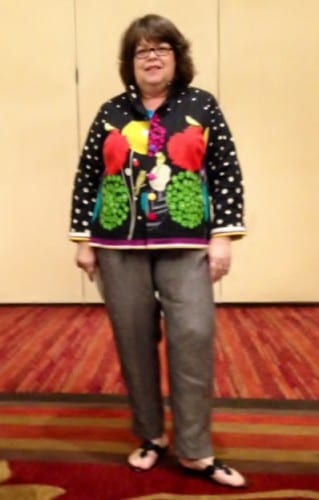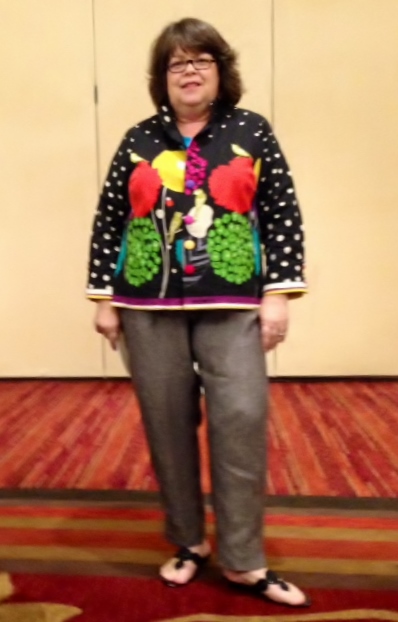 We snapped a number of photos of our ASG friends in their Tabula Rasa Jackets or Vests and Eureka! Pants that Fit.  Hope you caught glimpses of them on our Facebook page.  We were delighted to be located right next to our friend from Chicago in her booth for Soutache, a purveyor of wonderful ribbons and buttons, and across from our friends at J.Stern Designs.
Other highlights included:
My walks down the fashion show runway sporting our two newest patterns with matching Eureka! Pants that Fit.
The announcement that our friend Robin Bolton won the audience choice award in the "doughnut" contest.
The inspiring keynote address by Nancy Zieman with highlights from her book, Seams Unlikely.
Breakfast with friends from the Creative Machine Yahoo Group.
Dinner and a studio tour at the St. Louis home of our friend Helen Houghey.
Dinner at Charlie Gitto's, a St. Louis institution, because I love Italian food.  The Beef Ravioli was excellent.
Joined by Sarah Veblen on our long drive home, we spent hours telling each other stories and remembering the fun times.
Now that we are back, you too can order the Tabula Rasa Knit Tee and Tunic pattern and Shirt Variations for the Tabula Rasa Jacket.  Check out our photos of these new tops in the Photo Gallery.  We hope they will inspire you to start sewing with these fun new designs!