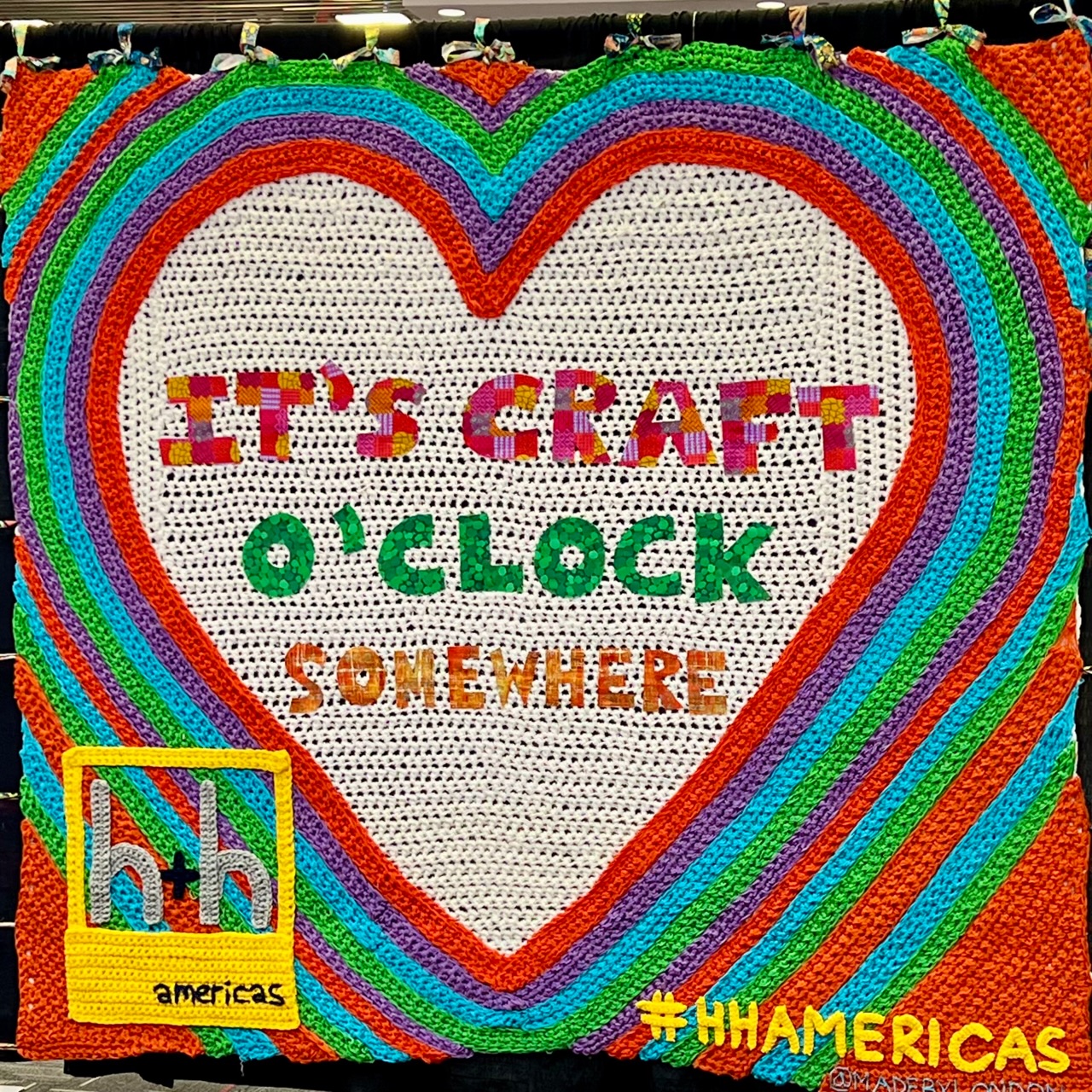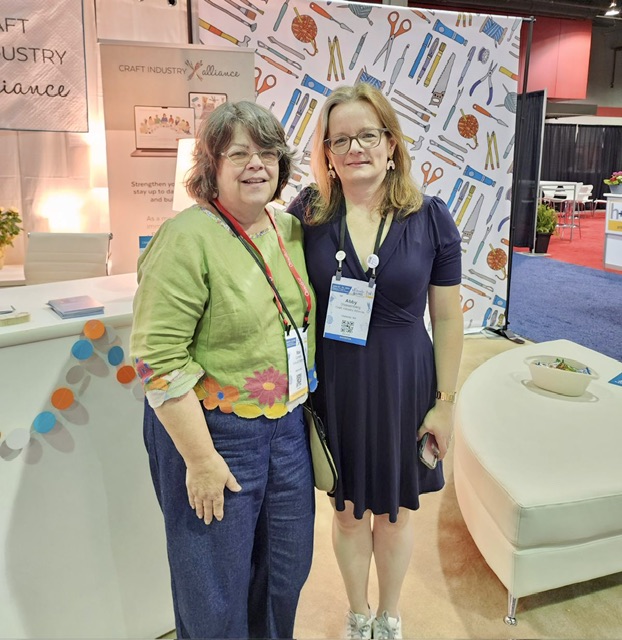 Last week we treated ourselves by attending h+h americas a trade show dedicated to the crafting industry.  The event was promoted as "the place where creativity meets business" and delivered on its promise!  Rae and Carrie enjoyed listening to speakers and educational presentations, making contacts with suppliers, meeting quilt and fabric shop owners, and the beautiful displays.
While the organizers are well known for their European craft trade show, h+h cologne, this was h+h americas second year.  Our trade association, the Craft Industry Alliance, partnered with h+h to plan the business focused program and speakers.  If you are a crafter in business, or aspiring to do more with your craft, consider joining the Craft Industry Alliance.  We've been grateful for the CIA community and its resources, which include business education, contacts, discounts, and weekly news about the crafting industry, to name some of the benefits. We hope the h+h americas event continues to grow in size and scope. 
A significant portion of the h+h americas exhibitors hailed from the knitting and crochet industry. They provided lots of eye candy, such as yarn and knitted garment displays. Other needleworkers, such as embroidery and cross stitch vendors, also displayed their colorful wares.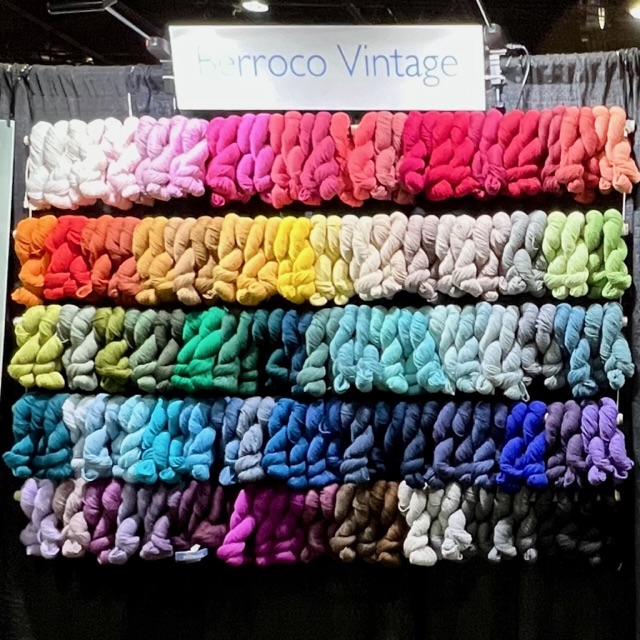 The booths of fabric vendors were of greater interest to Fit for Art. Most of the fabric companies featured cotton quilting fabrics, so we were delighted to find Orimono Imports, wholesale importers of Japanese fabrics and notions. They had many treasures, but we were especially excited to be able to order some bolts of Kobayashi double weave jacquard cotton for our customers. Some of you may remember the bundles we sold several years ago and Rae's sample reversible Tabula Rasa Jacket, Double the Orient. These fabrics are so beautiful and ideal for a light weight reversible application.
They also had the most adorable novelty fabric we just couldn't resist; Purr-fect Stitches cries out for coordinating Tabula Rasa and Tabby Jackets for kids and their moms (or grandmoms or aunts or….). Look for these fabrics and more to be featured in our store later this year!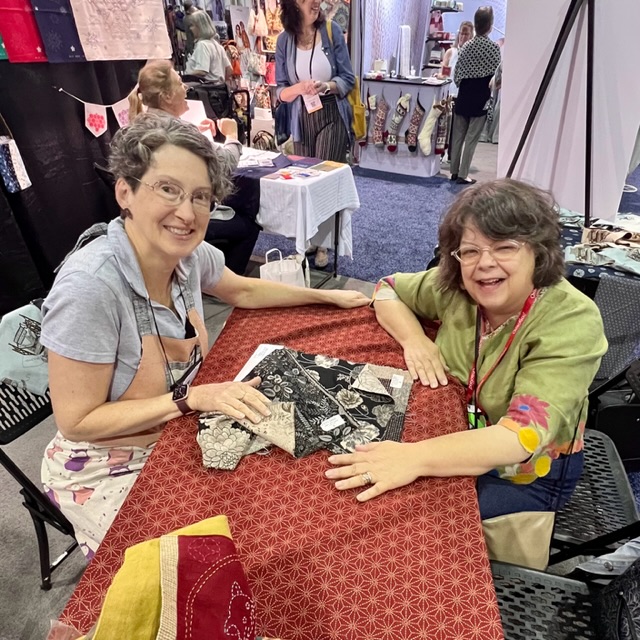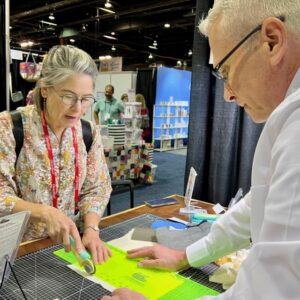 We met up with some old friends from the retail expo circuit including Brint, the Famore cutlery cheerleader. Carrie was impressed with Famore's new rotary cutter with ball bearings and brought one home to test. Like the company's scissors, Famore's rotary blades can be sharpened! I don't know about you, but I have a tendency to nick my rotary blades and they are pricey.
We were thrilled to find another favorite vendor there, Dusty's Vintage Buttons. Many of you are familiar with Michelle's amazing button collection and hopefully have purchased some special buttons at Expos and other events. She told us that she has recently scored a decades old button inventory from a Tuscan shop, so we look forward to seeing more treasures in future. Find Dusty's Vintage Buttons on Facebook.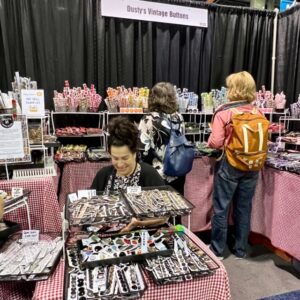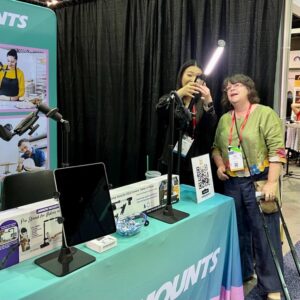 Rae was pleased to find the booth of Arkon Mounts and to purchase a very sturdy camera/phone/tablet mount to enhance our virtual teaching capabilities. This means Carrie may get to borrow the table top version when co-teaching!
Keynote speaker Kathy Cano-Murillo (better known as the Crafty Chica) was especially inspiring. We loved her message to Normalize your greatness! Later that day, Rae and Carrie took her to message to heart, commending ourselves on the amazing business we've built over the last 11 years.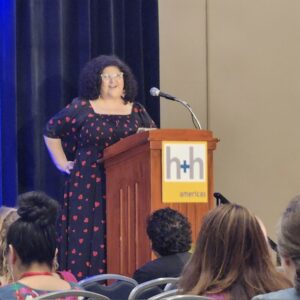 We were so glad to get out and meet some of our colleagues in the crafting industry. This week we look forward to being back in the studio for some summer sewing. We hope you are too!
Happy Sewing, Carrie