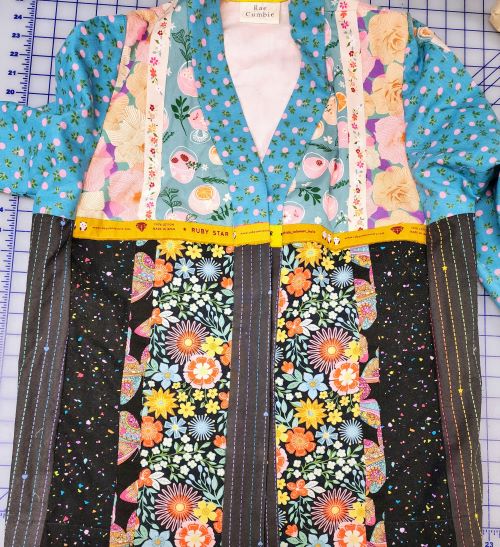 As Fit for Art gears up to launch a brand-new pattern, we are busy sewing samples to test every element of the directions and fit. Each of these samples leaves a pile of colorful scraps in its wake and some of those scraps have made their way into a new pieced Tabula Rasa Jacket.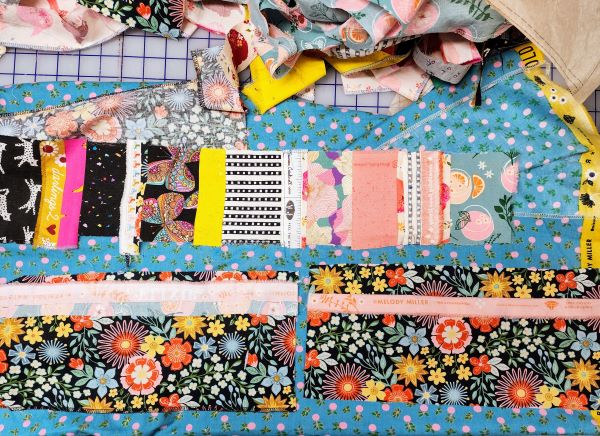 Fun Fabric Helps Kids Learn to Sew
You might recognize some of the scraps from these three samples we promoted on social media in the fall and winter. The adult jacket is made for the grown up who is nurturing a love of fabric and sewing in her daughters and the entire Baltimore sewing community.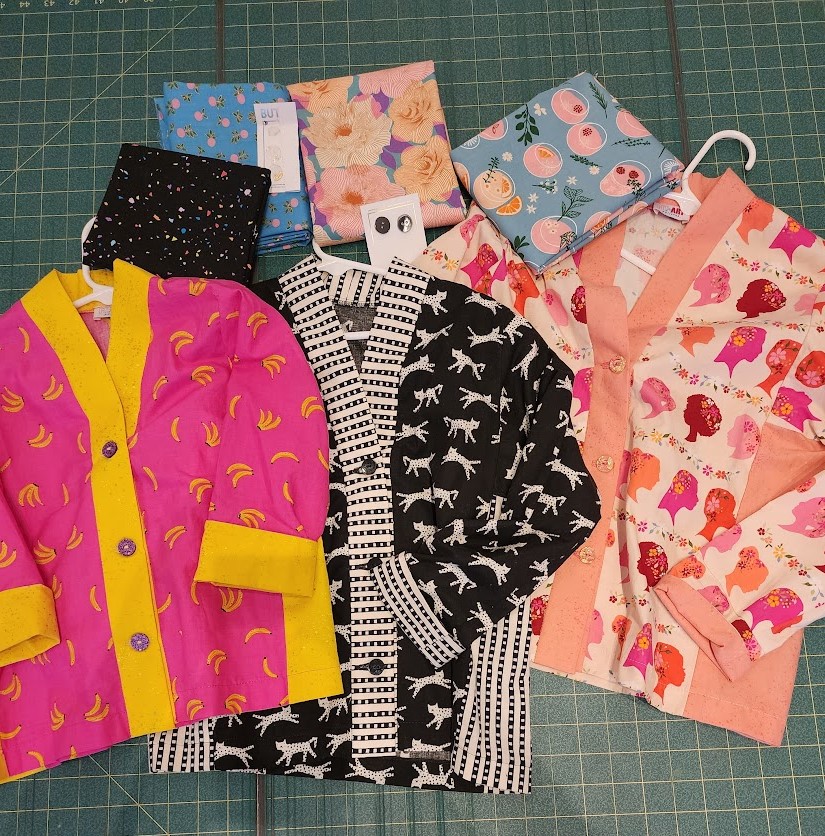 Handmade Gifts are Special
We are so grateful for Christina and her team at Domesticity Fabric Shop and Sewing Studio for encouraging us in our new kids sewing adventure.  And because we love handmade gifts when we want to say thanks, we made a jacket that fits her like a dream and incorporates a fun collection of fabrics found in her sunny shop.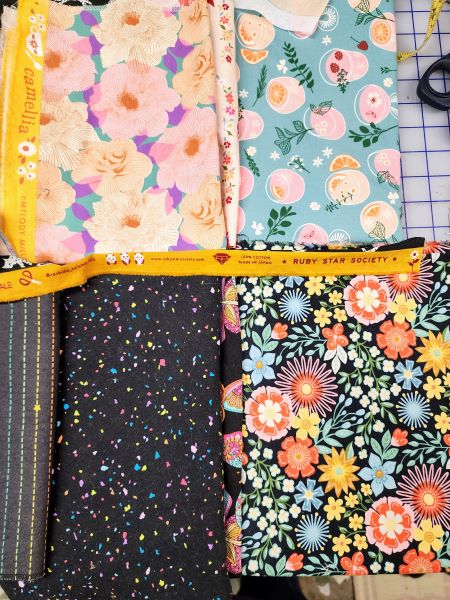 This basic TRJ is sashed along the front and back grainlines, and pieced across the middle horizontal balance line.   In order to incorporate all the colorful scraps and selvage edges in this TRJ, the sleeves and front band lining are decorated with scraps of print and selvage edged fabric stitched into a colorful strip insertion.  As Spring unfolds, each of these techniques will be featured in a blog post so anyone with a personalized pattern can stitch them into their own TRJ.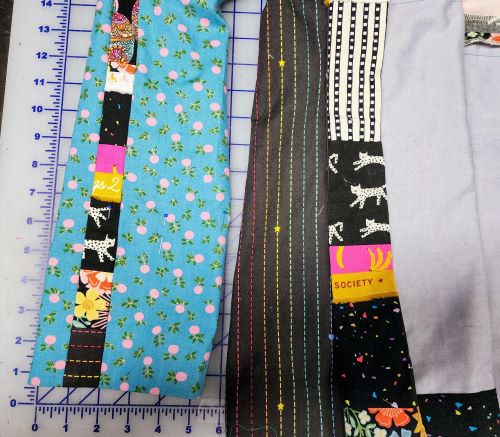 Baltimore Loves to Sew
Our hometown of Baltimore is full of lots of creative folks and this pairing of Domesticity and Fit for Art is inspired.  We will be bringing this new Tabby Jacket pattern for kids to the public April 22 and 23 at another Baltimore institution, the Baltimore Heritage Quilt Guild Show.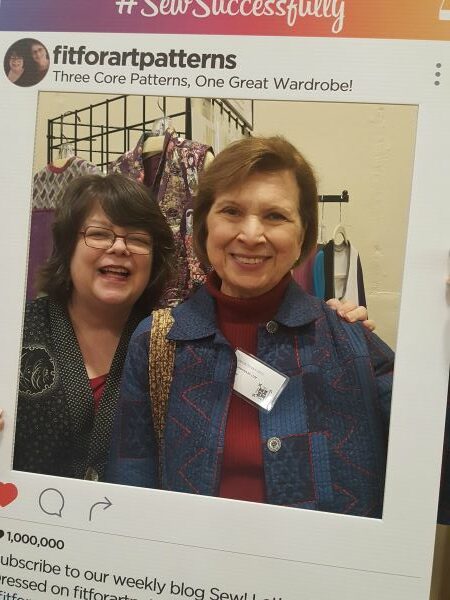 Any fabric lover within miles of the Maryland State Fairgrounds should plan to attend this wonderful event featuring 4 years worth of creative and beautiful work by regional quilters.  This year's show will be bigger and better than ever as it is the first since 2019.
Domesticity will be showing their full line of Bernina Machines and lots more fabric fun.  Fit for Art will be on hand to size jackets for kids and grownups.  We will have both the Tabula Rasa Jacket patterns and the new Tabby Jacket pattern for kids so you can get started on an intergenerational jacket sewing adventure with the kids in your life. The gender-neutral Tabby pattern, in size 2-12, has directions for kids to sew on their own plus extensive suggestions for the grown-ups helping them sew.  Our goal is to assure pleasant experiences and successfully made garments as the generations gather around the sewing machine.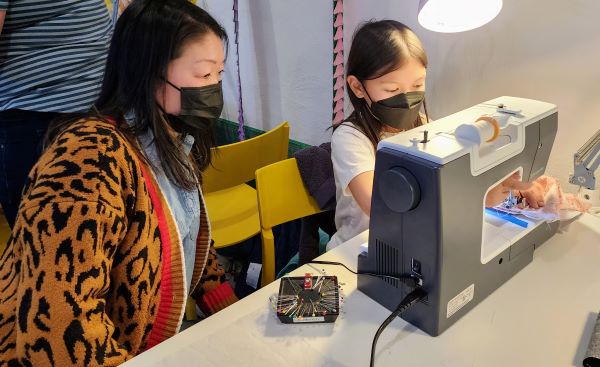 One More Special Thank You
Here is one other Baltimore connection to add to the Tabby Jacket story. Our colleague Edye Sanford was our partner in developing this fun new pattern. We are indebted to her for her knowledge and experience sewing with kids which enriched each step of the pattern preparation process.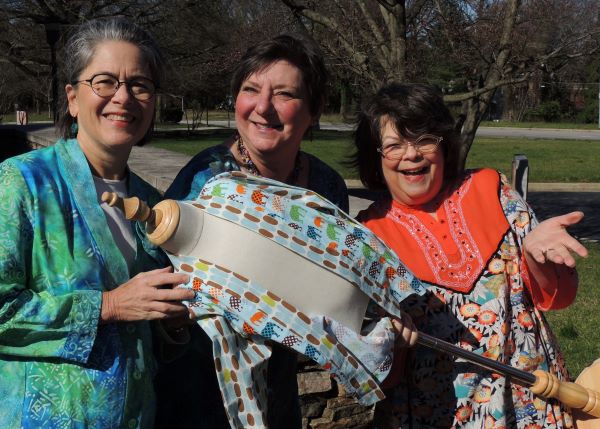 If you cannot join us at the quilt show, be sure to check out the new pattern online, beginning April 24th. Then watch this blog for occasional posts to assist you on your intergenerational sewing journey.
Happy sewing, RAE