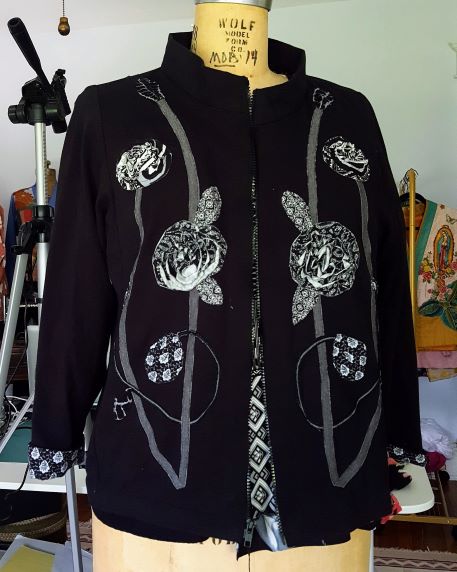 Do you love of embellishments as much as I do? And there always seems to be new challenges and new ideas that capture my attention. It starts the planning juices flowing but sometimes a busy schedule interrupts the project and when it is revisited, the design idea moves in a different direction.
The First Plan
In late 2019, Fit for Art went on a weekend retreat to sew samples for the Twinset Variations of the Tabula Rasa Knit Pattern which would be released later that year. Packed in the car, but left languishing, was heavy black interlock, a long separating zip and a collection of scrap knits in black and white prints. A single large flower sample with a cute button center had been made earlier in 2019 and was the basis of the inspiration.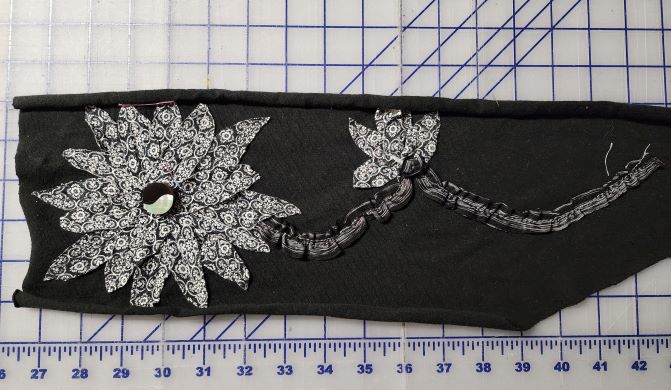 When the calendar turned to 2022, I revisited the collected fabrics and the flower sample in preparation for a new class, Notable Knits. The fabric was a great basic and a zip cardigan seemed like a fun and useful idea, so I set to work. Trouble is, the large flower with the button center seemed too big for the project. Questions loomed in my mind about how to place such large individual flowers in non-flower colors.
Rethinking the Plan
While a redesign can slow things down, sometimes it feels like the best idea.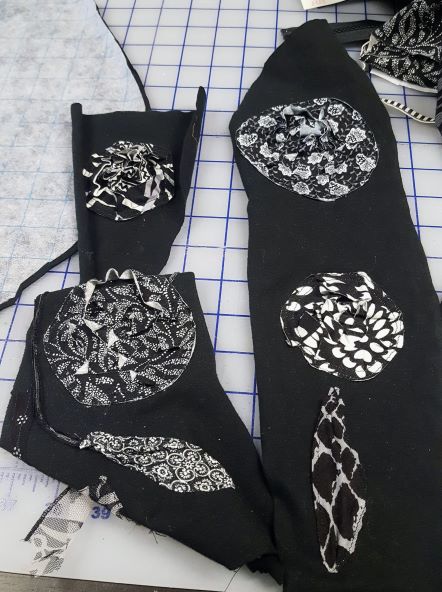 A Pinterest search or two led me in a more intriguing direction. The Mackintosh Rose has always fascinated me, why not try them in knit jersey using an art nouveau design structure. (Check out Fit for Art's Inspiration page for a start). After printing some favorite Pinterest images, the sample making and sketching began to test ideas.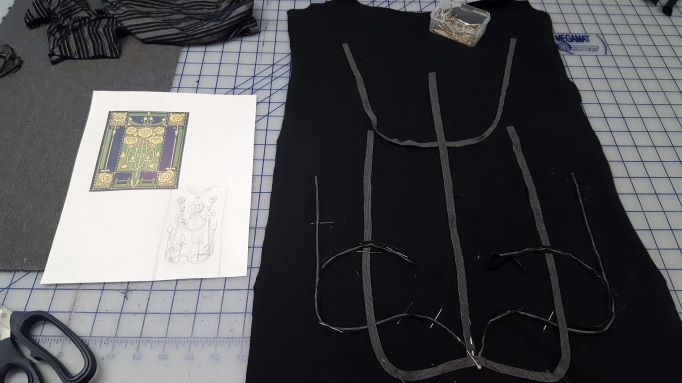 Executing the Plan
Because Google Photos dates everything, I know the initial design work and the cardigan back were completed in March and used in the Notable Knit class in Atlanta. The cardigan was not finished until late April.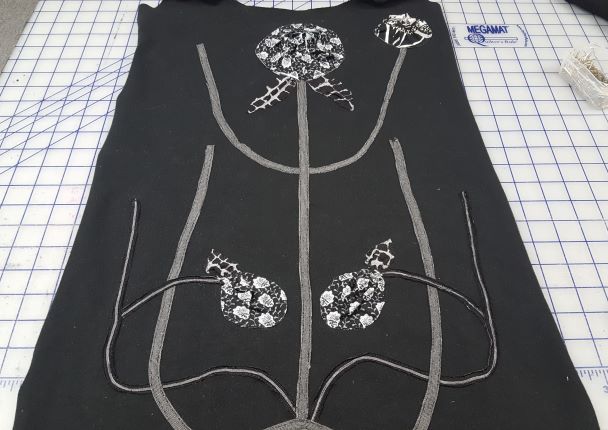 All the embellishment was machine stitched in place using a stretch friendly lilting straight stitch. The design layers were stitched on in succession, starting with the stylized grey stems.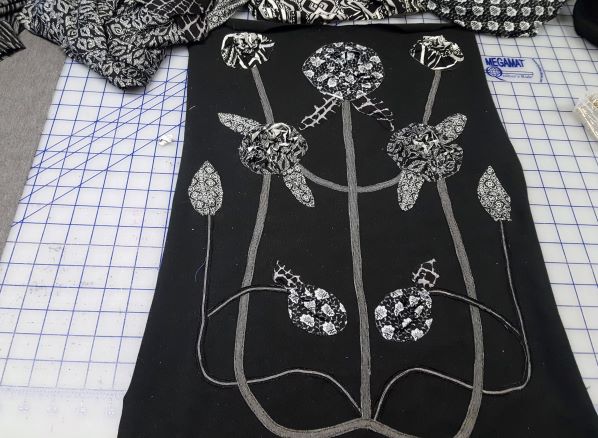 I do this work best in the mornings when I am fresh and so this project was spaced out over several morning sessions. The trickiest part was creating mirror image fronts, which are not perfect, but then again, no two flowers are exactly alike.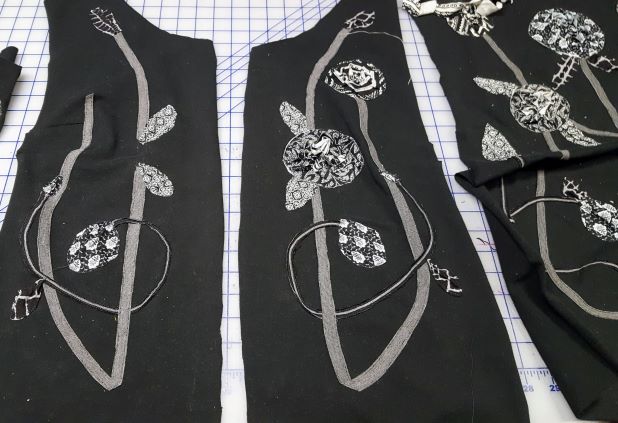 Assessing the Success of the Plan
The heavy interlock base was stable which suited the added weight and depth of the embellishments. This project is a win/win, it checks off an unspoken goal to use an Art Nouveau embellishment design on a Fit for Art creation and it is the perfect fanciful layer for chilly airports and plane rides. The black and white goes with just about everything and the soft knit embellishments just collapse comfortably when I fall asleep on my flight home.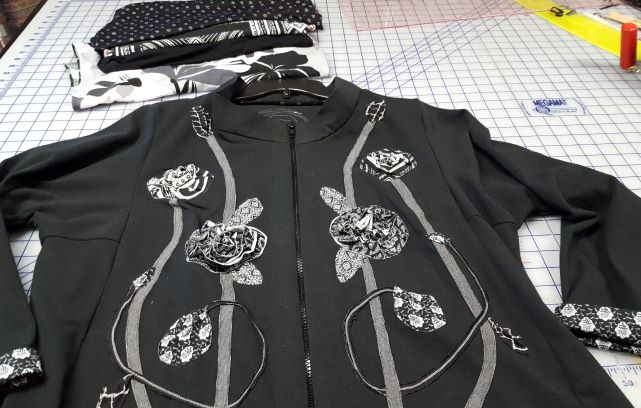 Come see this Twinset variation in Fredericksburg at the OSQE Sept 29 to Oct. 1. It will be in the booth and will serve as a visual in several of my classes including Sew Clothes that Scratch your Creative Itch. This project sure satisfied that need.
Have you every chased a crazy design idea, or changed direction on an embellishment project. Hope it pleased you once it was complete. It was great to know, as I entered into this adventure, that my Tabula Rasa Knit pattern, altered with the Twin Set Variations Tailored Cardigan templates, fits great so the cardigan would be reliably comfortable. See a variety of Tailored Cardigans in the Photo Gallery. This one has not been professionally photographed yet, but it will surely come along to the next photo shoot.
Happy Sewing, RAE