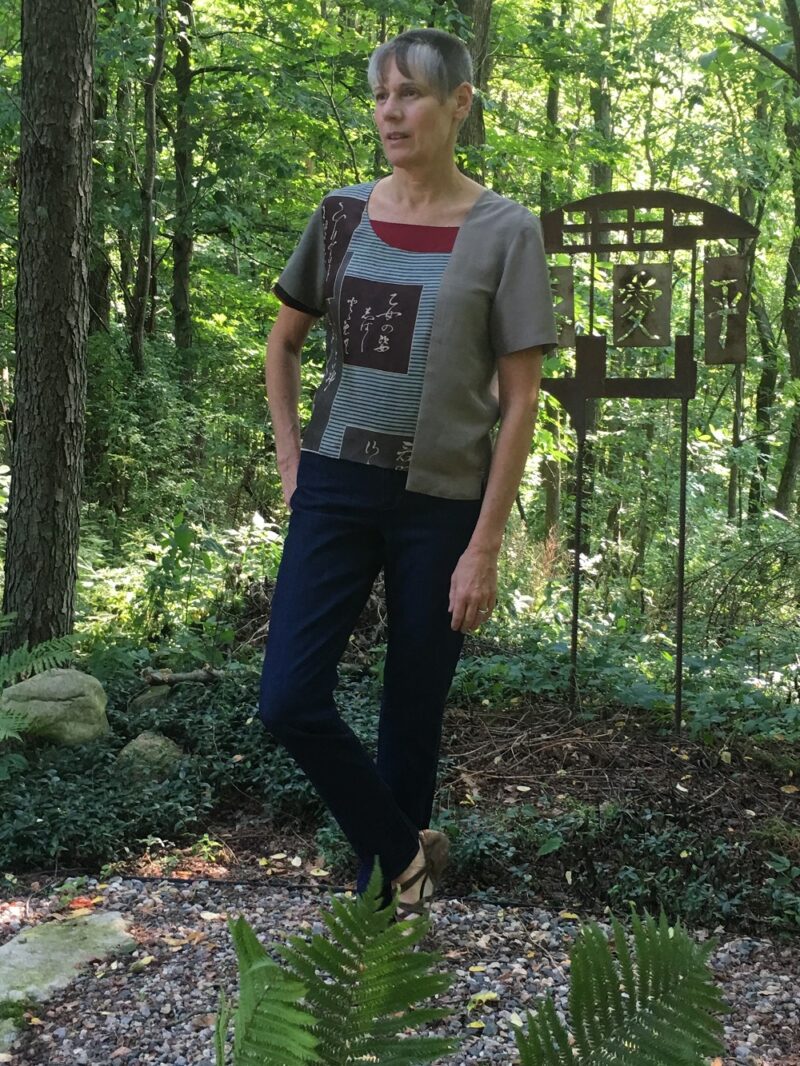 We are pleased to introduce you to Becky Fulgoni!  You may already know her as a Threads Magazine digital ambassador.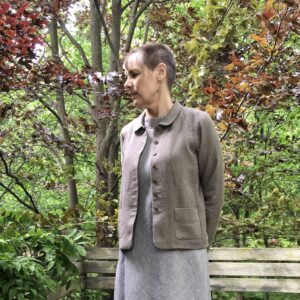 Becky says: "My love affair with fabric and sewing started when I was in grade school.  Being extra tall, sewing my own clothes meant that I could have sleeves and pants that actually reached my wrists and ankles!  I am grateful to have worked in the Guthrie Theater's costume shop where I had the opportunity to do everything from tailoring 1860's tail coats and making armor, to Downton Abby frocks and corsets!  I now sew in Michigan and Key West and keep track of my adventures on my blog Trial Balloons  (tballoons.blogspot.com)."
After reading Becky's Threads post Create Tons of Style from a Basic Pattern in which she featured the Tabula Rasa Jacket as her go-to jacket pattern, we asked her to share her TRJ experiences with us and you.  We hope this will inspire your creative use of the Tabula Rasa Jacket pattern too!
Becky's Tabula Rasa Journey
"I first saw the Tabula Rasa pattern at the Novi, Michigan Sewing Expo, many moons ago.  I tucked it away and forgot about it as you do when you bring piles of stuff home from a sewing convention.  Fast forward a few years, and one of my sewing guild buds brought her pattern back from a sewing show but she was more industrious than I was and wanted to try it right away.  She organized a group of guild members who all wanted to try it, so we could help each other with fit and accountability!!!  I was a bit skeptical because the shoulder seam was very different from other jackets I had sewn.  I decided to try it right out of the envelope which is usually a recipe for disaster.  Hallelujah, I was blown away!  I absolutely loved the way the jacket fit my extra broad shoulders, with literally no adjustments.  I was a convert!  It has become my "goto" starting point for jackets, tops, tunics, dresses….about the only thing I don't use it for is pants!  Becky writes about her first experiments with the TRJ.
Keeping the Fit while Playing with Style
Once I started using the pattern I was determined to figure out why the shoulder configuration worked so well for me when so many others did not.  The problem had always been that if I got the shoulder seam out to the edge of my shoulder point, I couldn't lift my arms up!  I realized that because my shoulder measurement is so much broader than my chest measurement, that the angle that is formed from the shoulder point to the underarm point is quite severe and closes up the sleeve opening.  With the Tabula Rasa the shoulder seam is "cheated" off the shoulder point toward the neck.  This gives ample room for movement and for me, visually minimizes my shoulder girth.  I also am totally sold on the construction that eliminates setting in a sleeve!  I think that is a win, win, WIN!
I am very careful about not disturbing the shoulder arrangement of the pattern.  Because any garment hangs from the shoulders it is important to make sure the fit is great.  Getting that right is key to the success of a garment.  Most other things are up for grabs!  I often change the neckline, sleeve and hem lengths, volume, by adding gathers to the side panels, or shaping them to nip them in at the waist.  I have found that designs that incorporate princess seaming are great candidates for the Tabula Rasa pattern.  I also love it when I'm working with heavier fabrics, like sweatshirt fleece or sweater knits.  The sleeve installation is perfect!  No fussing around in narrow armholes!
Becky tells all about creating this linen TRJ big shirt for sunny days.
Sources of Inspiration
It used to be, when I was a working stiff, that most of my sewing was done to fill wardrobe holes in my work clothes closet.  Working full time and Momming full time meant that when I had a minute to sew I had to make the most of it, so most of my garments were made in the middle of the night and in a hurry!!!  Now that I have plenty of time for sewing, my biggest priority is whether it will be fun to make.  I could never make another garment and have plenty of things to wear, so now my sewing is more about entertainment and the creative process, not so much about building a wardrobe.
Inspiration is a fickle mistress.  I'm never quite sure if or when it will strike.  Very often I find that the fabric tells me what it wants to be.  I often buy a length of fabric because I love it and don't have anything in particular in mind at the time.  I think if you collect things you love, they will always work at some point.  The challenge usually arises when I fall in love with an idea for a garment and the fabric I have is 3 inches shy of what I want!  This is when ingenuity and creativity come in handy!  I actually love the problem solving that is involved in working with "too little fabric."  Read more about Becky's use of a thrift shop find combined with hand knitted sleeves to create this unique Tabula Rasa Shirt Jacket.
The lines of the Tabula Rasa are also a great source of inspiration.  Because they divide the spaces of the garment into thirds visually if not literally.  I find this proportion very pleasing and I think it creates a flattering garment.  Using the design lines as new closure opportunities, or for color blocking, or adding/subtracting volume, usually works out really well.
Look at Becky's fabulous designer sweatshirt inspired by the Tabula Rasa Jacket pattern!
What's Next?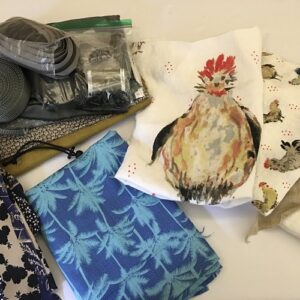 I have recently become a snowbird.  I'm not quite sure how it happened but I now spend half my year in Key West and the other half on Lake Michigan.  My love affair with all things wool is going to have to change.  I am now working a lot with linen (I'm almost as in love with linen as I am with wool!) and rediscovering fabrics like rayon challis and French Terry.  I am finding that garments that touch as few body parts as possible are the ones that I am choosing.  I think I will be adding gathers and gores to my tops as I sew for my new "summer-all-the-time" life.  I am picturing a few dress styles in the near future as well.  I'm also thinking about how sleeveless versions might work.  I know there are vest options, but how to create a version that doesn't require something under it will be fun to figure out. "
Becky is tuned into our Fit for Art trajectory.  We are working on a core dress and tunic pattern now that will include a sleeveless option, so stay tuned!  Thanks for sharing, Becky!  We can't wait to see what is next.  Meanwhile, you'll also find more of Becky's posts on the Threads Magazine website.
Please send us photos of your Tabula Rasa Jacket and Fit for Art Patterns creations!  Or post them to Instagram and Facebook with our hashtags #fitforartpatterns and #sewsuccessfully to inspire us all.
Happy Sewing, Carrie and RAE