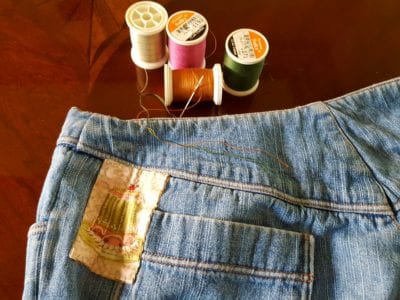 Two months of i-sew-lation has given me time at home to wear all the pants in my Fall to Spring pants drawers and take inventory.  My body has changed shape a little and my preferred silhouettes have changed in the last few years leaving me with an overflowing drawer of jeans and denim pants that feel sloppy and irrelevant.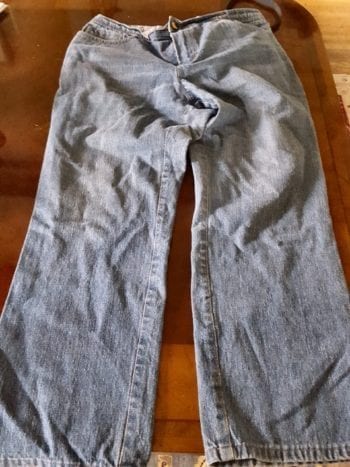 Assessing Pants for Alterations
Just putting on the pants and standing in front of a mirror is not enough of an assessment.  It is so helpful to wear them all day, see how the fabric stretches, how they ride on my waist and hips and decide if I like the length and shape of the leg.  None are perfect as is, so at the end of the day, I decide, can they be altered, are they OK for knock around, should I give them away, or put them in my archive?
Plan for Artful Mending
Two pairs, with very wide legs but sturdy fabric have been altered; one pair had a few worn places that I am patching using a different method than the boro patched jeans I wrote about in the previous post Tailoring Jeans.  It is a nice way to end the day, stitching by hand with little advance planning, the necessary patches to close up the holes and extend the life of the pants.  Sometimes I spend a few minutes looking at my Pinterest pages for inspiration before I start a new patch.
The second pair I pulled apart and am planning to paint them with my Sheva paint sticks.  To test the new leg shape I stitched in the side seam alteration and basted in the inseam alteration.  Then I pulled the inseam alteration to open up the legs to paint them flat. Stay tuned for an update on this project on Instagram and Facebook.  I have not even decided what design to use for the painting.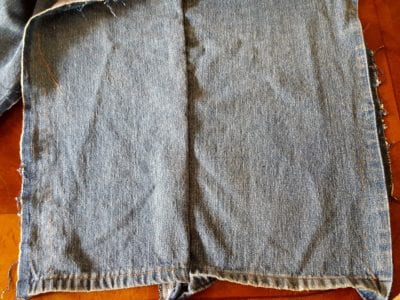 Tailor pants with wardrobe possibilities
Three nice pairs of pants I have taken in from the waist to the knee or the waist to the floor.  The navy and black pairs are Eureka! Pants with Sporty Details. The lighter colored denim pair are Eureka! Pants with the Glamour Details contoured waist and fingertip pocket.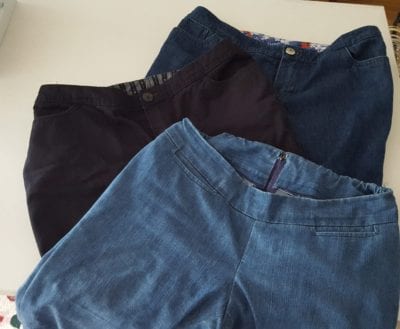 It takes about an hour of ripping to release the top stitching, waist treatment and sometimes the hems in order to neatly reshape the pants.  The fabric is good and the shaped-up pants are useful in my wardrobe.  Re-stitching them adds perhaps another hour to the project.  Two hours is significantly less time than it takes to make a new pair of jeans.
Celebrate and Discard Worn Out Pants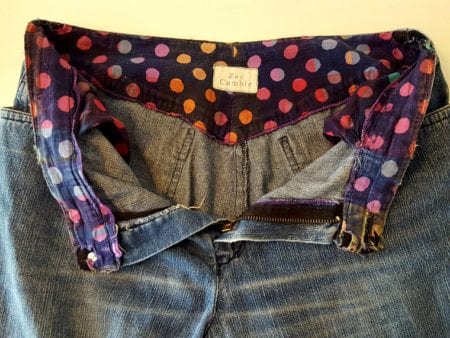 I believe this is the first pair of blue denim jeans I ever made, probably about 15 years ago.  As you can imagine, they are dear to my heart, but they are also threadbare, not even worthy of mindful mending.  What a celebration that I made them and wore them till they wore out.  These little victories encourage me as a sewist.  Now that I have enjoyed the celebration, I will put them in the scrap bag.
Make a Plan for Better Fitting Pants
Have you been "wearing" the clothing in your drawers and closets?  Not only does this process offer an opportunity to clean out a few things that no longer work for you, but it can also help define what you want from your clothing.
What is your ideal fit?  That is a question with a very personal answer.  During this quiet time in our lives, perhaps you can wear, meditate and journal your way to an answer.
When we emerge from our i-sew-lation, plan to join us at a class or retreat to put your ideas into action.  My next step is to begin wearing the pants in my summer pants drawer to make room for my new creations.
Stay well and sew happy, RAE