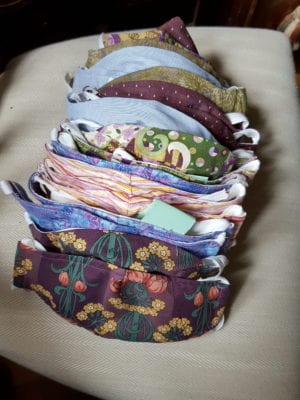 Sewing fills my "normal" days and ideas for new sewing projects usually fill my head, but, the current social isolation has me a bit distracted.  I wonder, is it the same for you?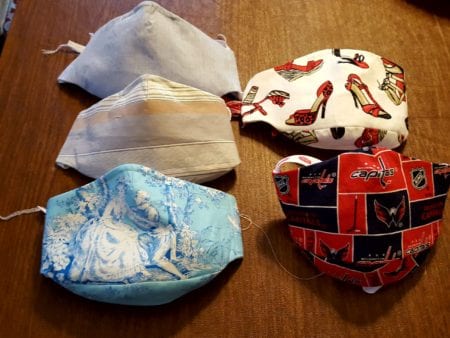 Carrie says it is the social worker in me and it is true that before sewing became my vocation, I worked in nursing home social services.  That translates into my need to check in on your state of being in these unusual times.  I need to share my observations and confessions too.
As we mentioned at the beginning of our sheltering in place, we were hoping to test some new ideas and bring some new pattern ideas to life.  We have slowly moved in that direction but keep being distracted by the news and needs of the world.  For stitchers, that translates into masks and other PPG.  These are a few Carrie has made in the last couple weeks.
Here is my true confession, I am tired of reading all the shoulds and coulds of mask making.  It seems to be everywhere and rather contradictory.  Each post seems to reflect the personality of the sewing writer who, like each of us, is trying to find a path in this crazy storm. Some folks love to keep noodling, reading, tweaking.  This translates into new and improved mask making.  On our virtual ASDP meeting last week we focused on mask making.  A couple of colleagues had made and adjusted patterns for 4-5 different styles.  Other sewing friends, saw and embraced the need early, chose one pattern, established a system and continue to make many, distributing them wherever they feel the need in their community.  All of these systems and any others we devise are valid as long as it feels right.
This is my system, and as I get more entrenched, it seems to fit my current needs.  I am making some for a pediatric children's rehab hospital where I have a friend who is a Doctor.  They need masks for visitors.  My daughter and son-in-law also requested a few and my husband and I need them now that masking is strongly advised.
After viewing several patterns I picked the one by Pam Damour.  I made the first few and tweaked the pattern a little so it is easier for me to construct.  It satisfies the garment maker in me and is easily made with the materials I have on hand.
This pattern allows the fabric to shine, no seams or pleats in the front to distort the look.  Perhaps this is frivolous in such dire times, but adding a bit of beauty into the process has given me the drive to keep making a few each day.  I have even subcontracted the cutting to a local middle schooler who needed something to do.  This saves my hands to cut out other projects on my to do list so we can keep Fit for Art moving forward.
Searching through my stash of cotton prints unearthed some lovely and practical mask making fabric.  As always there were other fabric discoveries along the way which are inspiring new garment ideas.  Perhaps the stash busting mask making will get me back on my creative sewing path, but I am not pressuring myself.  Our good friend Edye, a mask making machine,  sent me a link to this article last week.  It reminded me that these are traumatic times and we all need to be kind to ourselves.
As a high-risk woman over 60 with no medical training, I have to make peace with my limited ability to solve the crisis.  Hopefully my masks will bring some delight to friends and family near to me as well as others I do not know.
We will continue to encourage you in this blog and our media posts with fun new ideas as you find your own path and make peace with your efforts.  Take a minute to comment about your own efforts and heroic mask sewing experiences.  We will be encouraged by your stories and keep you in our thoughts. Take advantage of our April specials (coming later this week) if you need some sewing inspiration or materials. In one box, our starter kit, you can get everything you need but thread to construct a Tabula Rasa Jacket mock up.  Contact us with your questions or for design advice.  We are not far from our computers or our sewing machines.
Be at Peace and Sew Happy!  RAE
PS  Are you grieving not getting dressed up for Easter, Passover or other spring celebrations?  I wore my new TRJ from last week's post and felt fun in it but not dressed up.  Read this archived blog post for a dose of loveliness: Spring Celebration Jackets