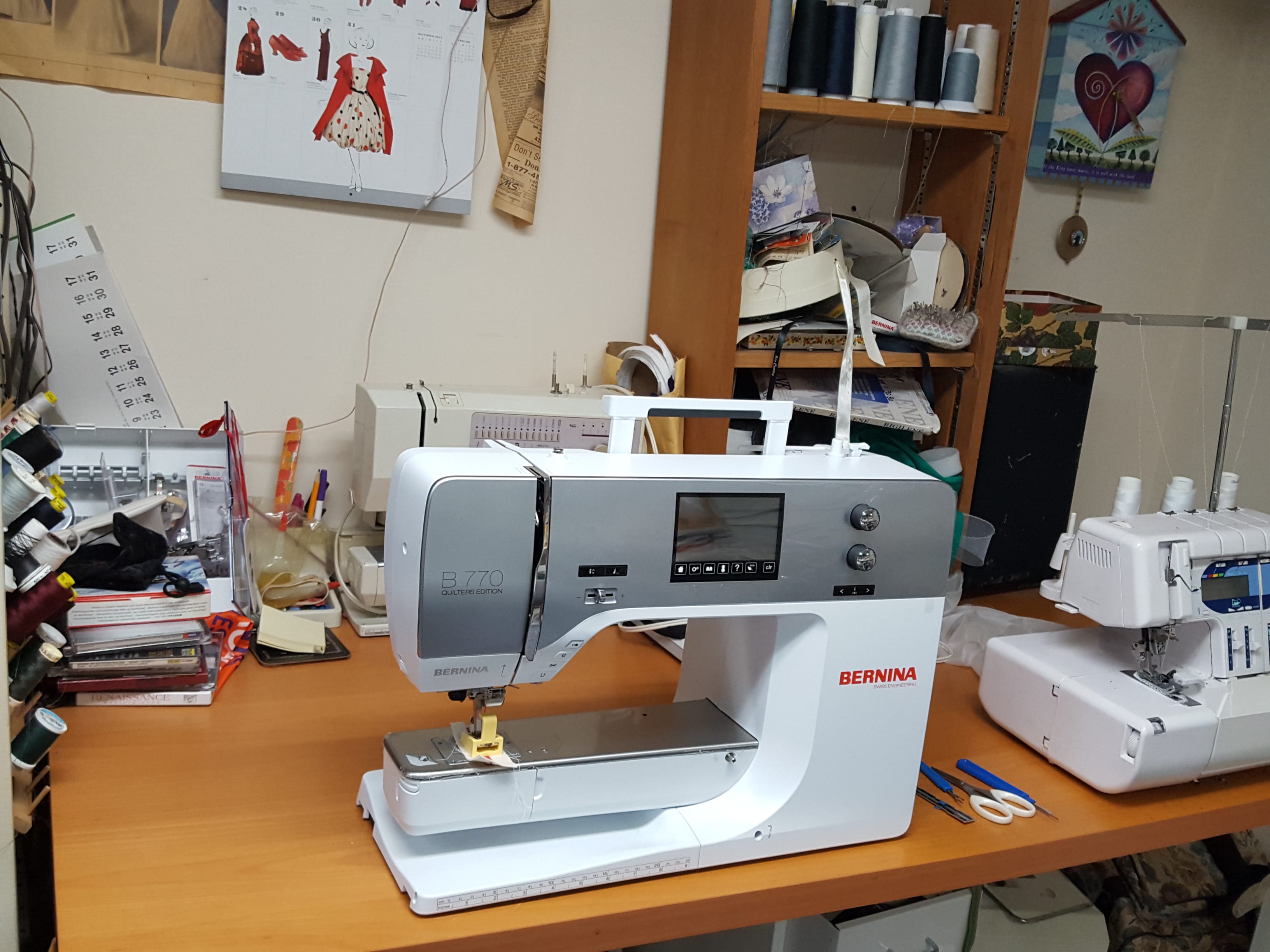 Welcome to Sew! Let's Get Dressed, a weekly blog that encourages you to sew successfully. 
How much do you love your sewing machine?  My primary machine, a Bernina 430, has served me valiantly for many years.  I bought it the year it was introduced (2008?) along with the add-on Bernina Stitch Regulator (BSR).  The BSR was the biggest selling point for me; I really wanted to decorate clothing with free motion raw edge collage but could not master it on my older Bernina 1230.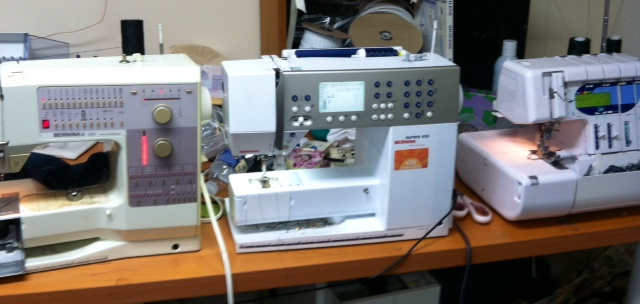 I bought the 1230 in 1989 as my custom sewing business was taking off.  My husband thought if I was going to sew professionally, an upgrade from my beloved Kenmore portable was in order.  My parents gave me the basic Kenmore when I graduated from high school in 1974.  It had been my constant companion as I stitched up clothes in college dorms, in my first apartment, for my wedding, and curtains for my first and second house.
I confess that each machine upgrade was made slowly and carefully and I was happy with the results of each move.  After all, my sewing machine is like an extension of my arms when I am sewing. I depend upon it!
So, explain to me what happened last Monday…  I went to Danner's Bernina Shoppe in Hanover, PA to teach  Surface Design Fun.  The shop had set up a shiny new Bernina 790 with the BSR attachment so each student could make raw edge collage samples.  When the class was over, I stayed and used the BSR to stitch on some sections of a quilted tote bag I had with me.
Every time I visit Danner's to have my 430 or my back-up 1230 serviced, they say "anyone who sews as much as you do should have a better machine".  I always sloughed off these comments in spite of their efforts to have me test drive some newer models because they required different "feet" and larger bobbins.  In fact, when I entered the shop Monday morning, I said, "Oh, my 430 is in desperate need of a tune up, but I am too swamped to bring it in right now."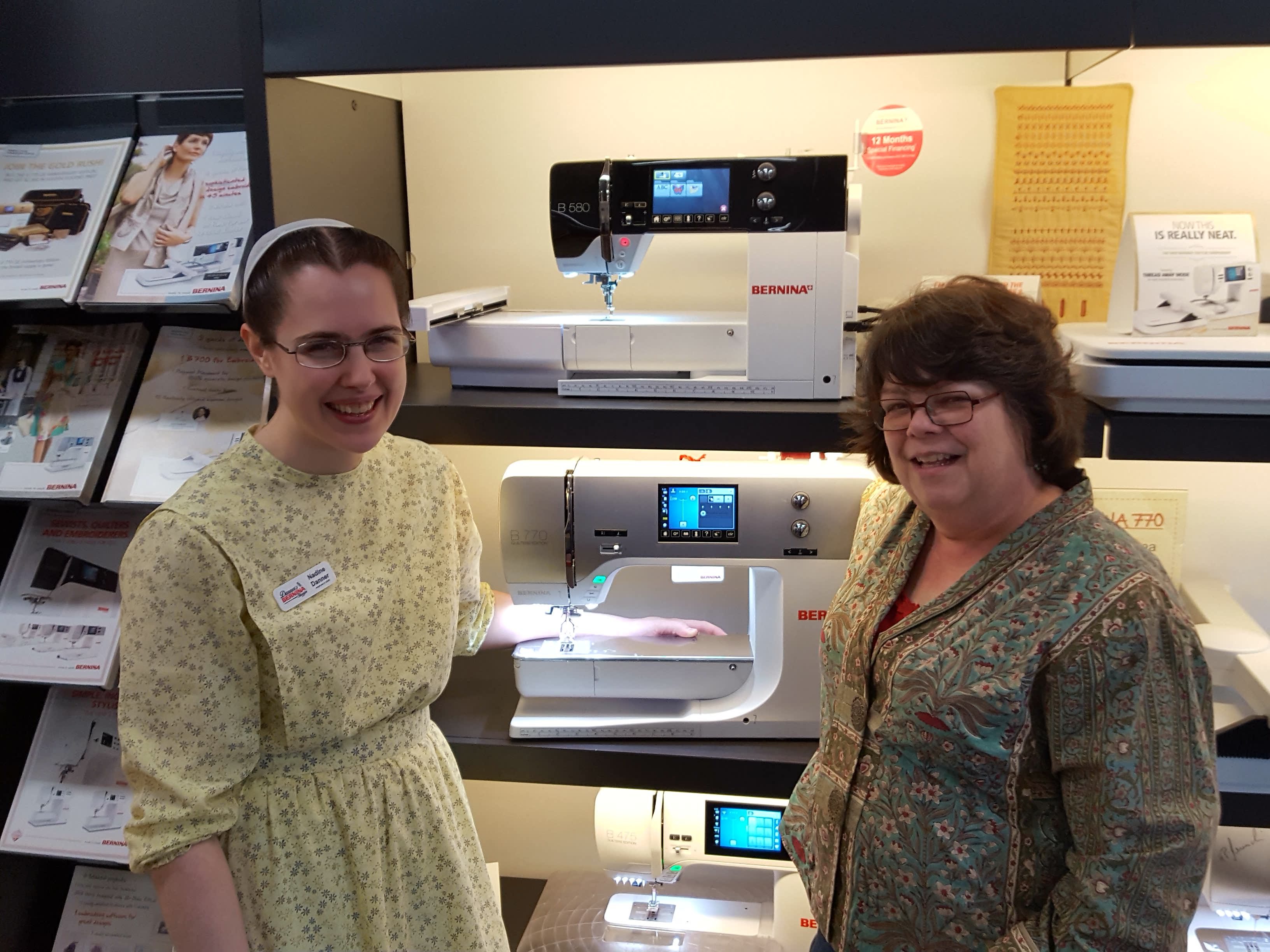 As I was finishing up the free motion on my tote bag sample, Nadine (one of the stores managers) gracefully approached and in her gentle way began telling me about all the great features of this large and very automated machine and of the lesser 770 model that she thought would be perfect for me.  It is a model I occasionally teach or demo with, but I am far from comfortable with its special features.
Perhaps my defenses were down or maybe deep down I wanted a new machine.  We will never know what motivated me to purchase the 770 demo machine, but I did. My husband and I went to pick it up on Saturday and to leave my 430 for servicing.  Nadine quietly reminded me it was good that I brought my old machine in for servicing because it would force me to get acquainted with my new machine.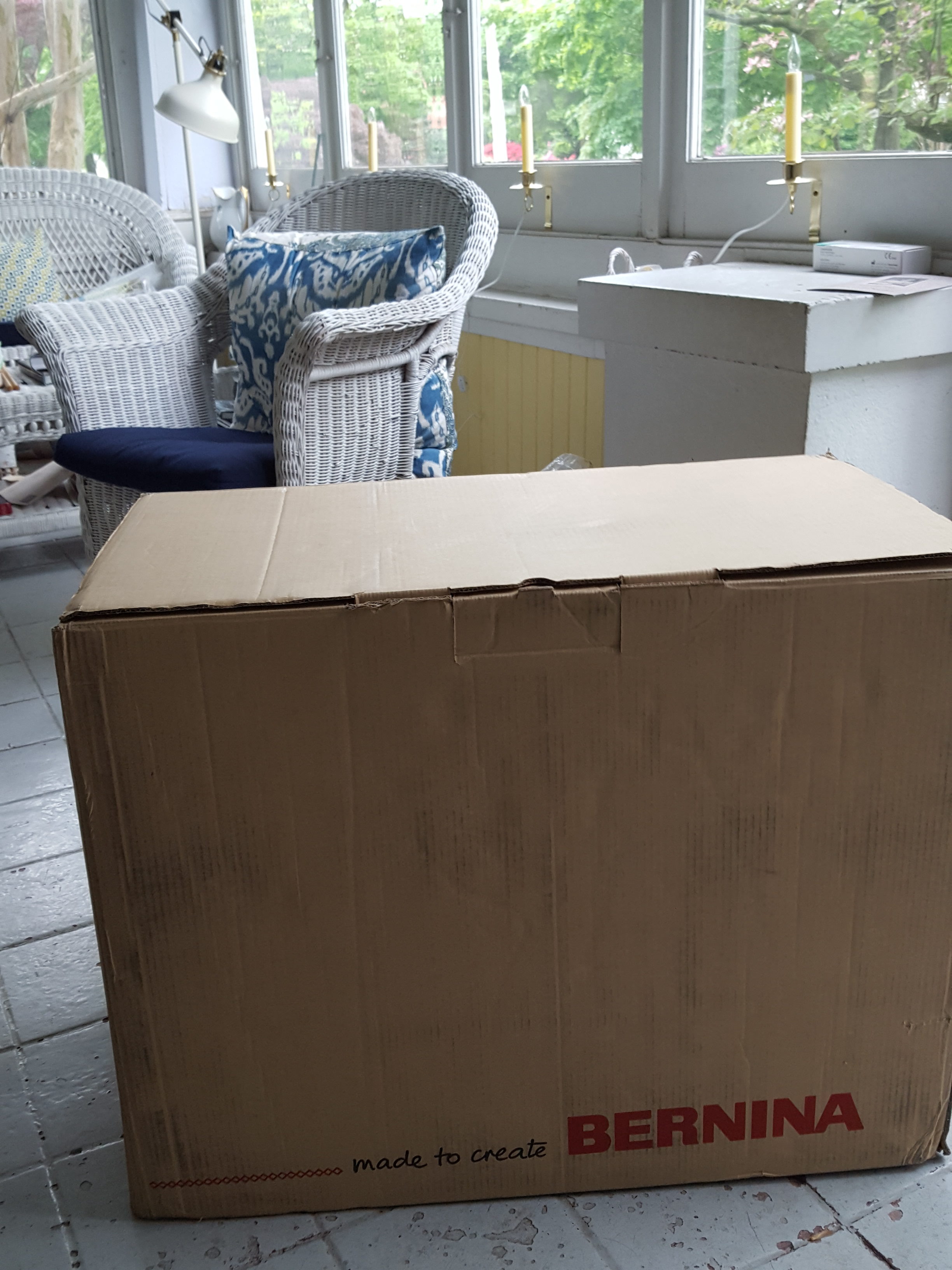 When we brought the giant box home, I went to the studio and cleaned the machine table before placing the 770 in its new home.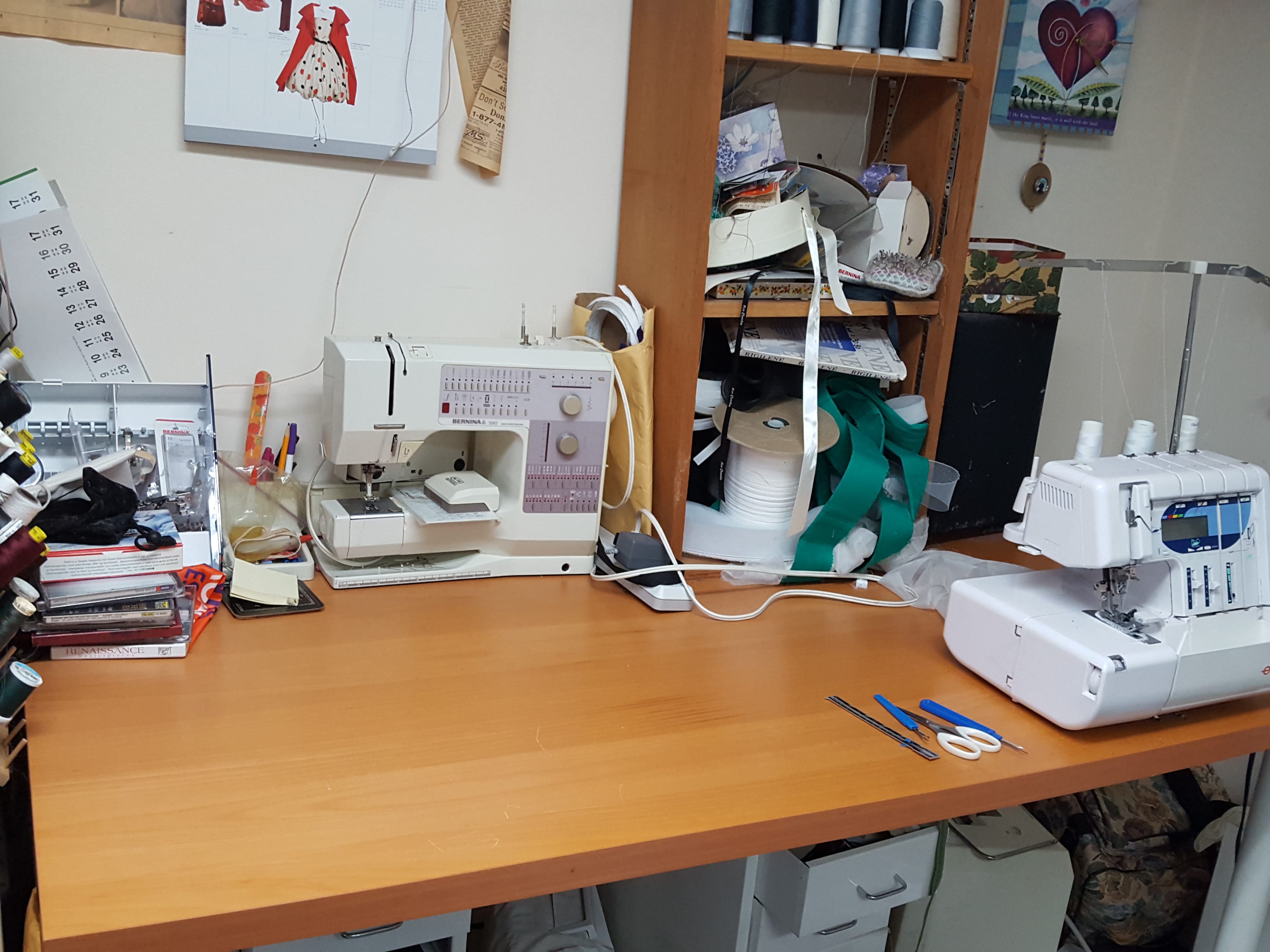 To test its special dual feed feature,  I stitched a satin bias binding around the neckline of a stretch satin Mother-of-the-Bride dress I am making for a good friend.  I believe my 770 passed its first exam of many!  I anticipate that this machine will delight me in new ways that will make it special, just as my Kenmore Portable, my Bernina 1230 and my Bernina 430 did when they were new.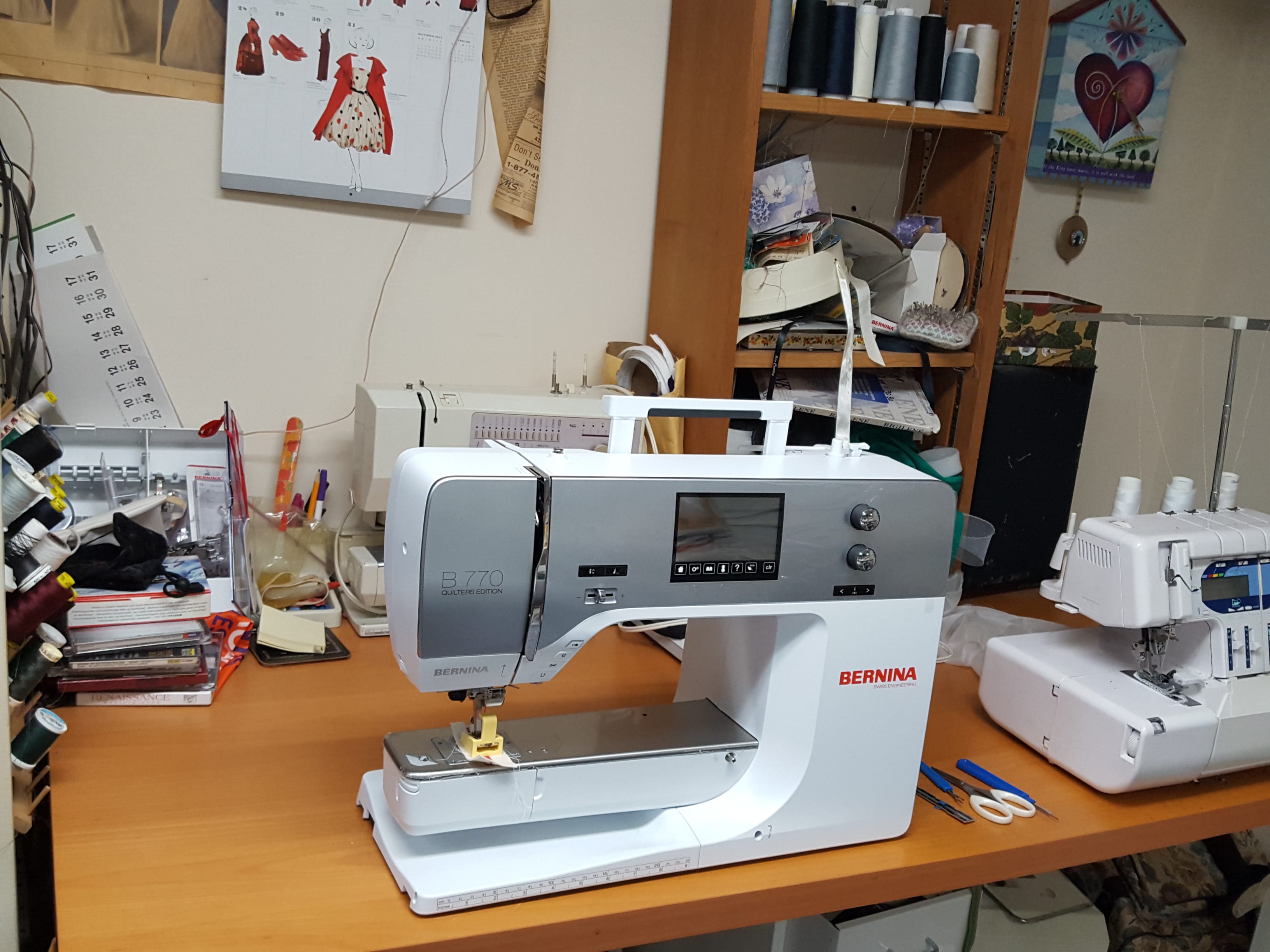 Are you slow or quick to embrace new sewing technology?   Do you have a machine story to share?  What do you do with your old machines?
I try to follow a rule that when a new thing comes into the house, an old thing in the same category has to leave.  I am planning to give my children's Burnette machine to a church friend who is a refugee from Pakistan.  She wants to start sewing for herself and she needs a machine.  I hope this will be the beginning of her new garment sewing journey and soon she will #sewsuccessfully with #fitforartpatterns.
Have you shared the joy of sewing with others?  Tell us about your sewing adventures by leaving a comment.
Happy Sewing, RAE