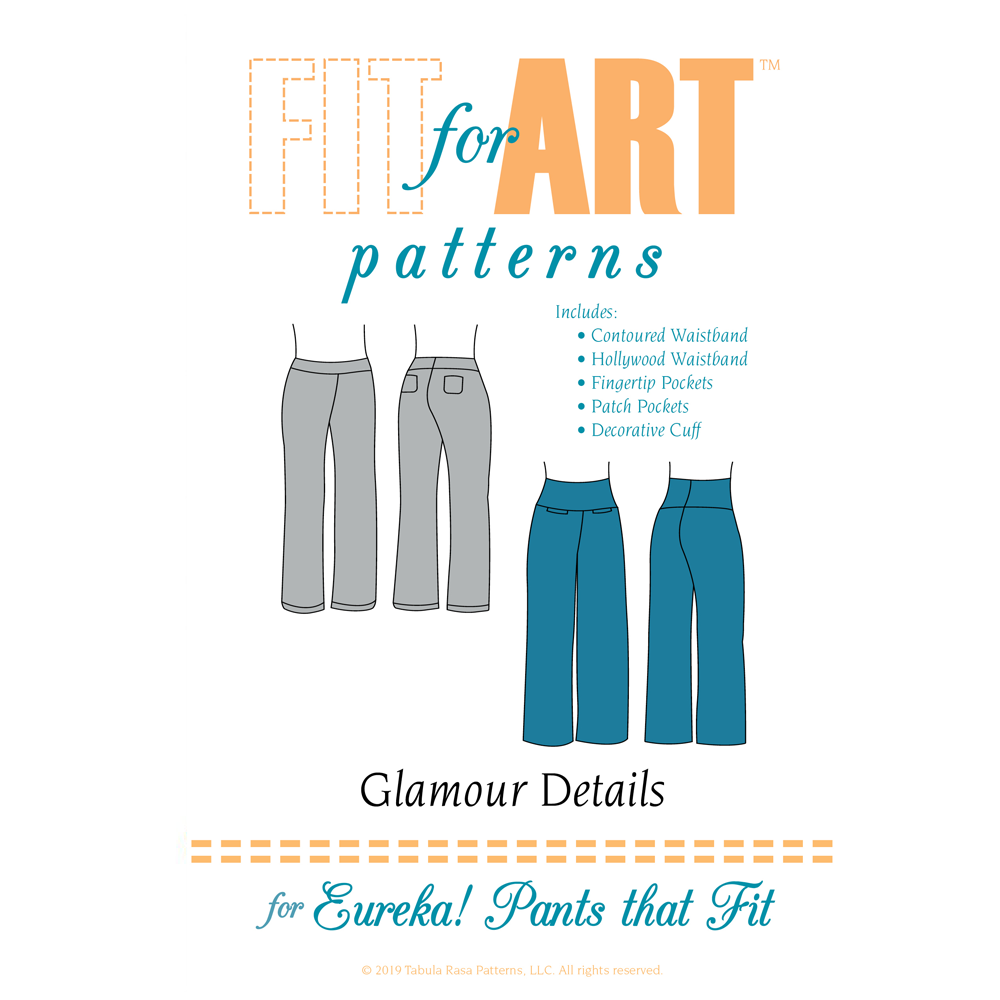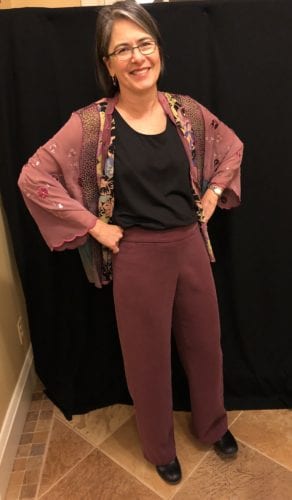 Welcome to another installment of our series "Three Core Patterns – One Great Wardrobe".  Today's wardrobe is based on one of my favorite pairs of pants in a dusty rose microfiber with lots of swinging drape.  You will soon be able to make a similar pair with your Eureka! Pants that Fit pattern.  The main features – drapey wide legs, a contour waistband, and fingertip pockets – are all elements in Glamour Details for Eureka! Pants that Fit.  Here you can see a close up of the front fingertip pockets and contour waistband.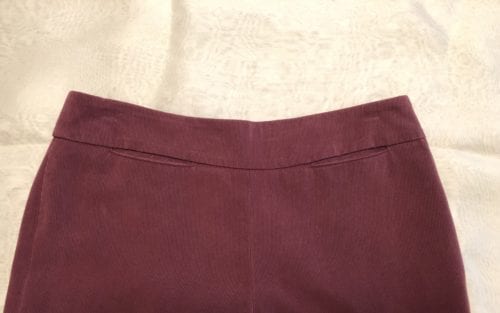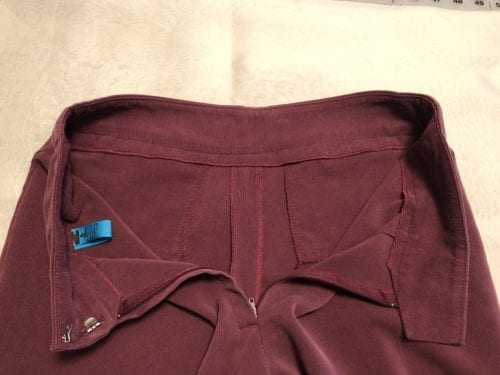 Glamour Details, our newest pattern for Eureka! Pants that Fit, will be released this week at the Original Sewing & Quilt Expo in Atlanta.  This pattern includes directions for shaping wide legs and patterns for a 2″ deep contour waistband and 4″ deep Hollywood waistband, fingertip and patch pockets, and a decorative cuff.  Glamour Details will be available to order on our website today, but will not be shipped until the following week due to our travel schedule.  Thanks for your understanding!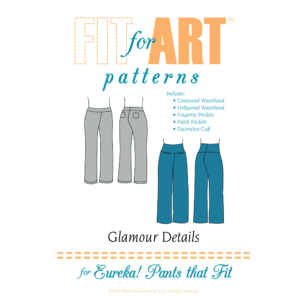 Wide leg pants really work best with a shorter top, so I am going to show you a few tops that work with these great Glamour Details pants.  Let's start with an everyday knit top that is trimmer fitting and shorter than the basic Tabula Rasa Knit Tee & Tunic.  This Surplice top with a Shaped Band from Clever Crossing Variations is just the right shape with wide leg pants.  It is made from a heathered blue rayon blend knit and embellished with hand embroidery and beading to match the pants.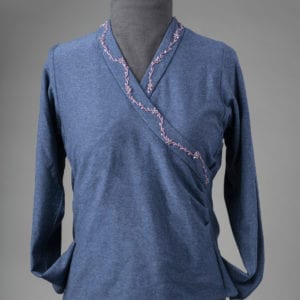 The pants also look great with this dusty rose rayon batik blouse.  The two rayon fabrics for the body of the blouse and trim come from Sew Batik, one of our favorite fabric sources, which we look forward to seeing in Atlanta!  The blouse features the jewel neck front from Rain or Shine Variations for the Tabula Rasa Jacket, with the neckline corners rounded off and folded open, button loops and textured rose vintage buttons, and a hidden modesty panel.  (It also features an experimental 2-piece sleeve with ties at the wrist, but that pattern variation is still in testing stage, so we'll save that for later.)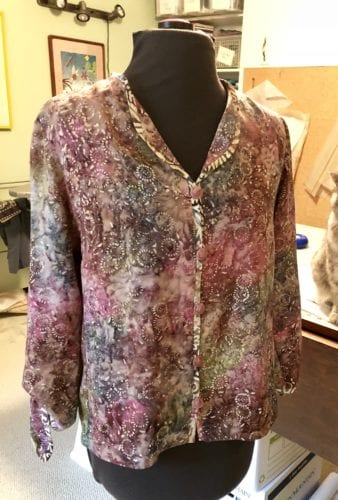 This sheer pieced Tabula Rasa Jacket with several soft silk prints in shades of rose really dress the pants up!  The jacket sports the summer sleeve from Sleeve & Cuff Variations and the exterior rolled seam technique described in Swing Variations for the TRJ.  It was featured in Rae's article "Softly Pieced" in Threads magazine (Oct. /Nov. 2017) where you can see several detail photos and read more about Rae's strip piecing technique.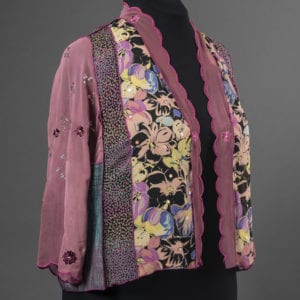 Last but not least, I can bring a whole new look to an old favorite Tabula Rasa Vest with these pants.  The Lily Pad Vest is made from the Tabula Rasa Jacket pattern without the sleeves, plain and simple.  The basic kimono band is set off with flat piping and a giant wooden button.  The process for binding off the square armhole opening in a Tabula Rasa vest is described in Swing Variations for the TRJ.  The beefy cotton fabrics came from Mekong River Textiles.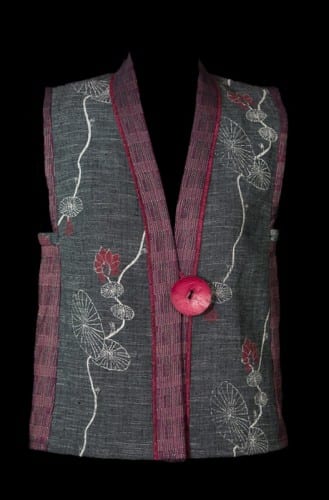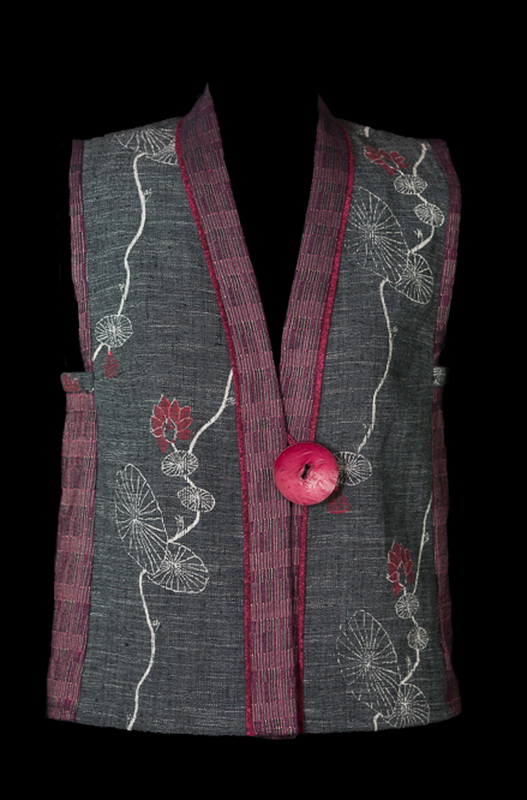 We are pleased to announce that you can now purchase all three core patterns – the Tabula Rasa Jacket, Tabula Rasa Knit Tee & Tunic, and Eureka! Pants that Fit – in a discounted bundle on our website.  All 3 patterns purchased separately would total $65, but purchased together as Three Core Patterns, are just $55.  Please pass the word along to sewing friends who'd like to get started with Fit for Art's wardrobe basics, or buy the bundle as a gift for your friends.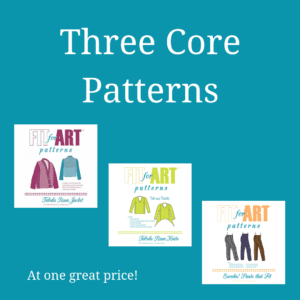 You'll be able to see this rosy wardrobe and several more if you visit our booth at the Atlanta Sewing & Quilt Expo or catch my trunk show, Three Core Patterns – One Great Wardrobe.  Look for me on the Expo Stage Thursday at 1:00 p.m. and Friday at 3:15 p.m.  Don't forget to register for one of Rae's classes; she is teaching classes on wardrobing, pants fit, knits embellishment, soft piecing and pattern work, all elements important to this core wardrobe!
If you are a Eureka! Pants devotee, you can be one of the first to own Glamour Details.  If you haven't developed a Eureka! Pants that Fit pattern for yourself yet, we'd love to get your started.  You can purchase the pattern and sign up for a personal fitting in our Booth 623.  We hope to see you there in just a few days!
Happy Sewing, Carrie
#sewingexpo, #sewsuccessfully with #fitforartpatterns