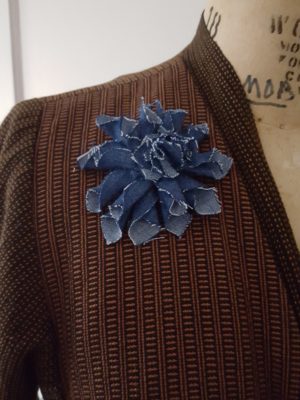 We love to share a project with you each December.  It is a small gift we can give you for a year of encouragement.  This year our gift is a new Fit for Art flower, the Denim Dahlia.  You can make one into a wonderful pin to perk up a tired coat or tote, or make a bouquet of dahlias to decorate a jacket or shirt.  Make one for yourself and make a dozen to give to your friends and family this holiday season.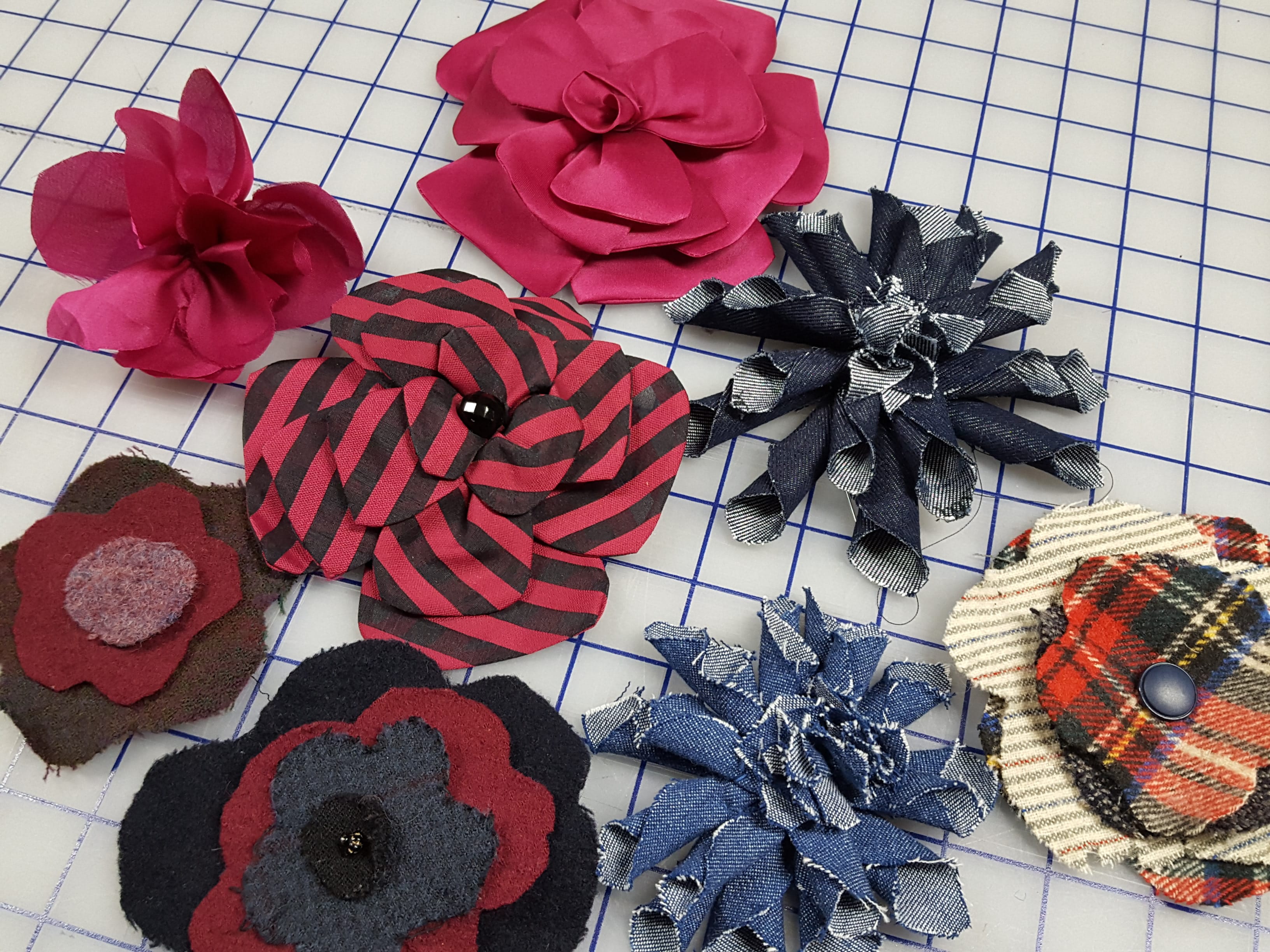 This flower joins the other holiday flowers we have gifted you that can be found in our free download gallery.  Find the Felted Wool Flowers pattern and read the blog to find the Organza Rose for other gift ideas.  What could be more cheerful than a fanciful fabric flower to brighten up the winter darkness.
Now let's get started:
Click here to download the Denim Dahlia Flower pattern and directions.
Trace off the pattern pieces onto tracing paper then cut them apart.

Traced off pattern pieces and tools needed.

Cut out the suggested number of each petal, center and base from your denim yardage or an old pair of blue jeans.

Patterns and cut pieces.

Follow the directions on the pattern print-out to assemble the flowers.
Here is a step by step photo guide for assembly: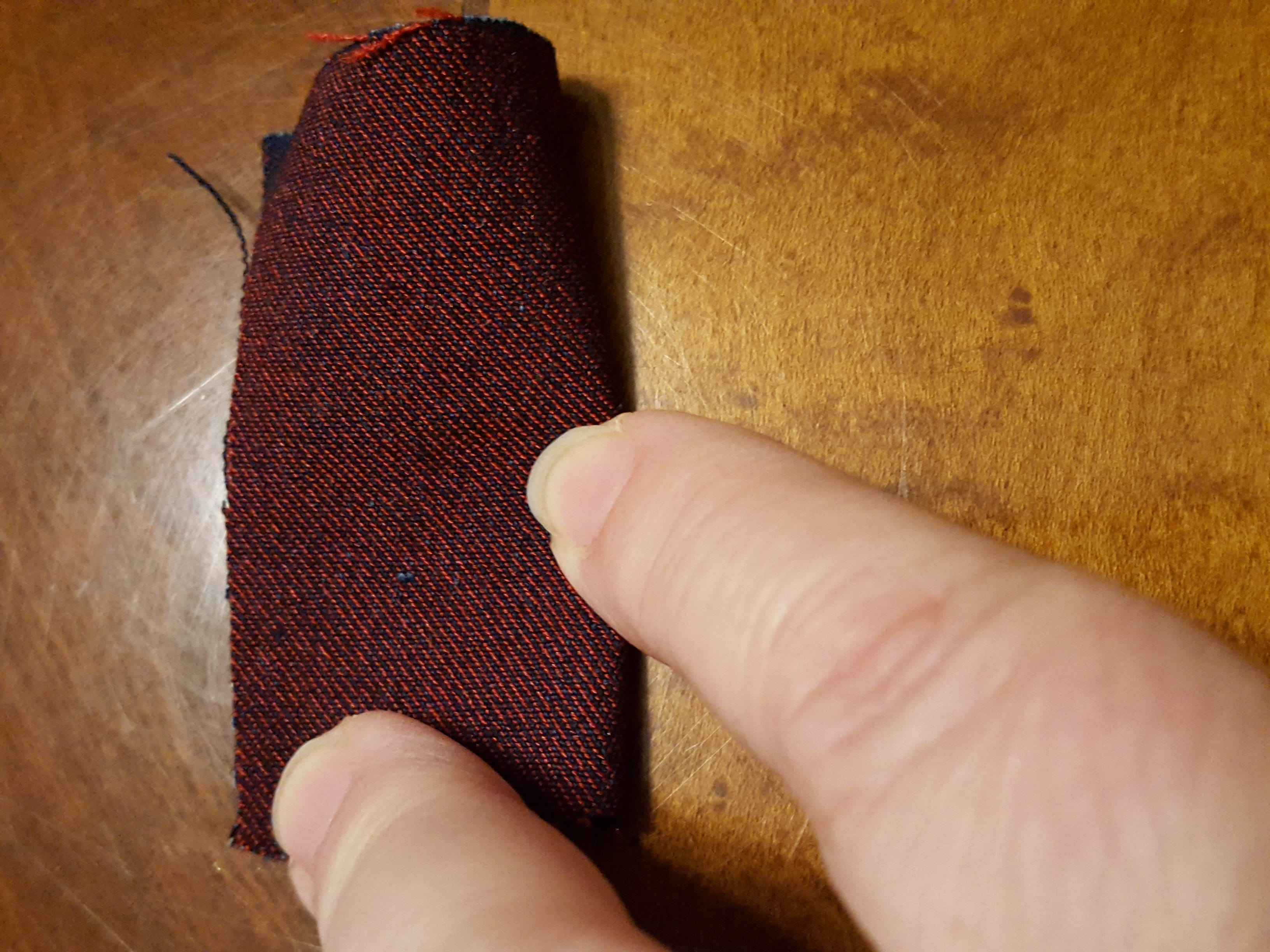 Fold the base in half, then in half again and press flat.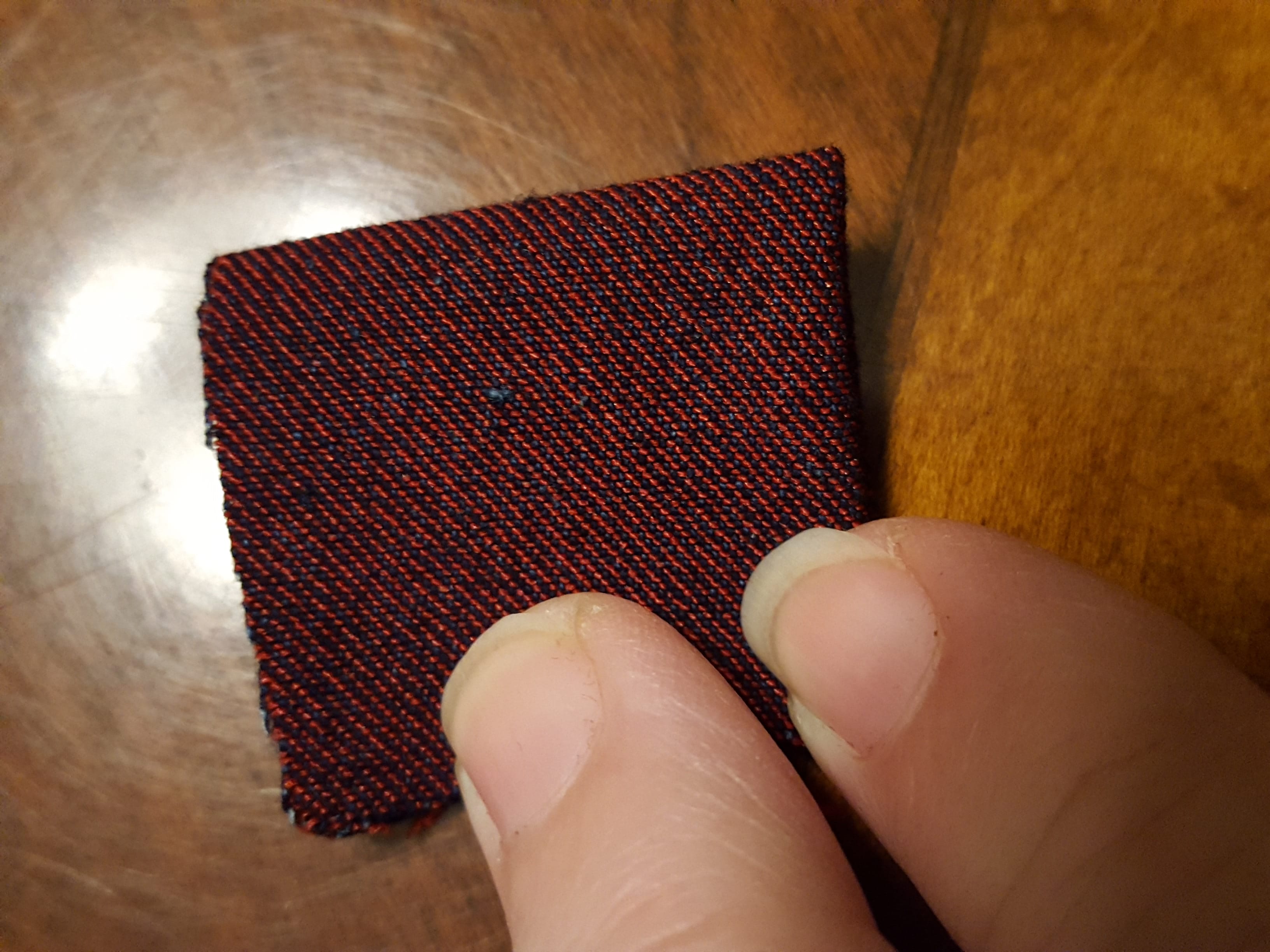 Begin with the large petals and roll each one into a loose tube.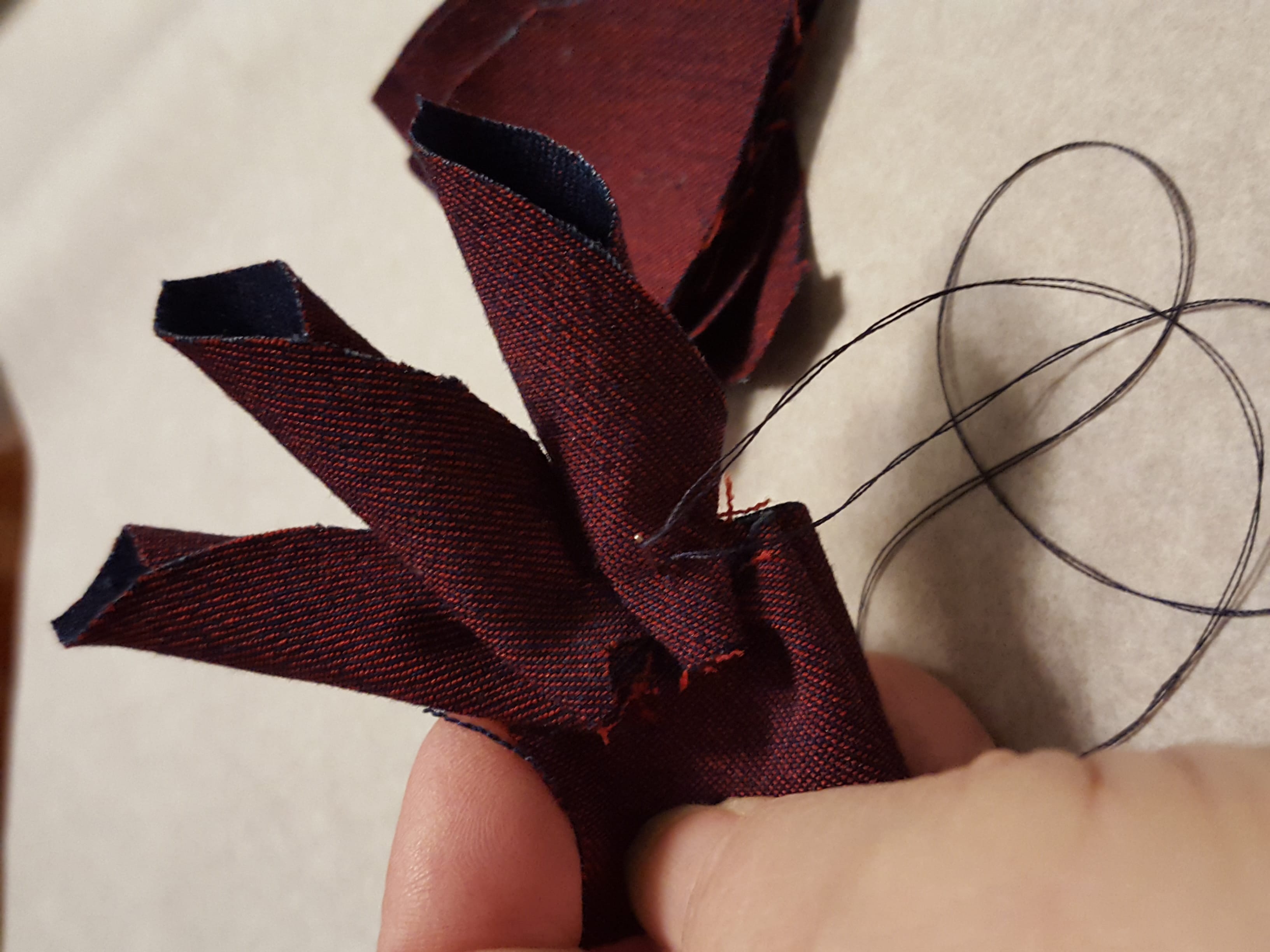 Hand stitch them to the base making a circle of petals around the outside of the flower base.  Roll them gently to keep the petals 3 dimensional and stitch them so they retain some depth.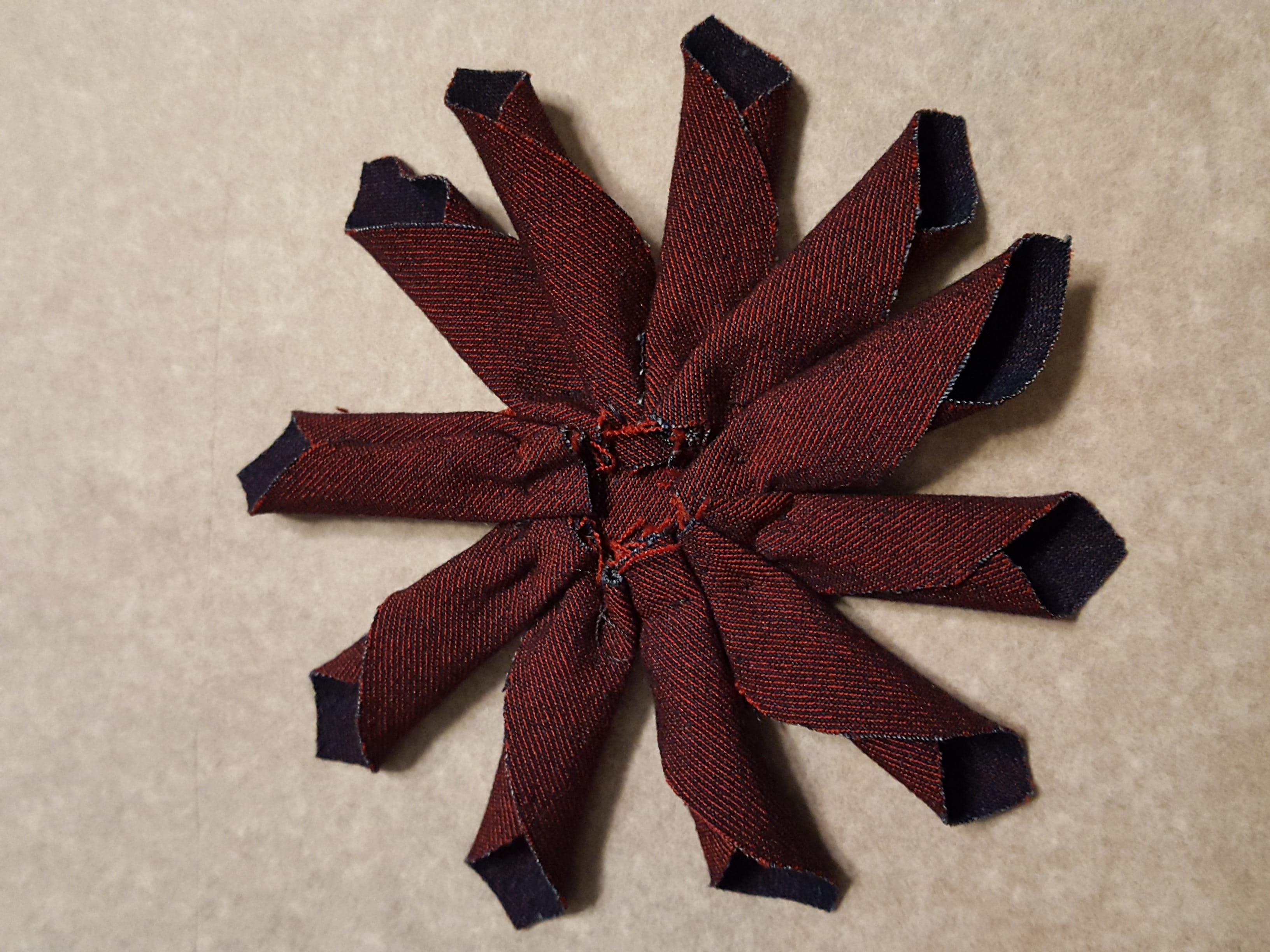 If you do not have enough petals, cut a few more and fill in petals until you have the fullness you desire.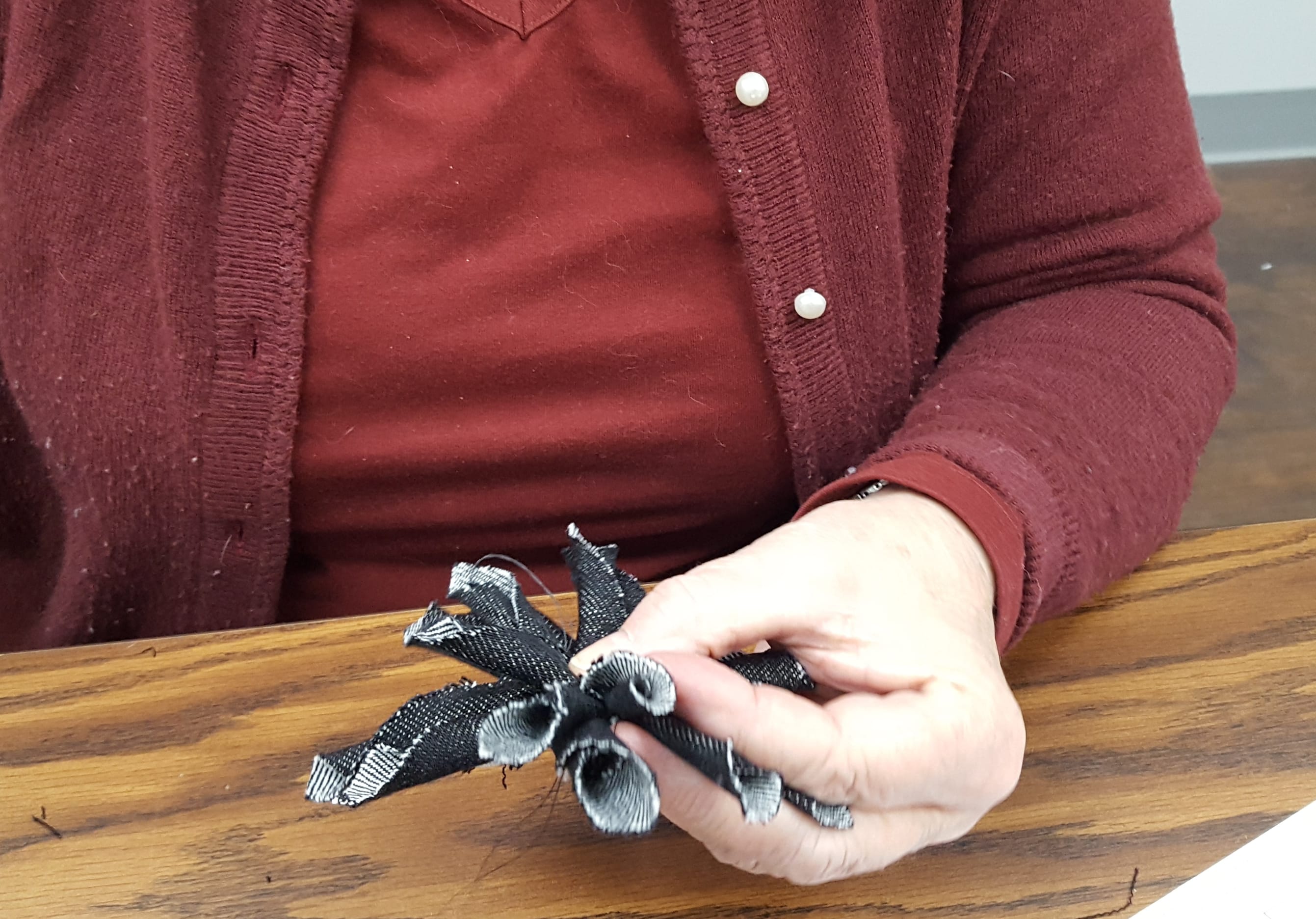 Roll each small petal using the same technique and position one between each pair of large petals.  If you added more petals to the bottom layer, you might need to cut more small petals too to fill out the petal circle.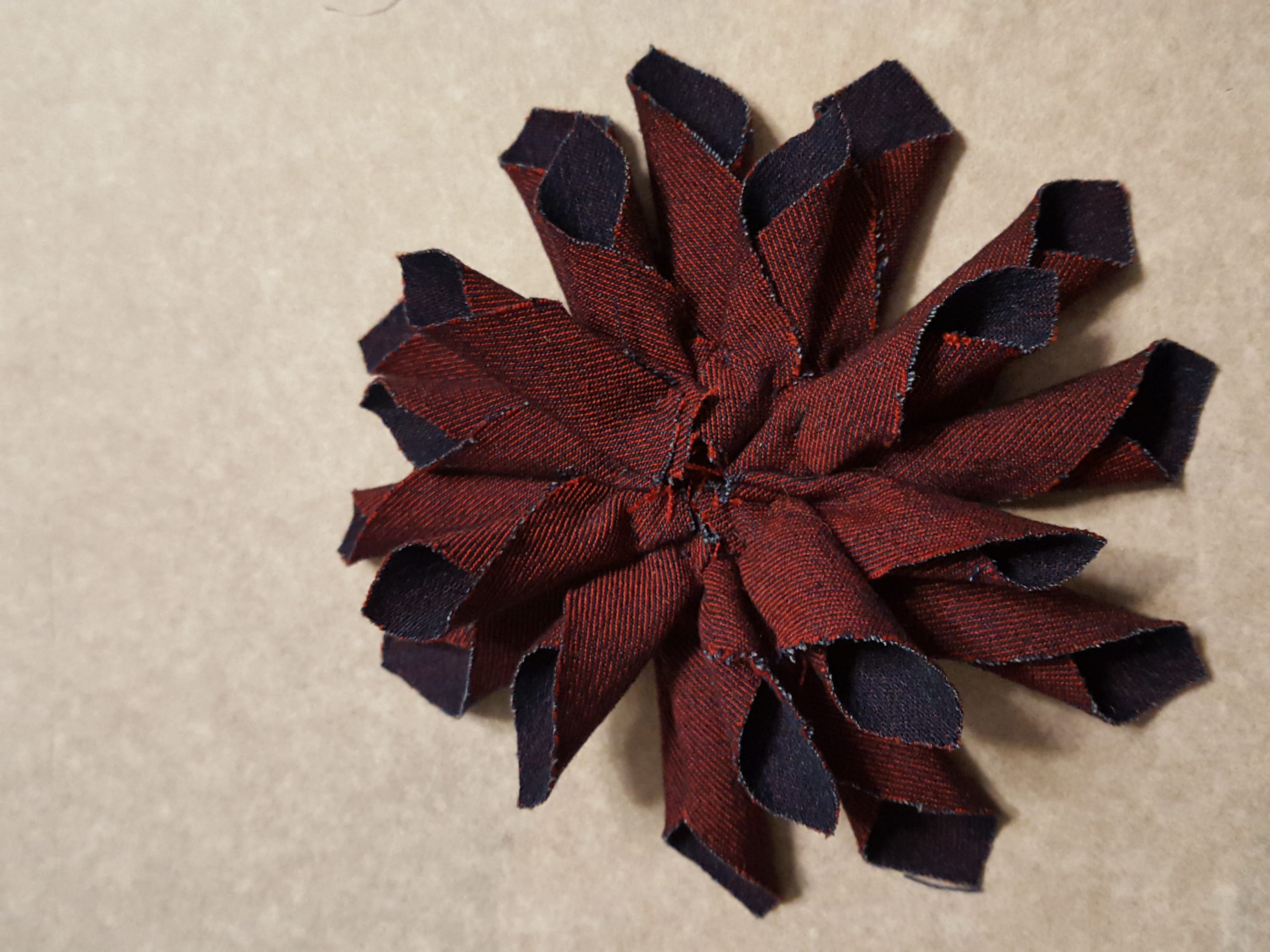 Pinch the middle of each center, tacking them into a 3-dimensional puff.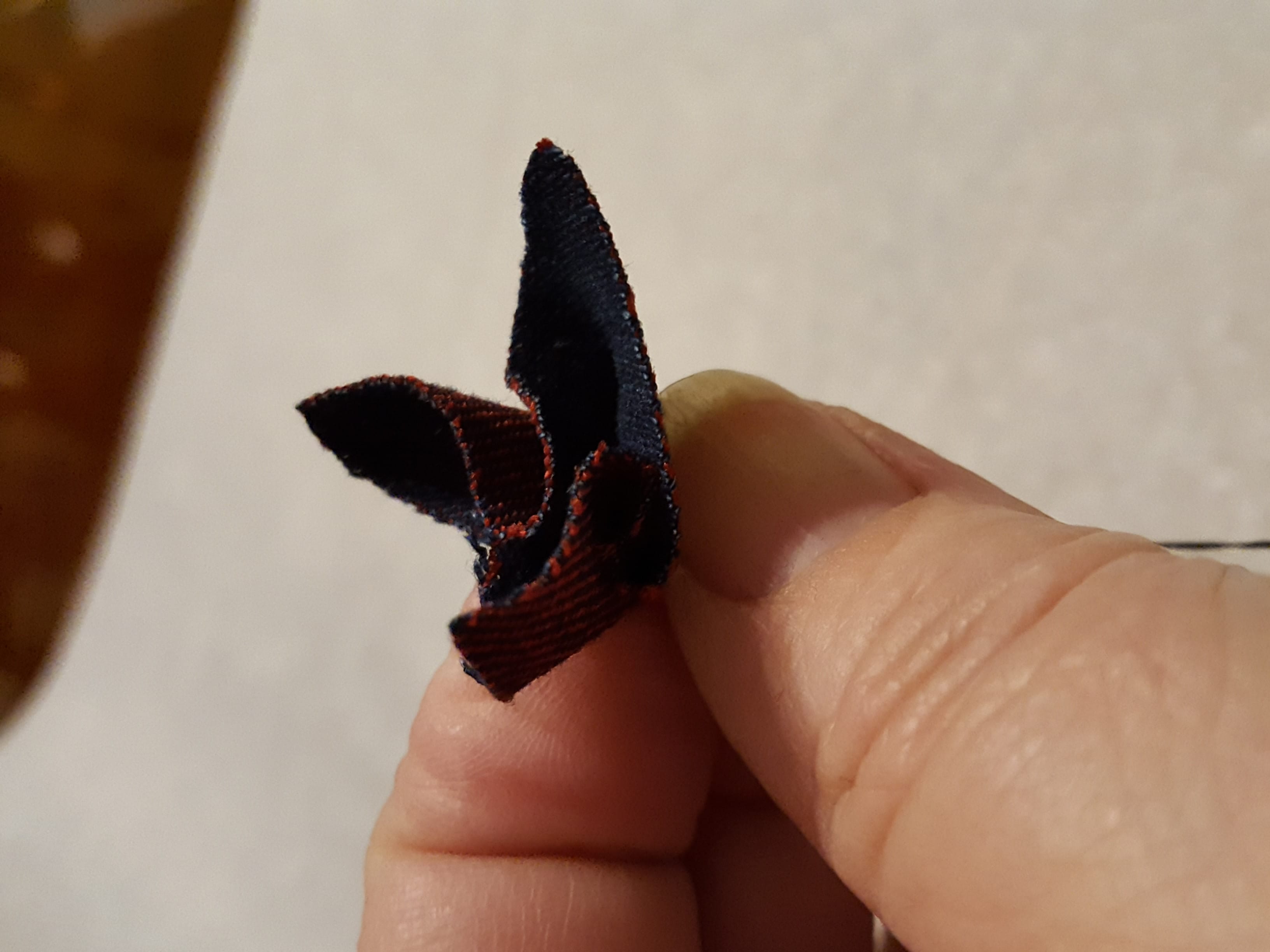 Stitch each formed center to the middle of the flower, covering the raw edges of the flower petals.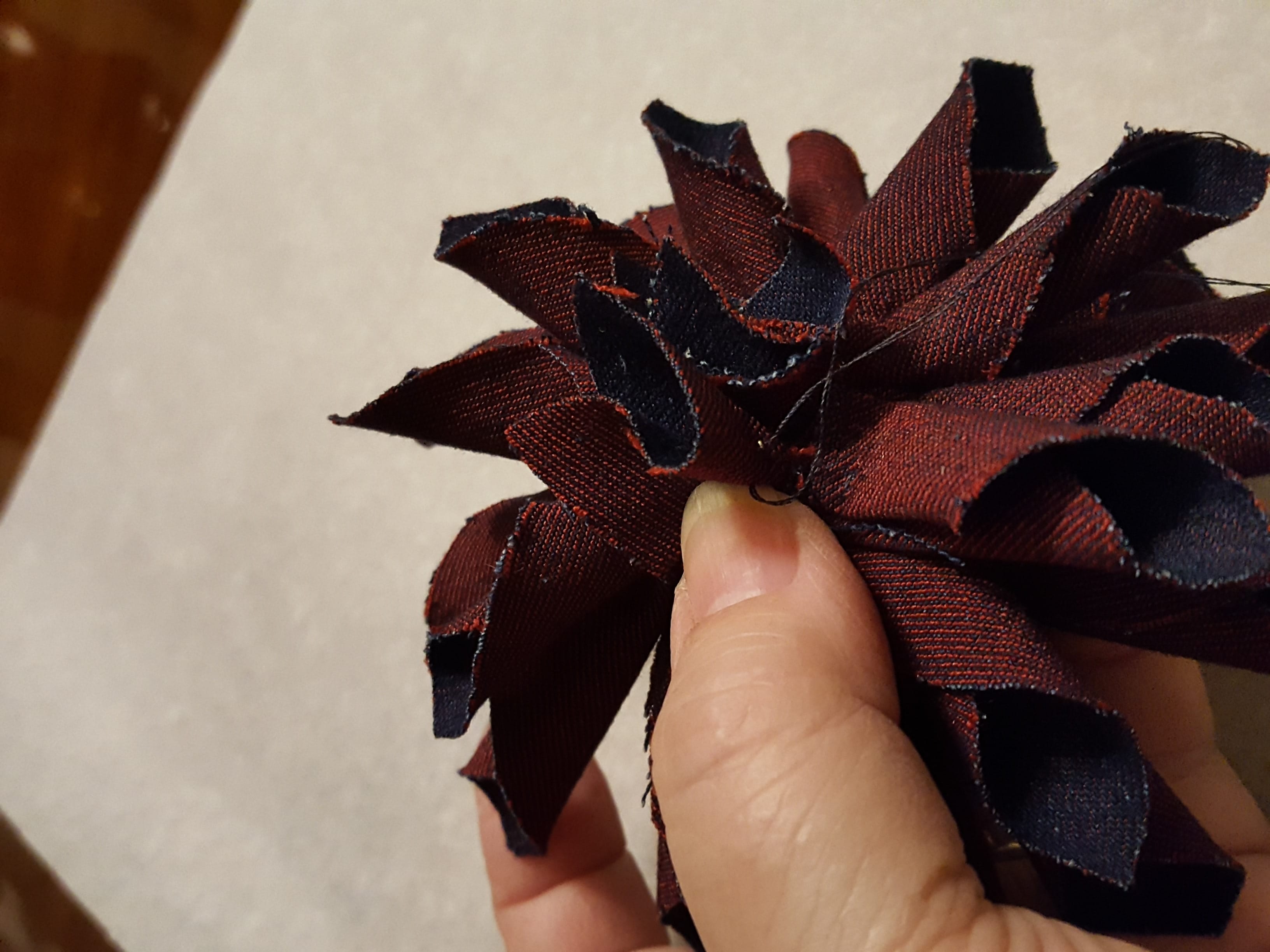 The base will be covered with petals and centers on the top and lots of thread tacks on the under-side.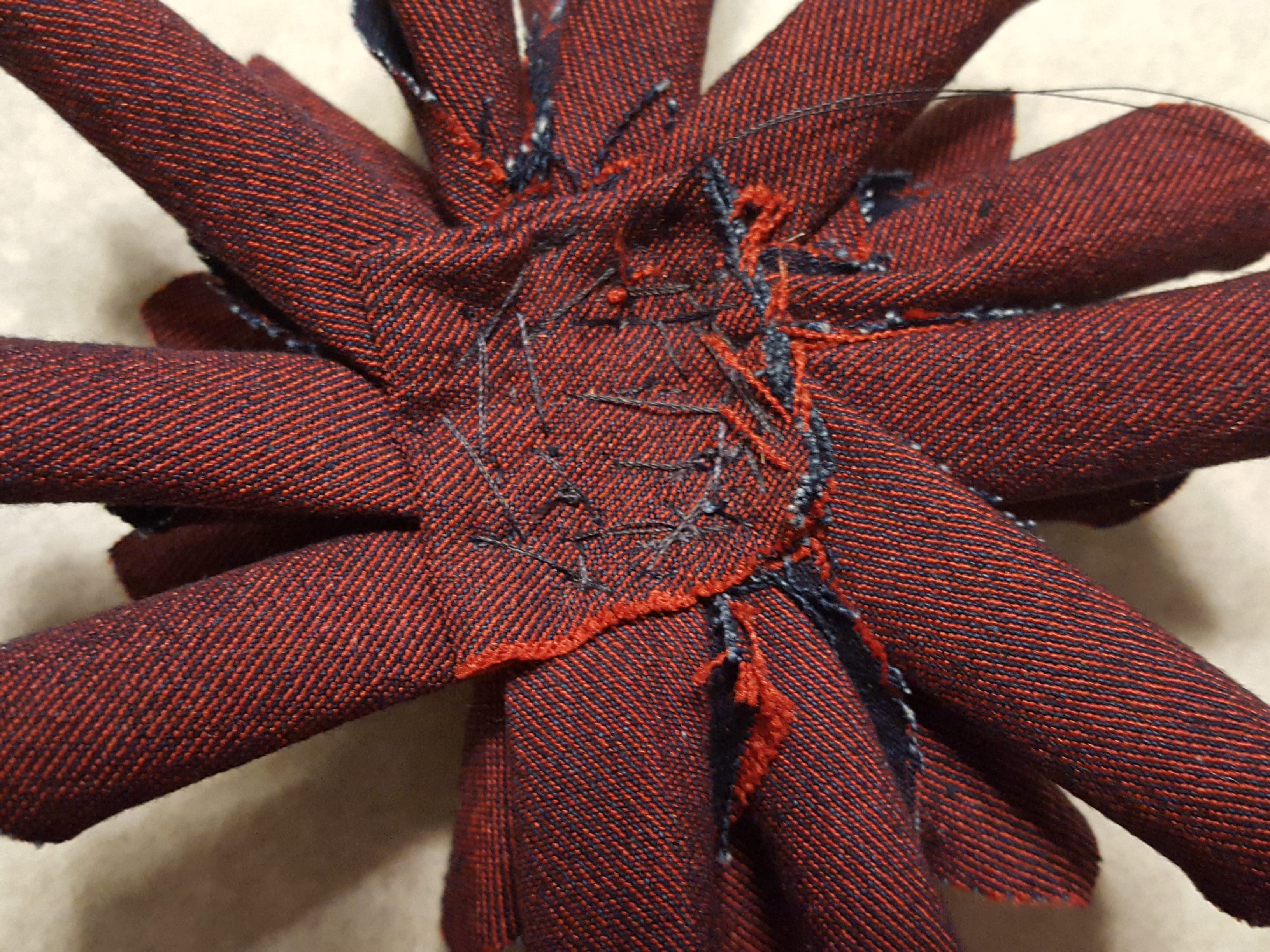 If that bothers you, cut a small piece of fabric to tack over the stitched base.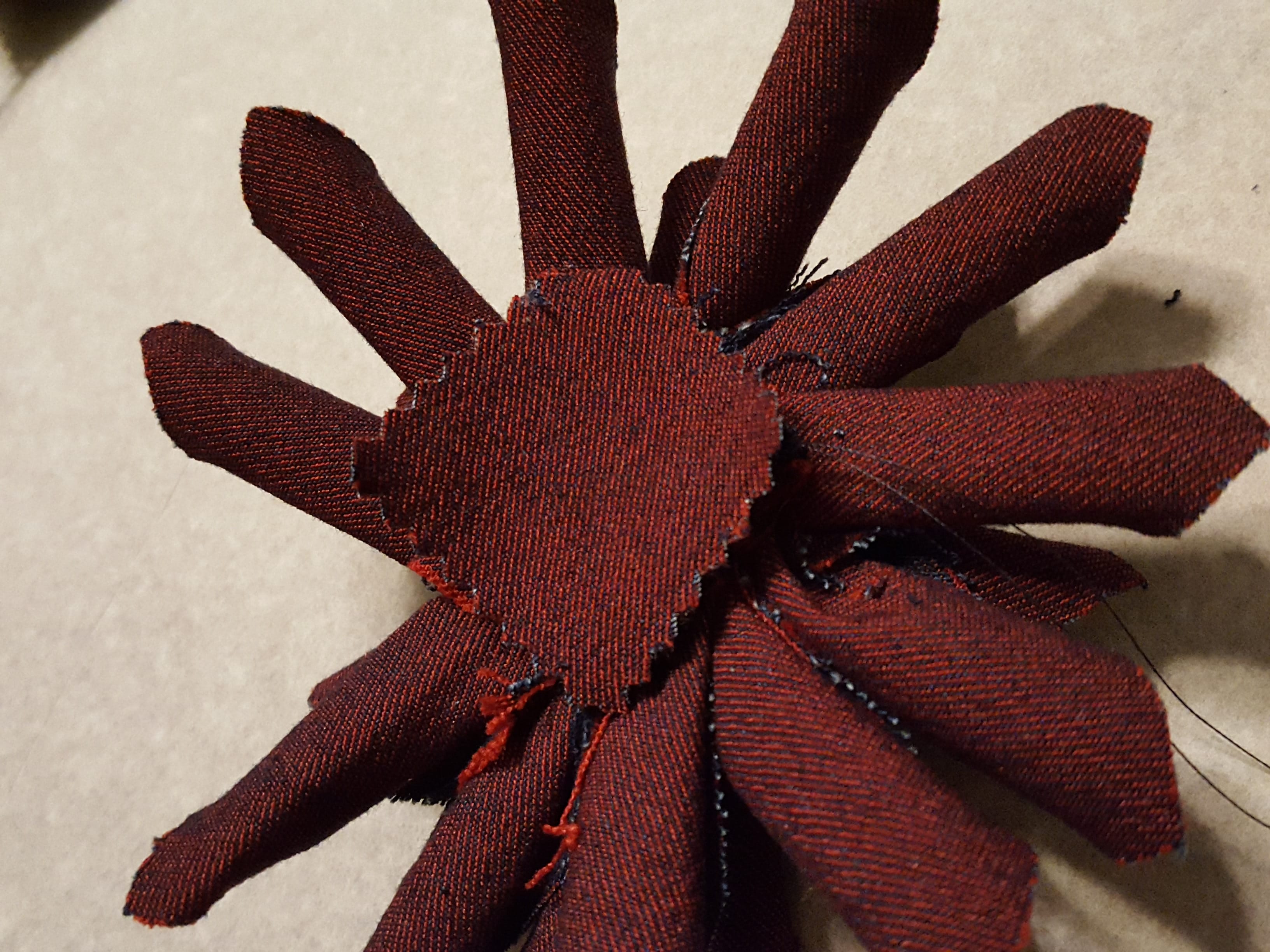 Finish the pin with a metal pin back tacked securely on the base.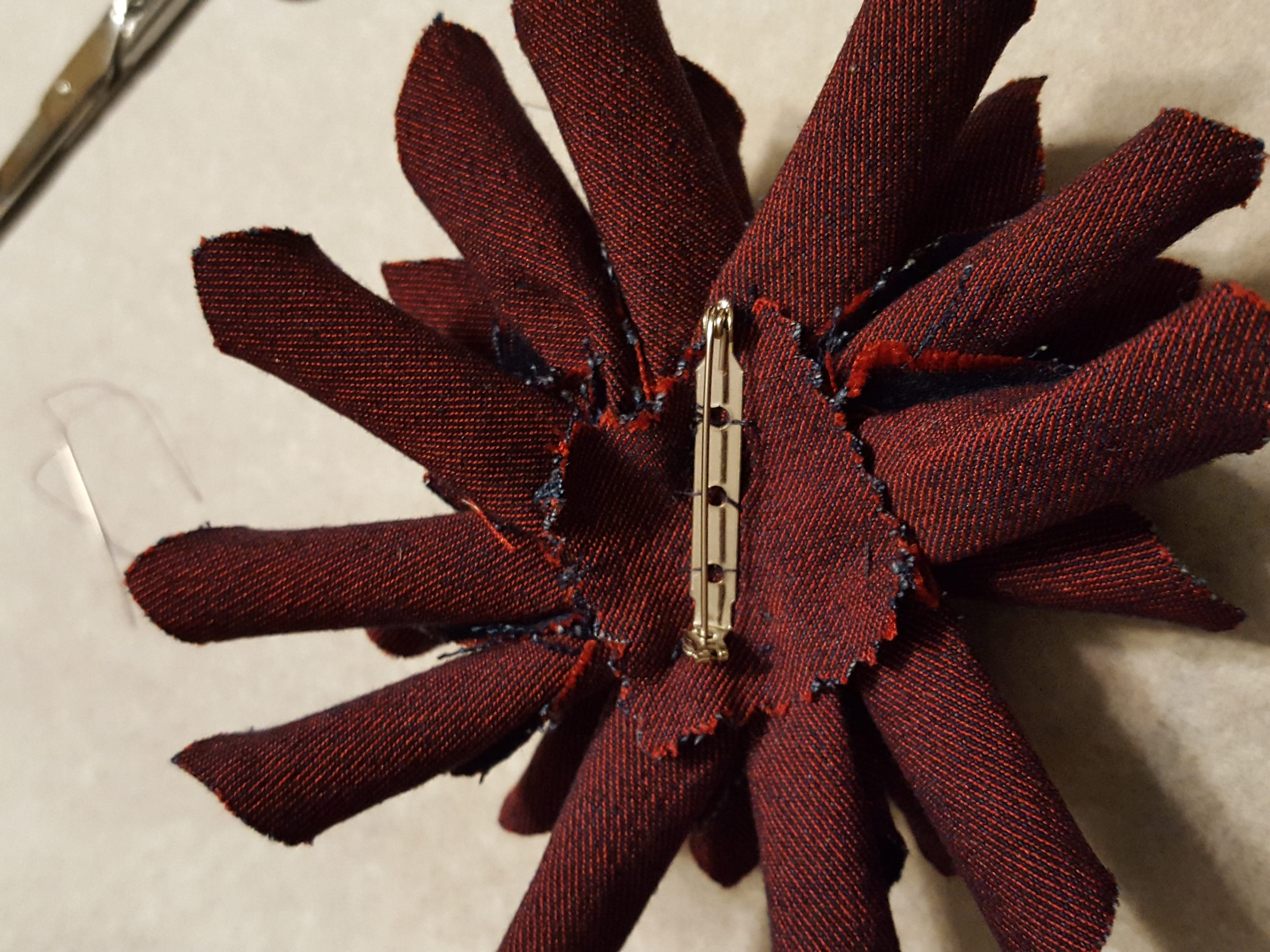 Enjoy wearing your flower, or giving it as a gift.
You can nuance the flower by:
Choosing a stiffer or softer denim.

A stiff metalic denim dahlia

Adding more petals for added fullness and additional layers
Using a dark denim for the large petals, a medium color for the small petals and a light denim for the centers.
Use double face denim for a two-color flower

This is red on one side and blue on the other. The reverse is used in the fuller dahlia above.

Rough up the petal's raw edges for a more distressed look.
Recycle your old jeans if you want to gift the environment too. Share this with your sewing friends and suggest that they follow Fit for Art Patterns Sew! Let's Get Dressed Blog each week. That way you are giving the gift of inspiration to your friends and a holiday gift to us by spreading our #sewsuccessfully with #fitforartpatterns message with your sewing community.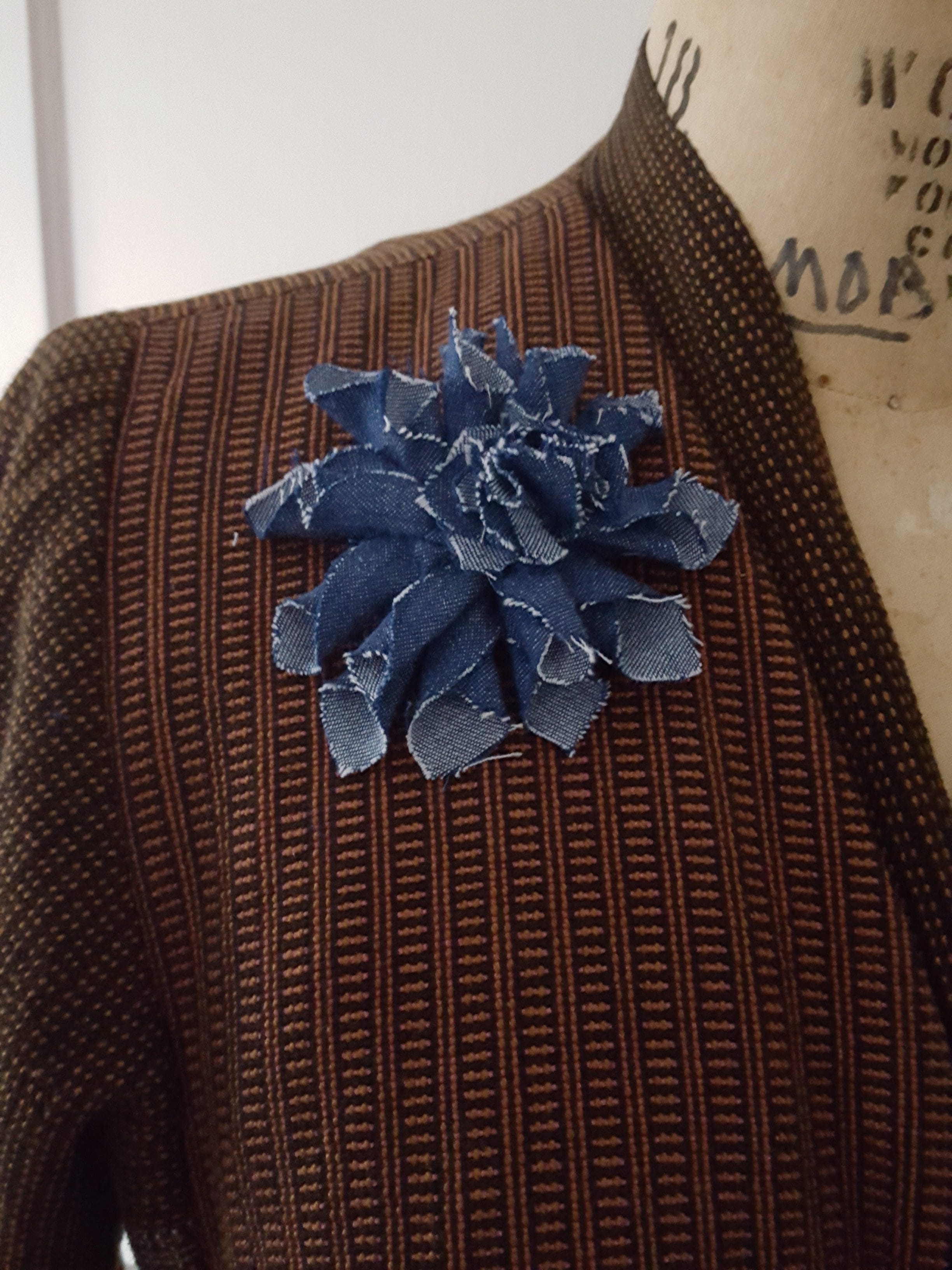 Send us photos of your fun flowers.   Special thanks to my Sew# Let's Get Dressed Club members at Capital Quilts who tested this pattern for me and suggested some of the variations.
Happy Sewing and Happy Gifting,  RAE and Carrie