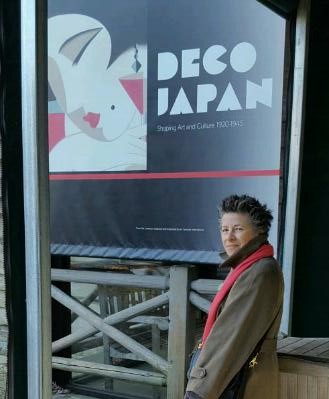 You know that we love Asian Textiles and the simple kimono shapes of Japan.  So, it was with great delight that Carrie and I participated in events focused on this topic with kimono expert June Colburn.  The program, sponsored by the Baltimore chapter of the Association of Sewing and Design Professionals, began with a lecture/trunk show on Kimono Traditions and Kimono Redesign.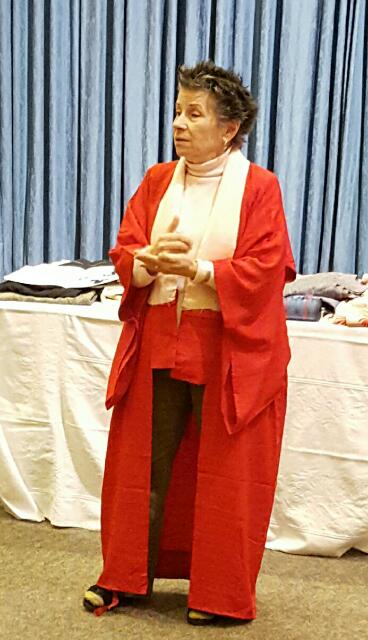 June told wonderful stories of her time living and working in Japan while she demonstrated the multiple layers of traditional kimono dressing and kimono symbolism.  It was such a lovely evening.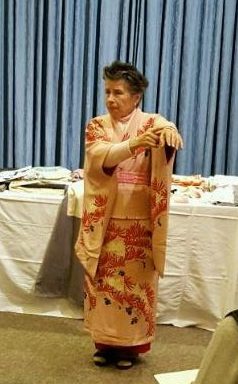 We also spent time with June at a small but magnificent exhibit of women's kimono at the Baltimore Museum of Art (BMA).  She described the weaving, dying, painting and embroidery techniques used in the lovely kimono and obi on view.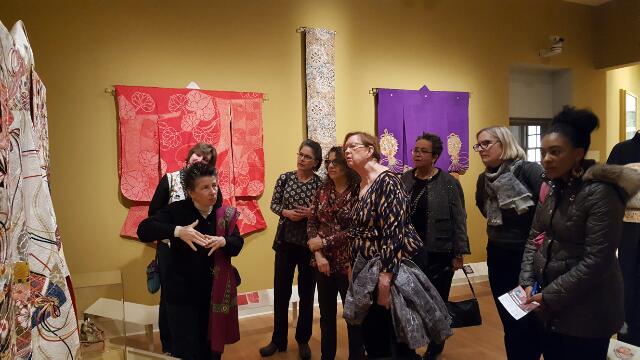 She also shared more about the flora, fauna and objects featured on the garments in the exhibit and the social class, age and marital status of the women who would have worn them.  June really enhanced our understanding of these exquisite textiles which are full of meaning.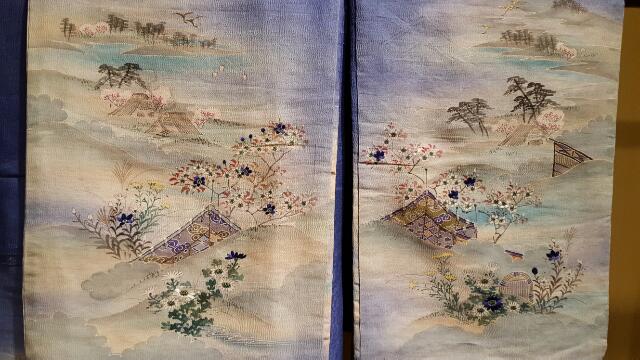 If you have the opportunity to take one of June's classes at an Original Sewing & Quilt Expo or other sewing event, be sure to take advantage!  She also offers several patterns specifically designed to help you incorporate kimono or other Asian textiles in wearable art.
After leaving the exhibit, our group adjourned to Gertrude's Restaurant at the BMA for a wonderful holiday tea.  It was such a pleasure to enjoy lovely treats and conversation with some of our favorite sewing friends.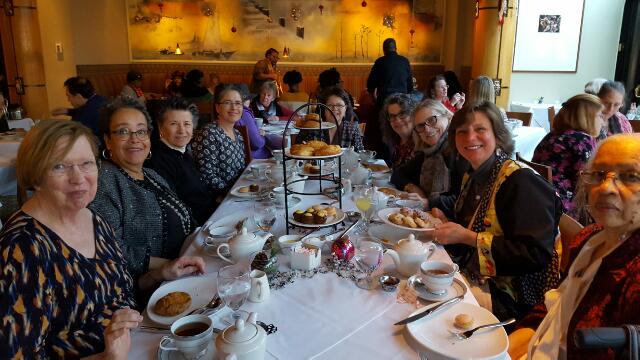 If you are in the Baltimore area, we highly recommend a visit to the BMA and to Gertrude's!  (The Kimono and Obi exhibit is only open till January 15, so go soon if you are interested.)
In between these two events, we took June to the Hillwood Estate in DC for a look at the Art Deco Japan exhibit and Marjorie Merriweather Post's beautiful mansion decorated for the holidays.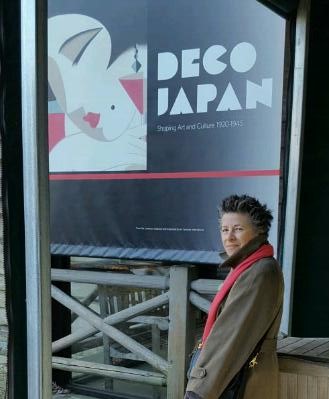 Then, just for fun, we came home by way of the Miracle on 34th Street holiday lights exhibit in Baltimore's Hampden neighborhood.
These three days were a wonderful and beautiful feast for the senses and a reminder that there is so much beauty in our world.  I am so grateful I took a breath, suspending my holiday frenzy and work responsibilities to revel in the glorious art in and around my community in the company of fellow textile lovers.  It was a holiday gift that will inspire me long into the New Year.
Tell us about a class you have taken this year or an exhibit you have seen that inspired you.  Make it a goal for 2017 to find a class or exhibit in your area that will move your sewing to a new level!
Happy Sewing and Happy Holidays,
RAE