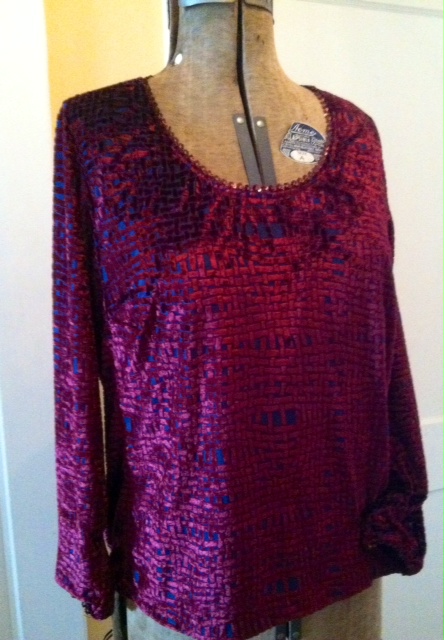 Holiday sewing should always include a new Tabula Rasa to liven up the Eureka! Pants in your closet.  In a December 2014 post we shared some of our Tabula Rasa Jacket (TRJ) holiday variations.  They were so festive and fun that this year we decided to make some Tabula Rasa Knits (TRK) for the party season.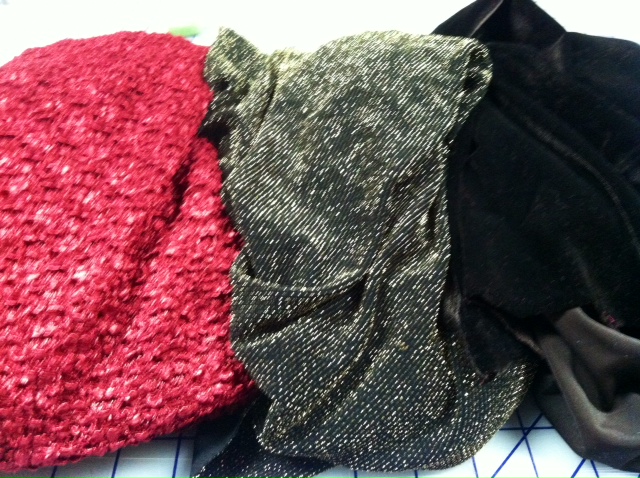 Sparkly and velvety knits fabrics are everywhere this year and there were plenty in our stash too.  Last month I opened the box labeled fancy knits and found fun stretch velvets, stretch burnouts, metallic knits and stretch satin fabrics, all perfect for TRK tees and tunics. Carrie also found a fun piece of burnout knit she bought last year for a tunic that coordinates with her faux leather pants.  We were both inspired to start sewing.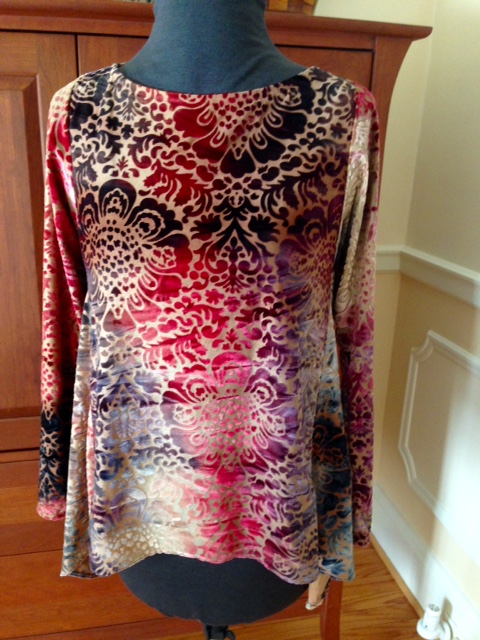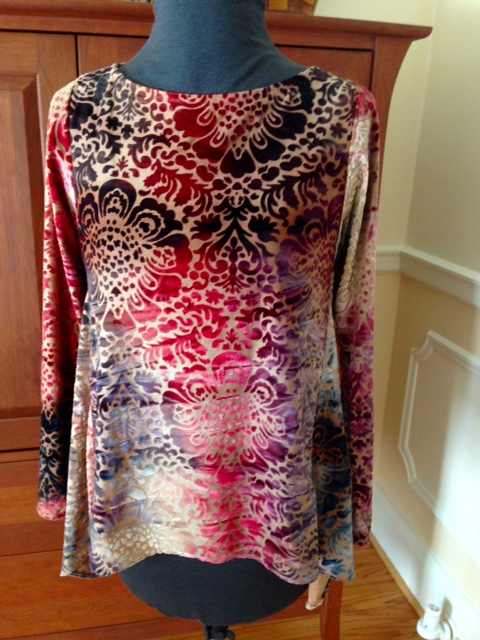 Carrie used her TRK tunic pattern augmented with the Wide Neckline Variation (WNV) pattern's to sew up her stretch velvet burnout with a ballet neckline and swing side.  Because this type of fabric was new for her, she made some samples of seams, interfacings and finishes before choosing a simple turned under finish for her neckline and hems.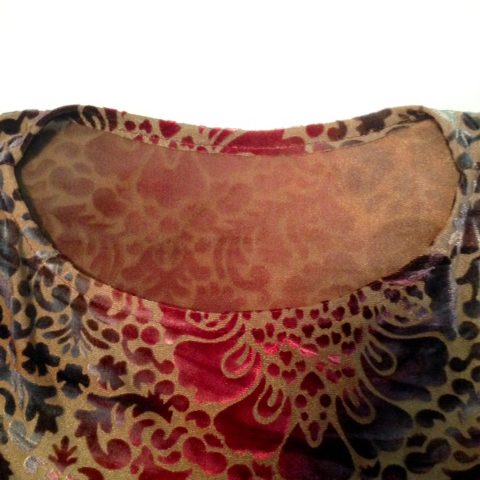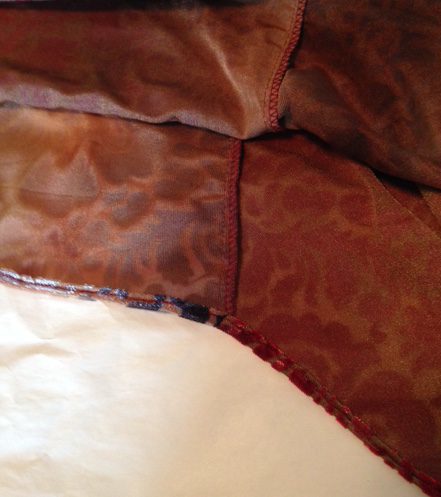 I was delighted to stitch up a navy and burgundy geometric burn out that had a matching stretch sequined trim.  I used my classic U-neck TRK tee pattern and finished the neckline and sleeves with the sparkly trim.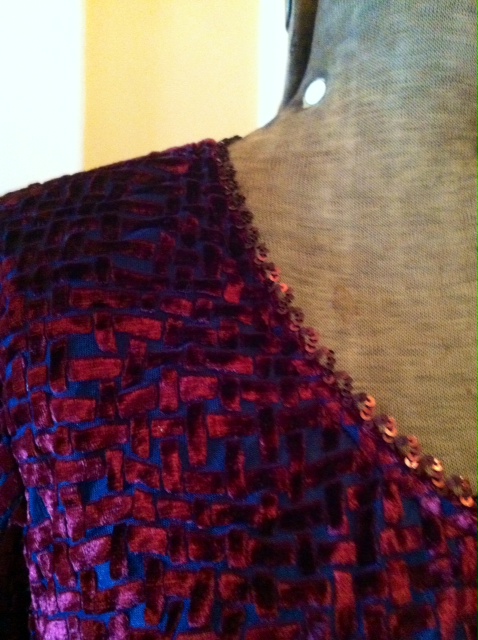 I will look festive at casual holiday gatherings with my Sporty Detail Eureka's and for dressier occasions with my navy dupioni Eureka! Pants.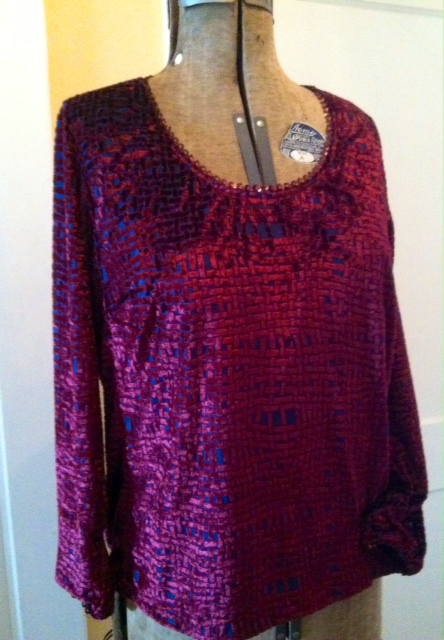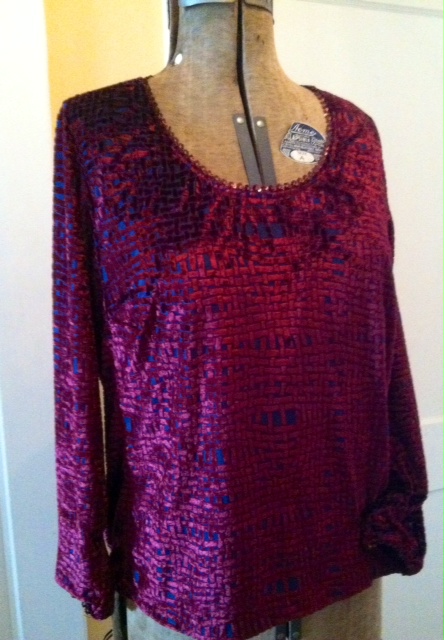 Some wide black stretch lace was also calling my name and I chose to pair it with a remnant of dark red stretch velvet from the fancy knit box.  Both lace and velvet are strong trends this year so I could not resist.  For this top I used the boat neck from the WNV, adapting the pattern to feature the lace at the yoke, sleeve cuff and the hemline.  There was lots of lace and very little velvet so this design was perfect.  The lace was topstitched on top of the velvet which was then carefully cut away close to the stitching line to create the scalloped effect.  I added some rushing at the neck and sleeve hem, then accented them with vintage red and rhinestone buttons my daughters gifted me with years ago.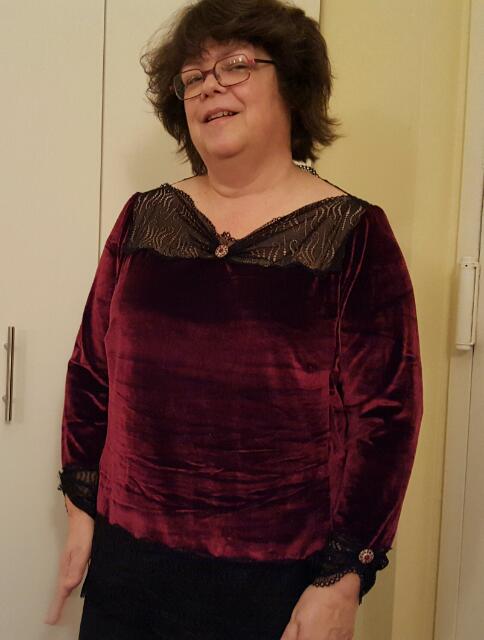 Just like Carrie, I made samples of the seams and trim applications so I would be comfortable sewing and finishing the actual tops.  I also followed classic knit stitching guidelines, using a small zigzag in my stitches and a jersey needle in my sewing machine.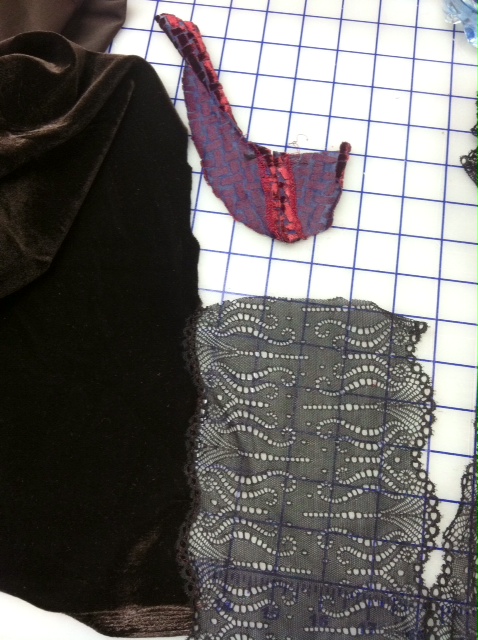 I finished both tops in record time and took them with me to NYC last weekend to wear to dinner and theater events.
We hope our party tops inspire you to stitch up something special for your holiday wardrobe.  These knit tops are a snap to sew together so we hope to see lots of photos of your festive finery in our inbox or on our facebook page.  If you want to get some experience sewing knits, plan to join us for our Tabula Rasa Knit Workshop January  20-21.
Happy Holidays and Happy Sewing, RAE