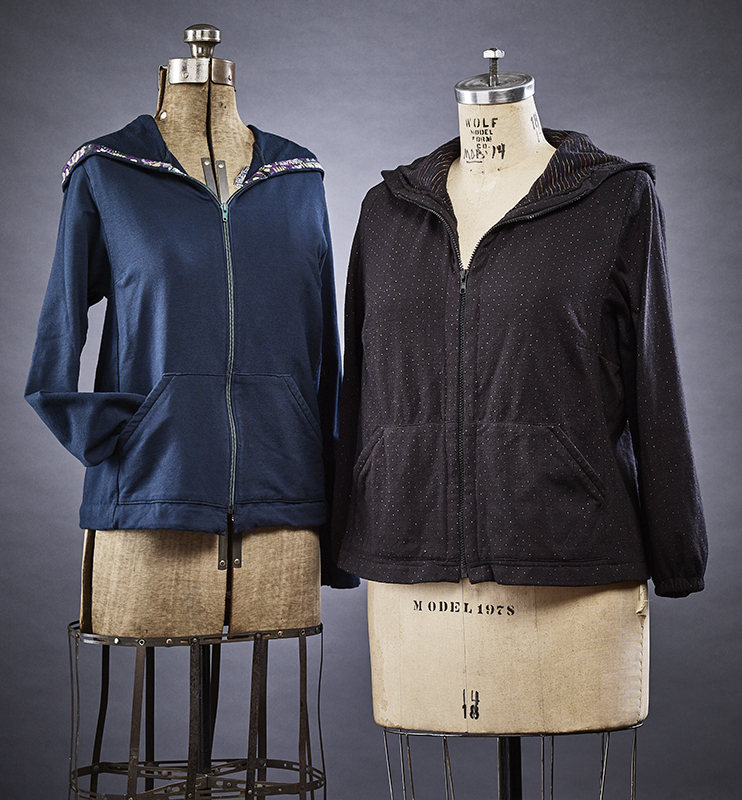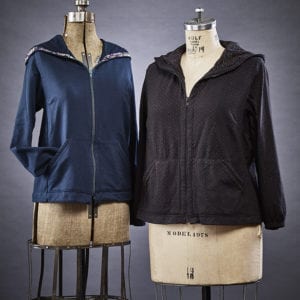 One of the things we love about the new Rain or Shine Variations for the Tabula Rasa Jacket is the center front design which accommodates a zipper closure.  It's a natural for adding a hood to make hooded coats and jackets.  Early in the Rain or Shine development process, we tested sweatshirt style hoodies with the new pattern, and we love the results!  Who wouldn't love a casual, cozy hoodie that fits better and looks just a little nicer than an off-the-shelf sweatshirt?
Rae's black hoodie was made from an inexpensive reversible poly knit that she picked up at JoAnn's.  She used a molded plastic separating zipper and extended the zipper into the hood for warmth around her neck.  She covered the zipper tape on the inside with a same fabric facing.  Rae finished the sleeve hems with an elastic casing to hold them snugly against her wrists.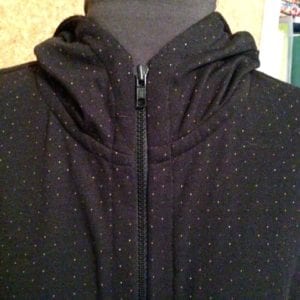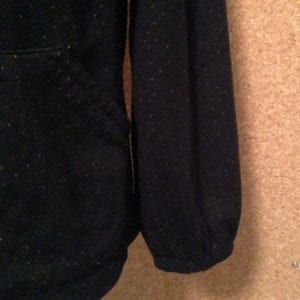 Carrie's green hoodie was made from a bamboo knit similar to a French terry that she picked up  from Nature's Fabrics at one of our Expos.  She chose a nylon coil zipper and did not extend it into the hood.  The sleeves are finished with a standard 1" hem, like the jacket hem.  Carrie used a complementary knit print from her stash to face the zipper tape, hems and hood edge.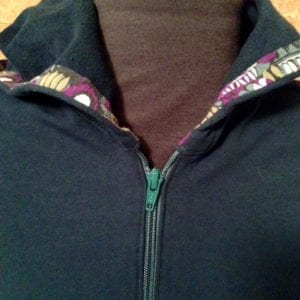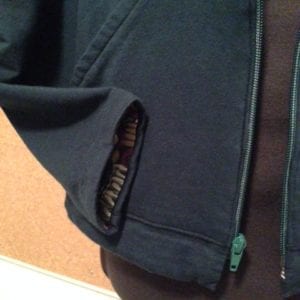 Both hoodies feature sweatshirt style patch pockets for keeping hands warm and stashing keys or other necessities.  Since these jackets weren't to be lined, we skipped cutting out facings and the fusible interfacing in Step 1; instead we used strips of fabric to face or bind the unfinished edges around the hood rim and along the center front (zipper tape).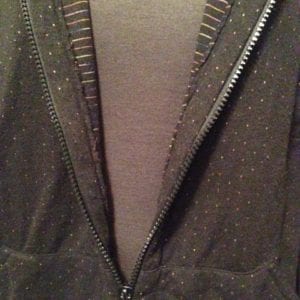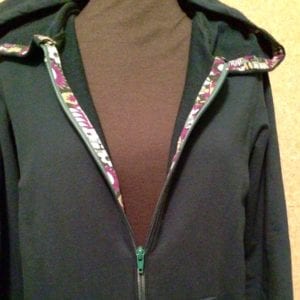 If you don't have a good selection of zippers available in your area, check out the online resources mentioned on our website.  Advice for choosing your zipper (material, length, opening style) is included in Rain or Shine Variations.  The Rain or Shine instruction book includes directions for all the elements discussed in this post, along with all the patterns and templates you need to make your own TRJ Hoodie.
The Tabula Rasa Jacket pattern and its variations are sized for woven fabrics, so you will want to choose a relatively stable knit with some heft, such as ponte, terry or even fleece.  Take the time to try your hoodie on at several steps in the construction.  Depending on the amount of stretch in your fabric, you may find that some minor adjustments will give you a better fit, particularly taking an extra 1/8" – ¼" out of the side seams.  On the other hand, you might like the extra bit of ease provided by the knit for a jacket worn over another layer.  So please, make the hoodie according to your usual pattern and try it on (before clean finishing the seams) and then decide whether to take it in.
Now, Fit for Art challenges you to make your own TRJ hoodie for fall and winter wear!  Send us a photo with a short description of the fabric, zipper and design choices you made (and what you liked, or didn't, about those choices) and we'll set up a TRJ Hoodie Gallery to share with the Fit for Art community!
Happy Sewing, Carrie & Rae