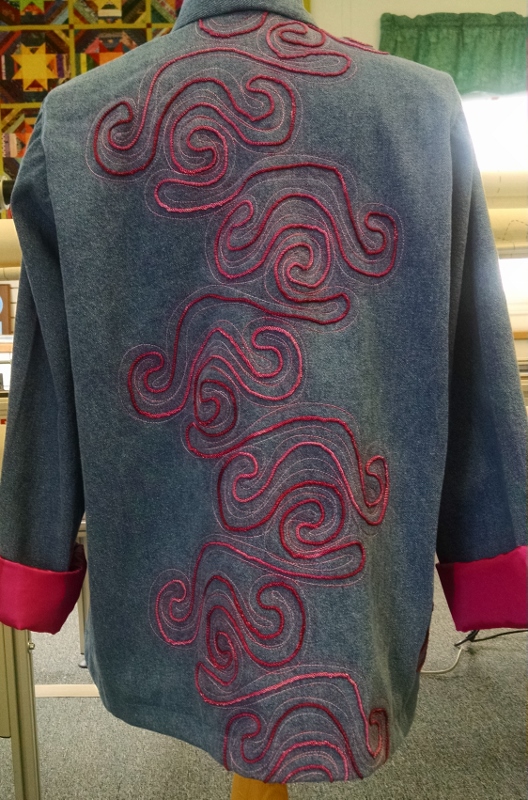 Today we welome Joy, a friend from the Easton MD area who has created a great Tabula Rasa Jacket, her first actually with embellishments using a long are quilting machine.  We asked her to write about it so we could share it with our Sew! Lets Get Dressed readers.  So here goes!
It was my pleasure back in May to discover that Fit for Art Patterns was featured at Lilies of the Field in Easton, MD and subsequently had a class featuring the Tabula Rasa Jacket.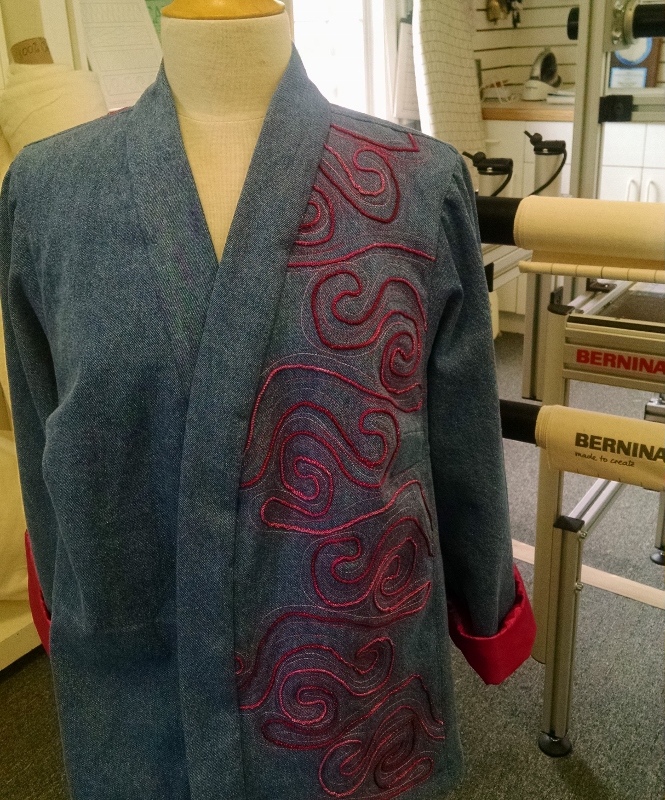 Just to introduce myself, I am Joy Coffelt and I am the longarm quilting professional for Lilies of the Field, which is a Bernina dealer.   My business is Joy's Cottage Sewing.  I quilt for others, teach longarm techniques and sell the Bernina Q-series.
Within the past year Bernina has come out with the Q20 tabletop and Q24 longarm quilting machines.  In April, Bernina featured a technique in which you use the free motion couching foot #43 on the longarm to free motion couch cording on denim and then use that fabric in a jacket.  The timing seemed to be perfect for me to implement this technique.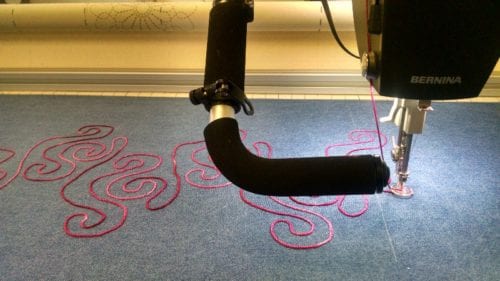 I set to work picking out a variegated cording called La Espiga No. 18.  The cording size is critical, too small and you will have missed stitching and too big…….. well, you know, it won't fit.  No. 18 worked perfectly.  
The next decision was, what free motion pattern am I going to quilt? After thinking about it for at least a week, I got the idea that instead of trying to figure out a random design of my own, I would use a pantograph.  Ah yes, a design I can couch without the hassle of marking my fabric or judging my work.  I bought 3 yards of non-stretch denim, squared it up and loaded it on the longarm.  I marked the pattern pieces on the denim and decided where the  design should be on the jacket, left side front panel and straight down the back.  I only had to make one pass down the length of the fabric, perfect.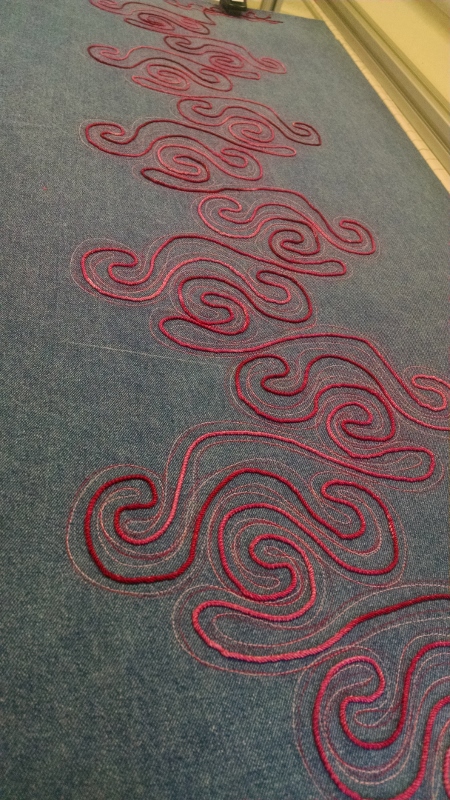 After that was done I decided to simply use two other thread colors of Isacord and free motion around the  cording.  As the couching extended beyond the pattern pieces, I used one end of the fabric as my test sample  before quilting with the other threads.  When I was pleased with the other color selections, I finished by free motion quilting on either side of the couched design.  I cut out the jacket and had enough stitched demin left over for one side panel.  After quilting, I constructed the jacket according to the directions and I lined the jacket so I could roll the sleeves and give the jacket a little more pop of color.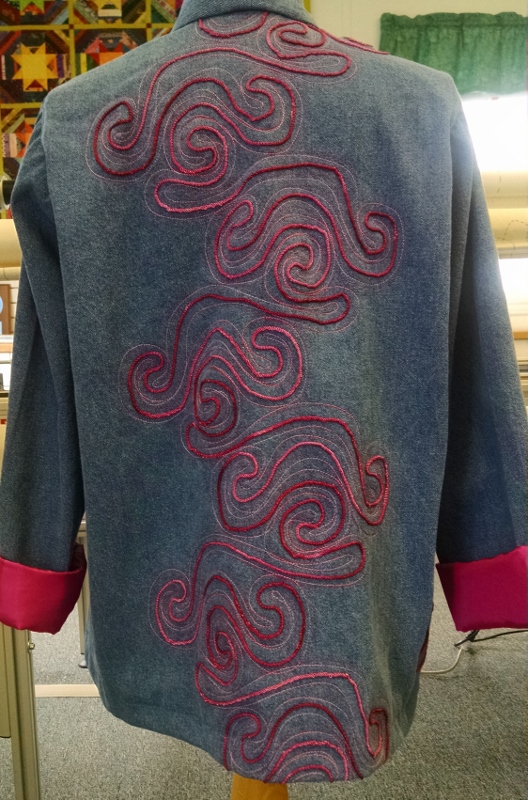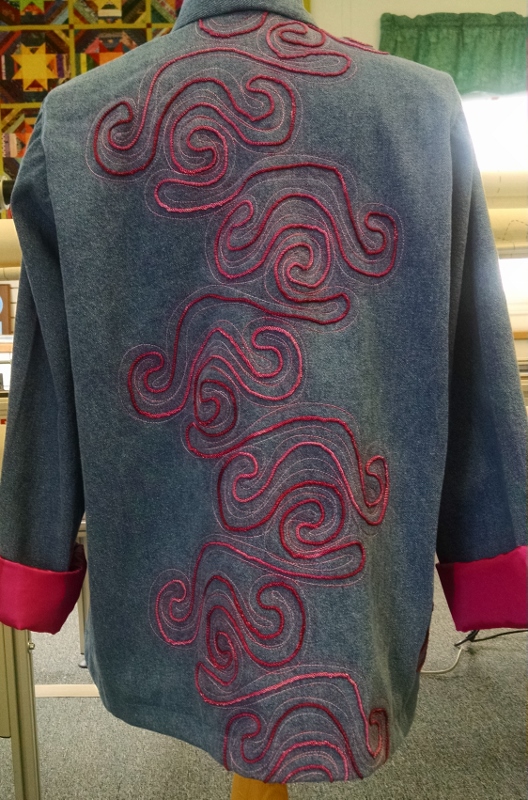 Don't you love this?  We are so glad to share Joy's jacket and directions with you.  Have you ever tried these techniques before?  Share with us your longarm quilting or couching experiences.  Do you have a jacket or technique you would like to write about.  Please share it with us and you might be the next guest blogger!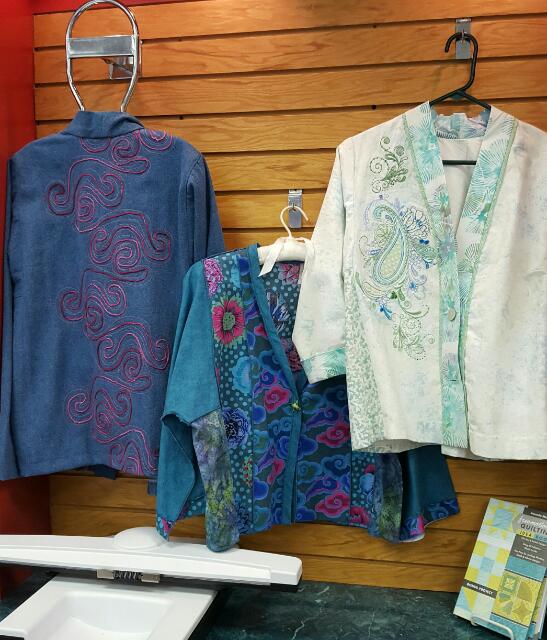 Happy Sewing, Rae and Joy