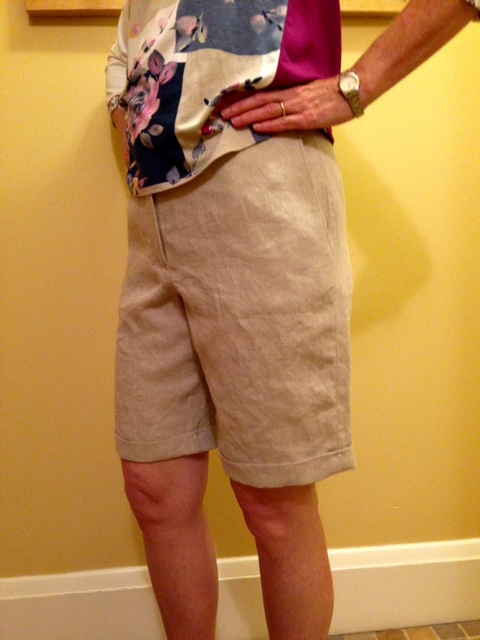 Earlier this summer, I came across a post (I think on Pattern Review) by a happy Eureka! wearer who had made shorts with her pattern. What a great idea! I don't know why I hadn't thought of it sooner. Like all testing projects, I began with a look through my and Rae's stash for a few appropriate lengths of fabric, figuring I didn't need much more than a yard (especially if the fabric is 54-60" wide). I pulled out a nice piece of ecru linen and a hefty denim for my experiment.
I started with the linen; it seemed to me that fabric cried out for a "dressier" style of shorts, so I turned to my Trouser Details (TD) pattern for Eureka! Pants that Fit. I decided to make them longish and cuffed, so I measured and guessed at how far above the knee I should cut to have 3" beyond the finished length for a cuff. I folded the legs of my TD pattern up and pinned them out of the way. Realizing that I would need to make the bottom 4 to 5 inches of the pattern drop straight down for hemming, I pinned the front and back patterns to some tissue and redrew the inseam and side seams straight down to the hem (remembering to keep the distance from grainline to cutting line the same for both seams at the hem).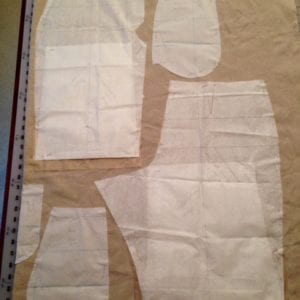 Construction followed the Trouser Detail instructions with a slash pocket and cuffs. Here you can see me trying them on to check fit before I added the waistband, and then again with the hem pinned up to assess the length. I'm feeling pretty good about these shorts!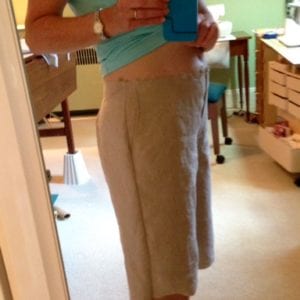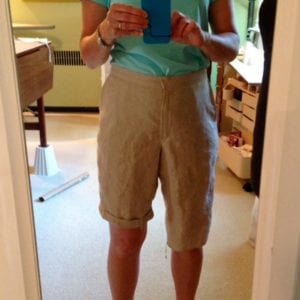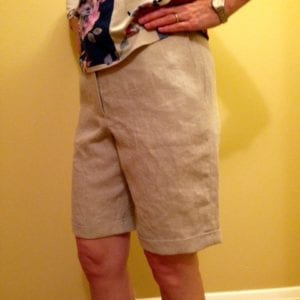 Since it has been hot and I've been wearing shorts a lot, I've had plenty of opportunity to think about the style I prefer in shorts. My original plan had been to make the denim shorts with my Sporty Details (SD) pattern, but by the time I got to making them I had concluded that I don't like shorts hugging my legs the way jeans do. So, I took a close look at my favorite shorts – 7" inseam, looser in the leg, shaped waistband, and front pockets that slash horizontally rather than vertically.
I won't bore you with the nitty gritty of my pattern work, but I ended up creating a new pattern that merges my trouser and sporty details. It has a wide leg and redrawn front pocket opening and pocket patterns from TD, shaped waistband and back patch pockets from SD, and a 7" inseam.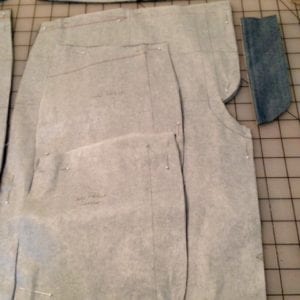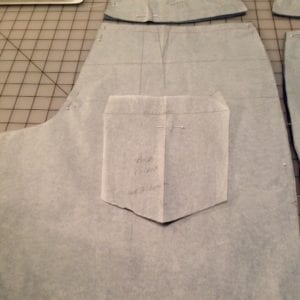 I used a heavier navy blue thread rather than the classic jeans orange for all of the topstitching. I am loving the result! Look at these great shorts – utilitarian and attractive! My thanks go out to the customer who inspired me to try shorts. I can't wait to make a few more pairs.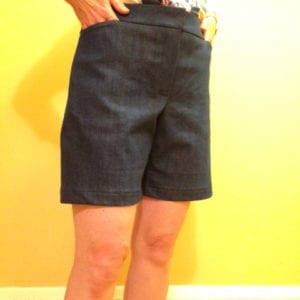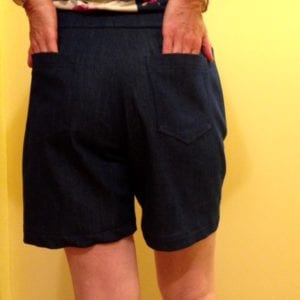 Looking for help to modify your Eureka! pants pattern to other shapes and uses? Come to our Sew! Let's Get Dressed Retreat later this month where Rae and I can help you with the pattern work and fitting. Follow this link to our events calendar for more info and a registration form. Hope to see you there!
Hope you, too, are enjoying sewing in the cool indoors AC this summer.
Happy Sewing, Carrie