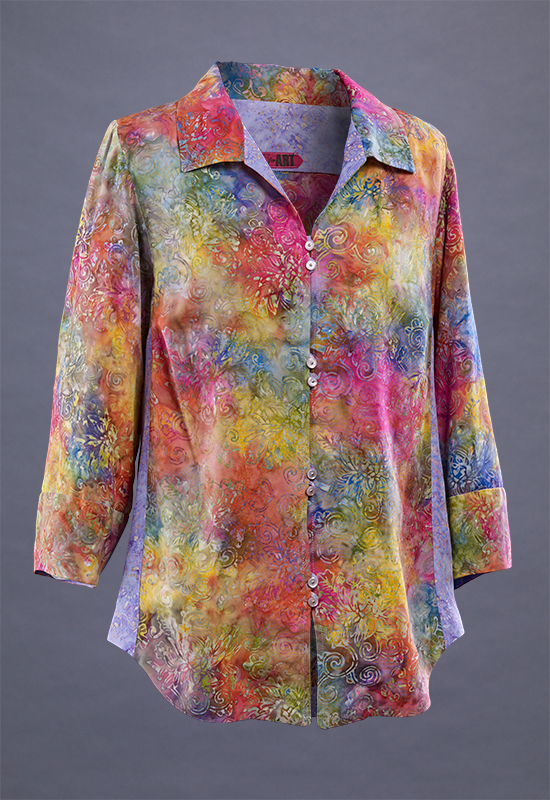 While we were at the Original Sewing and Quilt Expo in Cleveland, I picked up a combo of rayon batiks from one of our favorite vendors, Sew Batik, to create a summer top.  Of course I had to use our new Rain or Shine Variations for the Tabula Rasa Jacket!
I decided to work with the Rain or Shine jewel neck option with a collar, making the primary fabric the "rainbow floral outline" and using the contrasting fabric, "lilac medora flora" for the facings and side panels.  I used 8 tiny buttons and loops for the center front closure, adding a modesty panel underneath.  I also decided to mix it up a little by incorporating the ¾-length Lantern style sleeve and cuff from Sleeve & Cuff Variations for the TRJ.  Here you can see how the lilac accent appears as the front and back facings, modesty panel and loops, the under collar and cuff facing.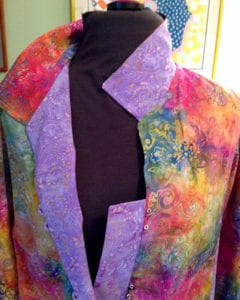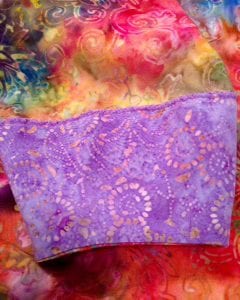 I also decided to give my rayon batik a longer shirttail hem, which required a little extra pattern work.  In addition to adjusting my front pattern piece for the jewel neckline, I adapted the curved hem template from Wide Neckline Variations for Tabula Rasa Knits for my front, back and side pattern pieces.  Because our knit patterns are scaled smaller for knit fabrics, I had to extend the front and back templates to the jacket center front and back.  Here you can see how my new pattern pieces look and fit together!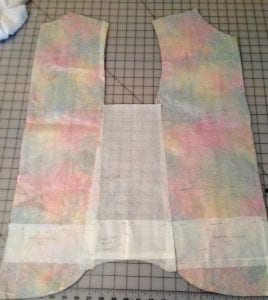 Finally, I had to choose how to hem my curved tunic hemline.  One option that works on a curved hem is a traditional narrow shirttail hem.  Because I felt that the shirt needed a little more weight to hang well, however, I decided to face the hem with the remainder of my lilac batik fabric.  I created facing patterns for the hem from the bottom 2 1/2″ of the adjusted front, back and side patterns.  I cut the facings and fused the lightest interfacing from our Interfacing Sampler to them (as I had done for all the facings on this shirt).  After sewing the fronts, sides and back hem facings together, I clean finished the raw hem edge with the serger.  After attaching the facing to the hem, I pressed it up to the shirt body and hand sewed the facing in place.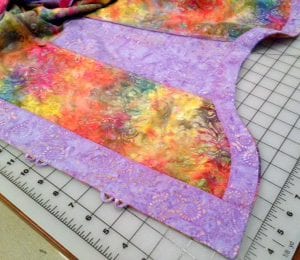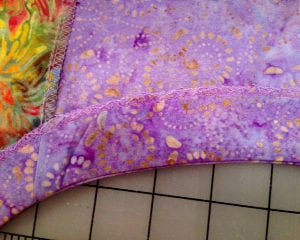 While perhaps not appropriate for the very hottest weather summer throws at us here in Baltimore, the relaxed and drapey shape of this shirt is comfortable and cool for spring and fall.  If you've been wanting to combine variations to create an original Tabula Rasa Jacket or Knit but are a little intimidated by the pattern work, join us at our Summer Sewing Retreat in August.  We can help walk you through the process of designing and creating a Tabula Rasa original!
Happy Sewing, Carrie