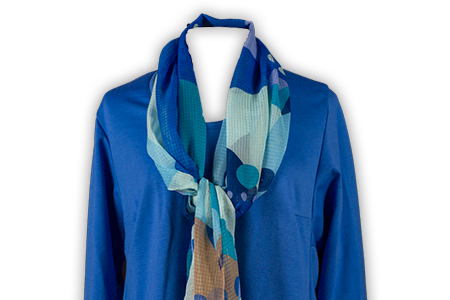 You know we love to share our mixed fabric knit tops to inspire you to have fun mixing knits into tees and tunics.  But don't lose sight of the fact that the Tabula Rasa Knit (TRK) pattern makes great solid color basic tops that will complete an ensemble or support a fabulous scarf or jewel.
Here are a few of the solid color knit tops we have stitched up using Wide Neckline Variations with the TRK Pattern.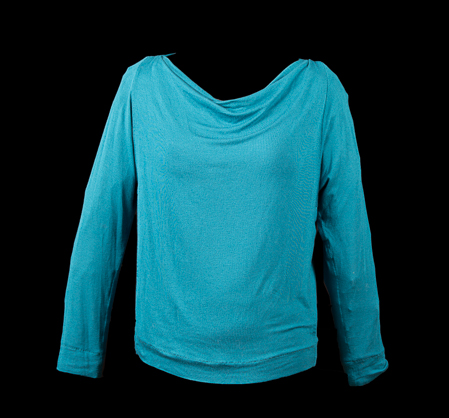 The teal jersey top with a draped front was quick to stitch up using a stash fabric.  It's Carrie's but her daughter keeps borrowing it to wear to work.  The modest drape is quite office appropriate.  We added a deep hem to the body and sleeves to give the tee better weight.  There are directions for a deep hem in Wide Neckline Variations.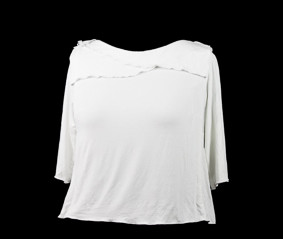 This white tee is made from our favorite rayon/cotton/lycra knit which we mix into our fabric bundles.  Its wide neckline is finished with a double angled collar. The under collar was cut with the longest collar length and the top collar was cut the reverse direction using the shortest length option.  I finished the outer edges of each collar piece with the rolled edge hem on the serger.  Next, I stacked the two front collars and the two back collars and basted them together along the shoulder and neck edge.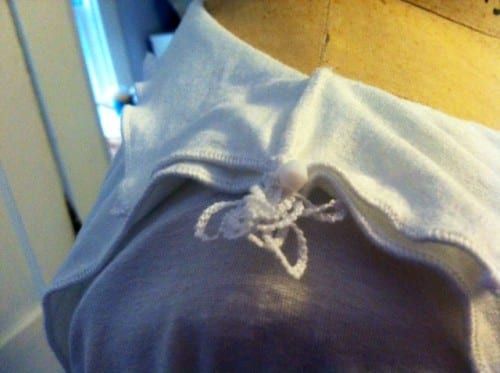 After machine stitching the shoulder seam with wrong sides together, I serged the seam with the rolled edge finish leaving a long tail on the shoulder edge.  The thread tail was stitched into a decorative bow with a beaded accent to add some interest to this solid colored tee. The hem and sleeve finish are also serged rolled edges.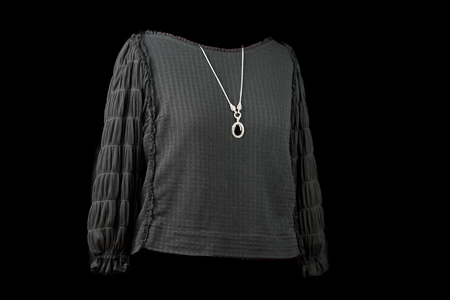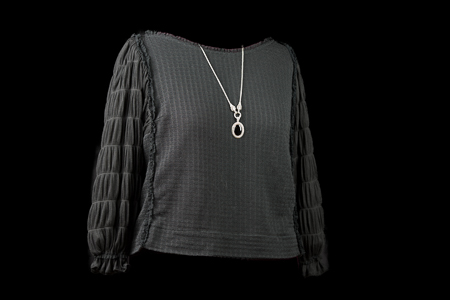 The black ballet neck top uses two different novelty knit fabrics.  I used black stretch lace trim from Mokuba to trim the neck and sleeve edges.  A double sided trim was stitched over each side/shoulder seam to add additional interest to this basic black tee.
I also have two U-neck tees made from the basic TRK pattern.  The black top is made from a heavy weight novelty poly I bought at Textile Fabrics in Nashville TN.  I love it on chilly days when I want to wear one of my favorite scarves.( I am wearing it today, May 3, so it will be in my Me Made May Day 3 Instagram post) The periwinkle ponté is shown with the Frank Lloyd Wright scarf it was made to accompany.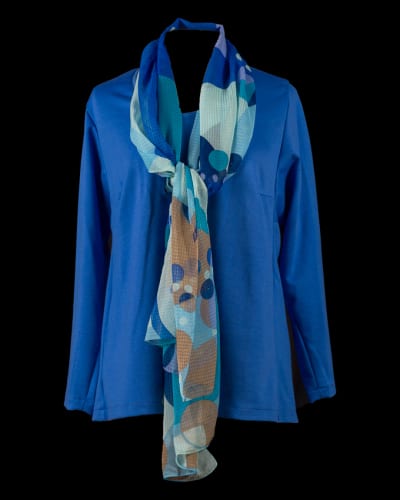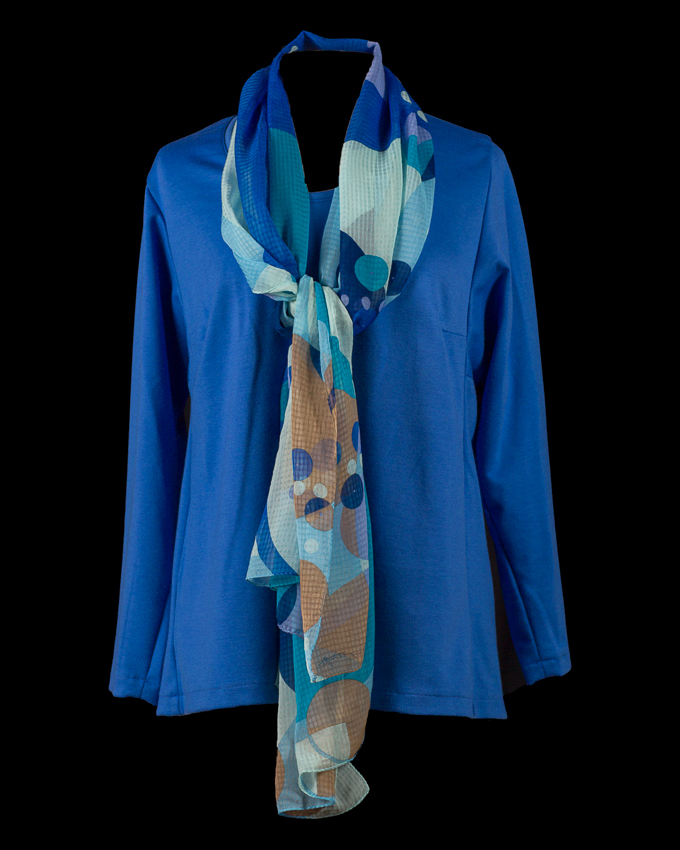 This summer I will wear my lime green deep draped TRK tunic that was the first test garment for the curved hemline featured in the Wide Neckline Variation pattern.   The fabric is a very lightweight rayon/lycra knit; I wear the tunic over a white lace trimmed tank top on the hottest days for a cool and comfortable look.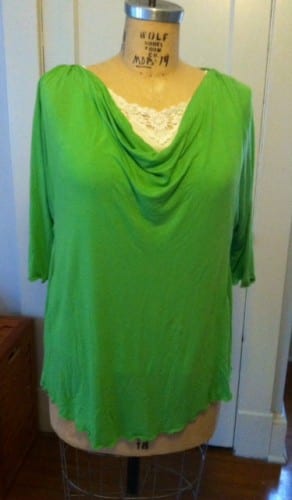 I know that the stores are full of solid color basic tees for very low prices, but they never fit me as well as my TRK tees.  So when I see a nice knit in my favorite solid colors, I purchase enough to make one or two useful tops.
Are there ever enough knit options in your drawers or closets?  What knit tops are you planning for your late spring and early summer wardrobe?  Can you find nice quality solid knit fabric at your local fabric store or online fabric vendors?  If we were to stock basic knits for Tees and Tunics in our online store, what colors would you order?  Our supplier has lots of colors we can choose from.
Happy Sewing, RAE
P.S.  I have taken the challenge to dress in clothes I made each day of the month as a participant in the Me Made May project.  Since this is not hard for me, I extended my challenge, agreeing to stitch one garment a week from stash fabric.  Watch the Facebook page to see my Me Made May new original garments and see daily photos on instigram.