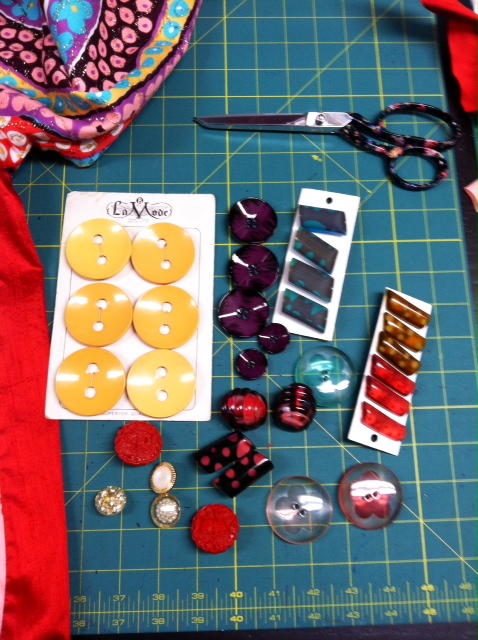 Choosing the perfect buttons for your jacket can be a challenge when you are open to a variety of possibilities.  In this photo-filled post we are going to choose buttons for a very colorful Tabula Rasa Jacket (TRJ) that I am making for my client, Sally.  It is perfect for spring.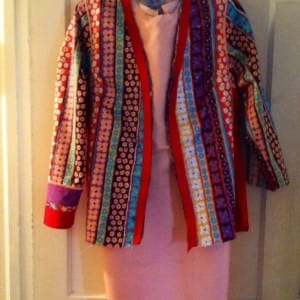 As you see, the front band (and second cuff) has not yet been added to the jacket.  This is because there are two band options and each complements different sets of buttons.  Other reasons to wait and construct the band after you have chosen the buttons include that the band width might need to be adjusted to work with the size of the buttons you ultimately select, and that the band's inner supports need to be chosen based on the weight and placement of the buttons and the button holes.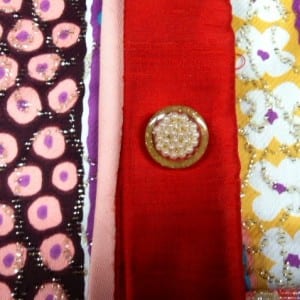 I went shopping for buttons in my button boxes and at the Fabric Place before the first jacket fitting so Sally and I could make a choice together.
The jacket will be worn with a peach/pink sheath dress and seemed dressy to me.  That, combined with Sally's slender frame, led me to choose small scale buttons that complemented but did not distract from the ensemble.
While Sally is petite, she has a very bold personal style.   She liked one of my choices but wanted to explore additional options.  She planned to visit M & J Trims during a trip to NYC and look for options in her antique button collection.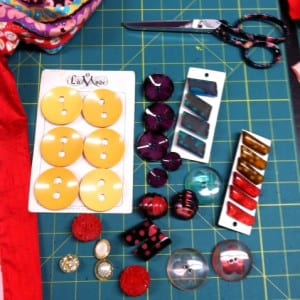 We agreed to get together the next week to consider more options.  To assist her search, I assembled a swatch set for her shopping trip.
Sally brought lots of buttons for us to consider all of which matched the swatch set, but not all of which were ideal for this jacket.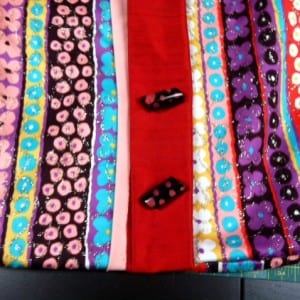 We tested the buttons on both the red and purple band options.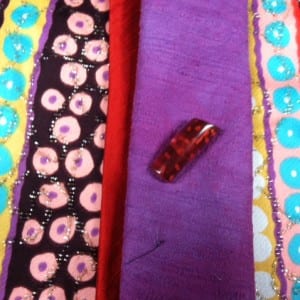 We considered size, shape, weight and  color in relation to the jacket and the ensemble. There were lots of great choices.
After much deliberation we chose the 3 large soft color buttons with etched flower centers.  We decided they looked best on the purple band.  Their large size means I will make the band the standard TRJ width, 2 inches.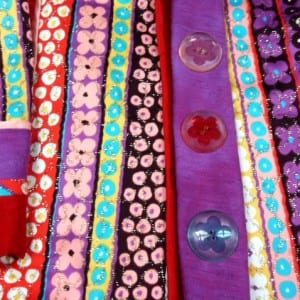 For the button closures, I will construct inseam buttonholes, which are an excellent choice for large buttons.  In addition, the purple piece of fabric was not long enough to cut two clean band lengths, so inseam buttonholes can make use of some shorter pieces.  You can find the directions for constructing inseam buttonholes in Band Variations pattern for the TRJ.
Which buttons would you have chosen for this ensemble?  See more photos at the end of the post.
Do you have good sources for buttons?  I would love to have your suggestions for online button sources.  They would be very helpful for folks who do not have good local sources.
Happy Sewing, RAE