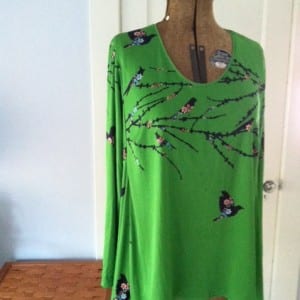 Hopefully you already know how fun and easy it is to stitch up tops using the Tabula Rasa Knit pattern (TRK).  They have become a staple in my wardrobe and several of our friends were sporting their TRK tunics last weekend at the ASDP (Association of Sewing and Design Professionals) conference.
As sewers we know how important it is to pre-wash our fabric if we are making garments that we want to be able to wash after they are constructed.  I wash most of the knits I wear on a gentle setting with cold water and a fine fabric detergent.  So, I pre-wash new knit fabric using the same method to accommodate any shrinkage or color change before construction.
But what if you have a piece of fabric in your stash or something just purchased on a sale rack, and you are not certain if it is washable?  This happened to me just this summer.  I found a wonderful piece of emerald green silk jersey in one of my favorite NYC fabric haunts.  It was printed with birds and branches in colors as intense as the green.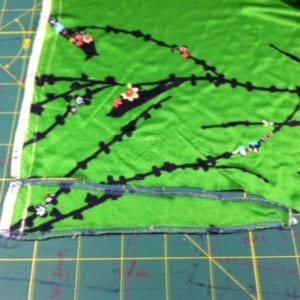 Because I was unsure how it was printed, I was nervous about throwing the entire piece of fabric into the wash.  Knowing I did not have much extra fabric, I decided to test a sample.  I carefully cut off a wedge along the most uneven end.  I made sure to get a bit of the white selvage in the sample since selvages are good indicators when assessing shrinkage and color change.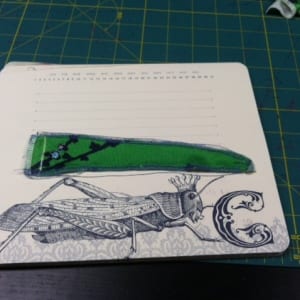 I serged all around the raw edges and traced around the piece so I could check the size after it was washed.  The sample then went into a lingerie bag and into the washer for its gentle washing.  I laid it flat to dry.
Once it was dry, I lined it up with the tracing to check for shrinkage and compared it to the original fabric to check for color changes.  I am delighted to report that there was no noticeable change in the size, color, or drape, so I serged and pre-washed the entire piece using the same method.  It gives me great confidence to sew and wear a top in this special fabric knowing it will hold up to additional washings.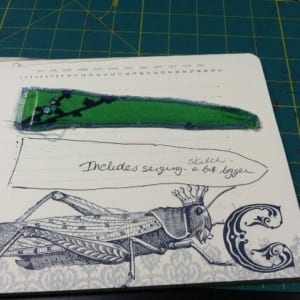 I hope this little knit tip will be useful.  In fact, this tip for testing fabric is not just for knits, you can use this method to test the wash-ability of any piece of fabric.
The first TRK tunic was made about 3 years ago from a piece of ITY knit that had been in my stash for a very long time.  Our great sewing friend and blogger Jane started making hers at our testing event in early June.  Click here to read her latest blog post with photos in which she is modeling 3 new Tabula Rasa Knit tunics.  She also offers some additional tips about underlining and constructing her TRKs.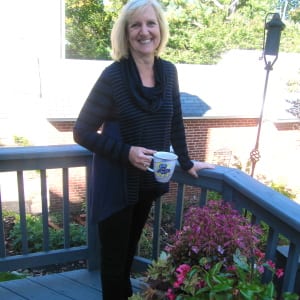 We would love to hear your knit tips, too, as we continue to encourage you to hop on the Tabula Rasa Knit Tee and Tunic bandwagon. See more of our fun knit tee's and tunics in the photo gallery.
Happy Sewing, RAE