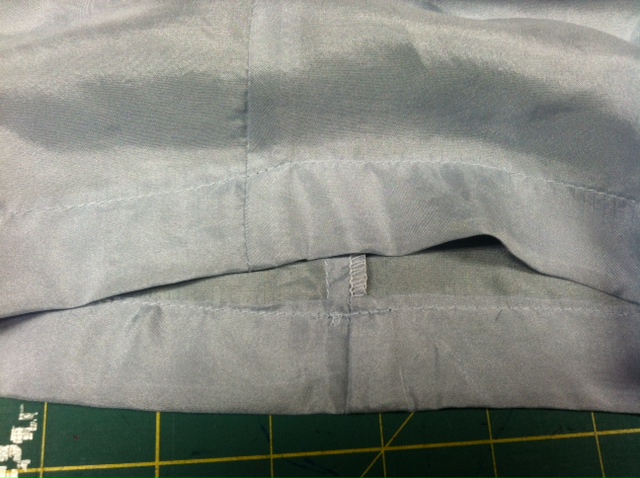 Use your Eureka! Pants pattern to stitch up a "slip" to wear with your pants. It is an easy way to add a layer of warmth and drape to your fall and winter pants without lining each pair. Plus, if you choose a fabric that can be pre-washed, you will save on dry cleaning costs too.
I have three pants slips, each made with a different fabric. While each was made to accompany a specific pair of pants, they are routinely worn in the colder months with other pants. Each fabric was pre-washed before the slip was cut and constructed.
The most useful is a black pant slip made to go with black boot cut wool pants. The slip fabric is silk crepe de chine with a bit of stretch. It is the perfect weight for a pant slip and the little bit of stretch allows the slip to be fit on the snug side.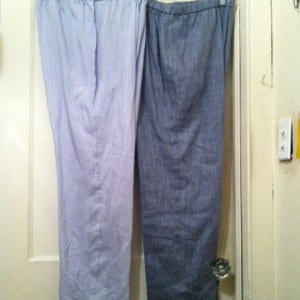 My spring/fall pant slip is light blue china silk. It was made to accompany a pair of grey/blue pants made from silk suiting. I chose a very light fabric so the slip would be comfortable as the seasons change, while keeping the silk fabric from clinging to my hose. In the summer I wear the pants with sandals so I don't need the slip.
The last of my slips is made with navy blue Ambiance lining. It was made to be worn with a pair of itchy wool tweed pants that I rarely wear. I love the feel of the rayon Ambiance lining, but it does not hold up well when it is stressed. My first pant slip, made many years ago, was made from black Ambiance. Over time it shredded in the seat and was patched several times until it finally had to be retired.
If you do not mind the warmth that comes with wearing polyester lining, a polyester lining like Hang Loose will make a very nice pants slip that is non- static.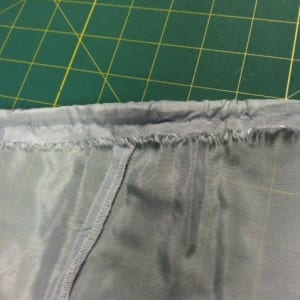 To make a pant slip, follow the directions for constructing elastic waist pants on page 22 of the Eureka! Pants direction book. Before you cut the front and back of your Eureka Pants pattern out from your pre-washed fabric, add one inch in length to each pattern piece. Follow the directions to calculate the length of the waistband. It needs to be long enough to fit around the pants without darts and it should be only 2" wide. That gives you a band the right width for the 1/4" elastic you will feed into the waistband casing.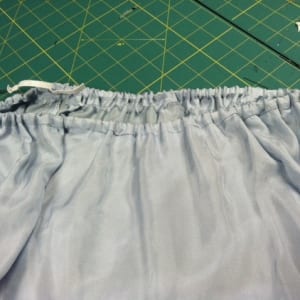 Finish your seams cleanly, trimming them to 1/4".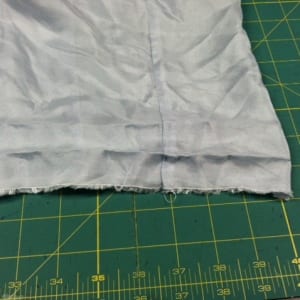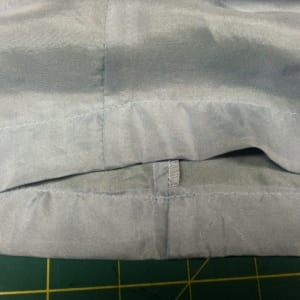 Plan for a double turned machine stitched hem. You want your pant slip to be a little bit shorter than your pants. With the extra length you added before you cut, you should have at least 1 1/4" to double turn at the hemline.

This is just another way you can use your well fitting Eureka! Pants that Fit pattern to extend your wardrobe. Pants with optional slips can be worn in more than one season. Have you made a pants slip before? What fabric did you use?
Happy Sewing, RAE