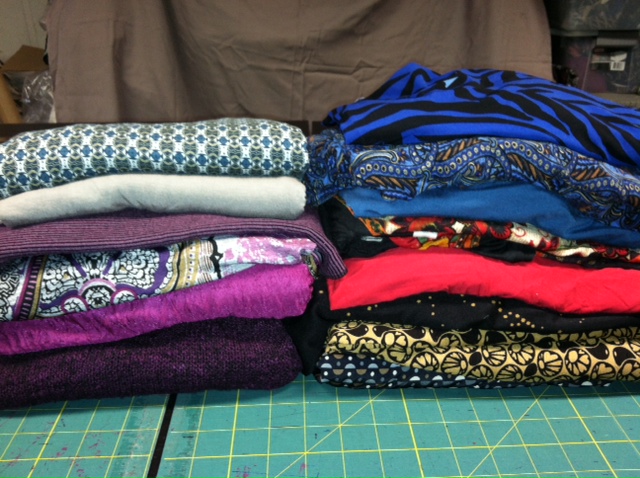 Creating a wardrobe of clothes from fabric in your stash is a fun challenge.  When the season changes from winter to spring, it is a great time to reorganize your fabric stash.  Put away those winter projects you never got around to stitching up and find some spring and summer stash to tempt you to sew.  Fabric that has been in your stash a long time is like "free" fabric.  It is so satisfying to use those long languishing pieces to test some new patterns or techniques. When you begin reorganizing your stash, consider grouping fabrics for the types of projects you make most often.  I have a pile of pants fabrics, one of shirt or jacket fabrics, a shelf of knits, etc.  I keep the fabric for current projects on a bookshelf that I can see every day.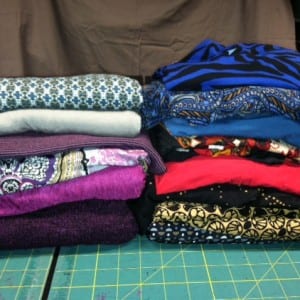 For our new knits pattern, I energetically sorted through my knit stash so I could make some spring tops. Here is a sampling of the fabrics I found in my knit stash that will be stitched up soon.  I am testing a variety of knit fabric techniques and playing with the cover stitch machine Carrie and I just purchased. And of course, we are testing the sizing and finishes on the new pattern.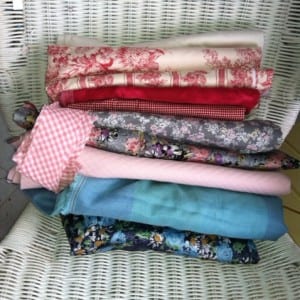 We are also testing a shirt variation for the Tabula Rasa Jacket pattern.  This required me to search for woven shirt and light jacket fabric in my crazy stash.  Because I always like to mix up fabrics, I am happier with 2 – 5 fabrics to include in each shirt. Here is a pile of fabrics I found in the stash that should make up into 3 fun shirts or shirt jackets.
It is so satisfying to make "stuff" from "stash".  Stash is, of course, fabric I loved enough to buy but never got around to using.  I feel both prudent and delighted when I finish a new wardrobe staple or a fabulous Fit for Art sample with stash fabrics.  Plus, once it has been stitched into a new garment, it leaves an empty place on the shelf for new fabric purchases.
Personally I really enjoy  reorganization that requires me to look through things I have collected.  In addition to my fabric stash, I have collected magazine clippings and photos  into boxes and notebooks to inspire me.  But in an effort to be a bit more 21st century, I am also having fun organizing ideas on Pinterest Boards.  I have been pinning some fun knit fabric resources  and techniques to my Pinterest board "Sewing with Knit Fabric".  Take a look when you have a minute to check out the assortment of knit information posted there. Feel free to follow all my boards and send me links to your favorite knit resources.
Watch this blog for photos of some of the stash to stuff garments I am making and for announcements about our Tabula Rasa Knit Tee and Tunic and our Easy Shirt Variations for the Tabula Rasa Jacket coming later this summer.