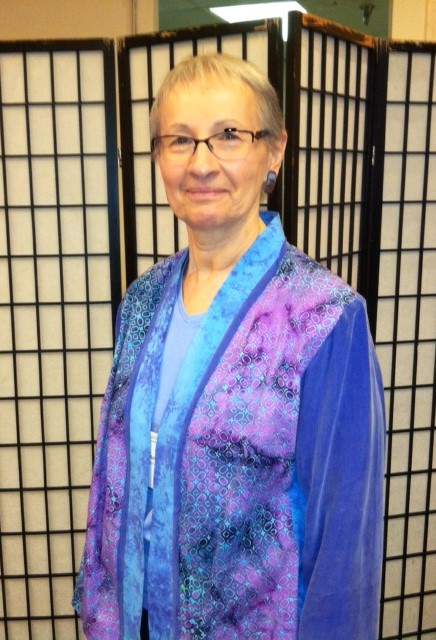 My search for a great wearable art jacket pattern (which ultimately resulted in the Tabula Rasa Jacket pattern) included a grant from the Potomac Fiber Arts Guild.   The grant partially funded my jacket making collaborations with several quilters and weavers in 2009 – 2010.  With each of my collaborators, I made a muslin mock-up for fitting purposes, adjusted the fit of the muslin and the pattern as needed, and then used some stash fabric to make each collaborator a wearable mock-up to test the fit.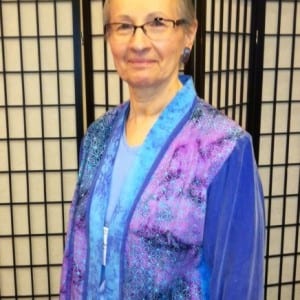 This is my friend Floris Flam.  She was one of the original collaborators on the Potomac Fiber Arts Grant project.  We met again a few weeks ago at the Studio Art Quilt Association Conference in Alexandria, VA and she was wearing her wearable mock-up.   It is made with some fun rayons that were in Floris's stash.  She says she still enjoys wearing it as I often enjoy wearing my wearable mock-ups.
Have you made yourself a muslin fitting mock-up or a wearable mock-up using your Tabula Rasa Jacket pattern yet?   To inspire you, we are reprinting this tip from the February 2014 newsletter about getting started on your Tabula Rasa Jacket journey with a wearable mock-up. (As we move the information from our old website to the new one, we will be posting some of our old newsletter tips as blog posts.)
---
At the Lancaster Quilt show we met several customers who bought Tabula Rasa Jacket patterns last year but haven't started work on the pattern yet.  Here, to encourage you to make your own "wearable mock-up" or unlined version of the Tabula Rasa Jacket, are two samples made with just the basic Tabula Rasa Jacket pattern.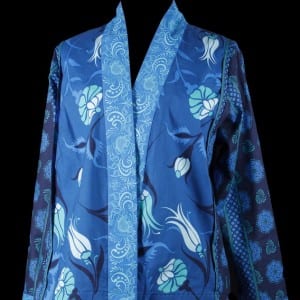 The Midnite jacket is made from 3 lovely blue cottons.  The front and back are created with the boldest fabric, the sleeves and side from the quietest pattern, and the band and cuffs from a third that had a long stripe and was easily featured on the band.  Unlined cotton is perfect for a first project or to feature 3 – 5 great cotton fabrics from your stash.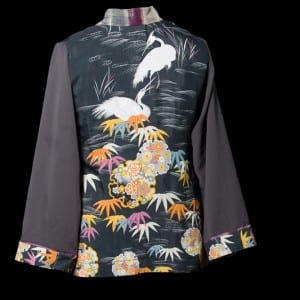 The Cranes in Gray jacket is also unlined, but it features 3 fashion fabrics.  The fronts and back were fussy cut from a bold rayon print.  The sleeves are grey polyester chiffon with a subtle stripe.  The sides and band feature a washed silk ikat that perfectly complements the colors of the other fabrics and brightens the jacket with raspberry accents.
These jackets illustrate how we approach the process of deciding which fabric to use for each pattern piece.  Generally the largest or most colorful design is featured on the front and back.  A quieter or darker fabric, such as a small print, a stripe, or an almost-solid, is used for the sleeves or sides.  An accent fabric can be used for the band, cuffs or piping.
Visit our website photo gallery for more inspiration and begin planning and sewing up your own jackets.  Unlined Tabula Rasa Jackets are great for Spring and Summer, so what are you waiting for?