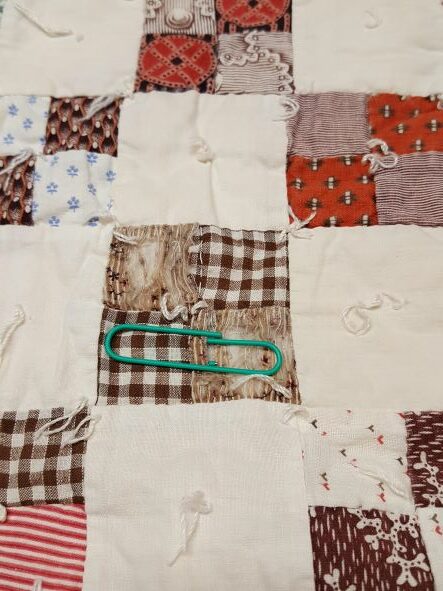 Indulge me in some musings about the quilts I recently cut apart and stitched into a Tabula Rasa Jacket.  This was my second such project in the last 6 months, but these two quilts set my mind to wondering about the materials and the maker whose hands crafted these bed covers.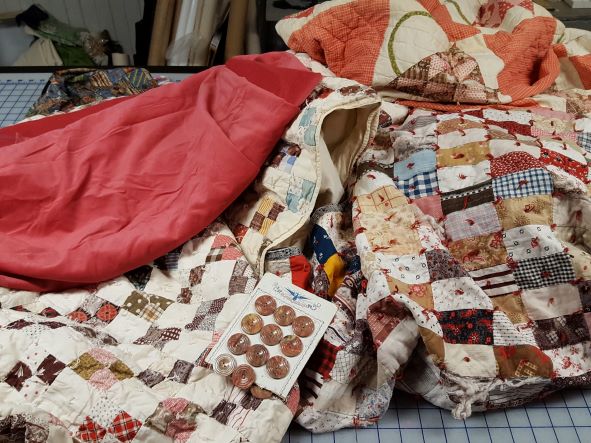 The quilts arrived in a big black plastic bag, delivered by a friend who has allowed me to test every Fit for Art Pattern using her vast collection of fabrics and buttons.  She does not even remember where they came from.
The best of the quilts became a spring jacket featured in the post Coat Stitched From a Quilt.  The two next best had more earth tone colors and seemed like they had potential to become the long coat with a Shirt Variation opening that Sally was hoping for.  She loves being on trend and quilted coats are a current fashion trend.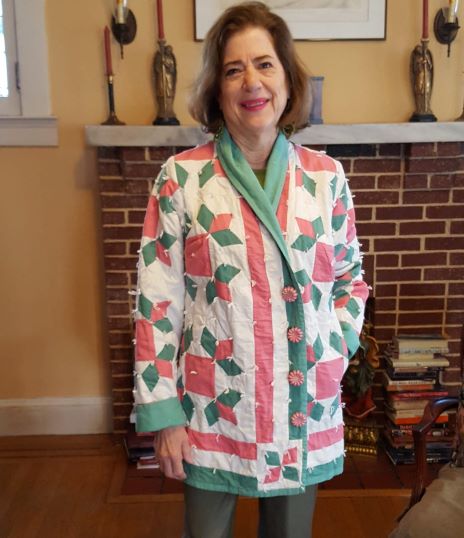 After washing the two quilts and drying them in the sun, their true nature became apparent.  Clearly they were quite old;  some of the stitching has come loose, some of the fabrics had even disintegrated and the shredded batting was oozing out of the empty spaces.
So, with pattern pieces in hand I spent a couple of mornings pouring over every inch of each quilt to mark the damaged spaces with large bright colored paper clips that could be seen and felt while placing the pattern pieces for the coat. It was quite a thought-provoking exercise as I, like the maker, touched and evaluated each small piece of fabric.  Here are some of my thoughts:
Were these recycled fabrics already tired and worn when they were cut into the small pieces for the quilt's assembly? Perhaps a special dress or apron?
The most diminished pieces were tan with small white polka dots. I love polka dots.  Maybe we have other things in common, the original maker and myself.
I considered my own sewing habits while working. The finished quilts had been hand-tufted.  When I have such a project, I use it to fill the hours I spend watching baseball and football with my husband.  When would this maker found the time to do this work after cutting all the tiny squares and rectangles and then sewing them all together?
How long did it take her?
Would she ever have imagined that her efforts at keeping her family warm and cozy would one day be repurposed into a high fashion coat?
What were her favorite fabrics in the quilt? Clearly these materials were not coordinates bought brand new for a quilt to be artfully crafted, entered into a competition or hung in a museum.
Even though I had no idea where these quilts came from, I enjoyed imagining the creator who planned and stitched them as I cut, repaired and stitched together the coat.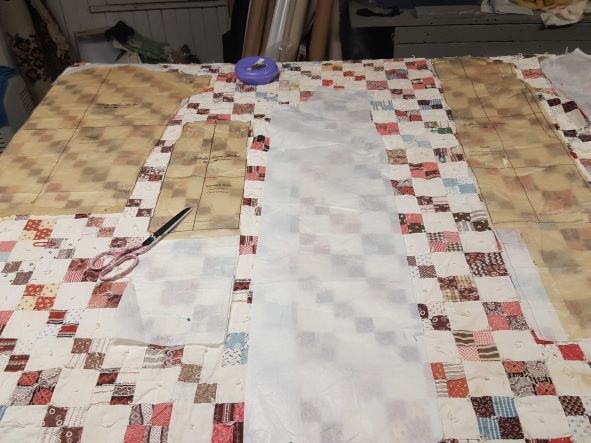 All of the coat pieces were cut from the small square patched quilt that had an intact backing.  All the facings, pockets and cuffs were cut from the rectangular quilt that was in  worse shape and had a disintegrating backing.
New rose-colored corduroy bindings will be used to finish all the edges with a clean and sturdy finish.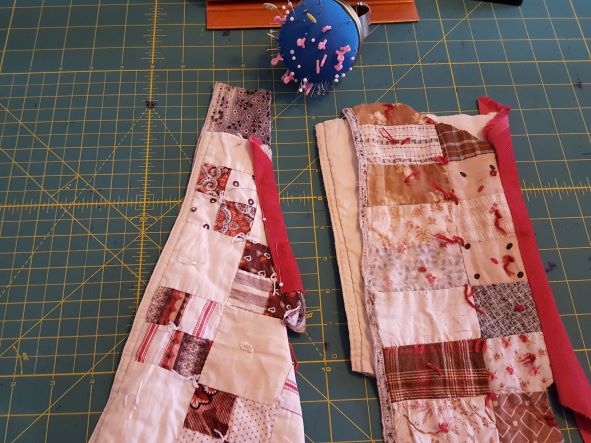 It has been my pleasure to give these quilts another chance at life!  I anticipate needing to repair the old fabric in this coat from time to time, but it will be like revisiting an old friend, one I feel privileged to have met.
Keep an eye on Facebook and Instagram in the next few weeks to see the  partially constructed coat acquire its finishings,  Interested in reading more such musings?  The book Threads of Life, mentioned in the post Interesting Books for Fabric Lovers, explores many such topics about the unifying nature of the sewing arts.
Happy Sewing, RAE