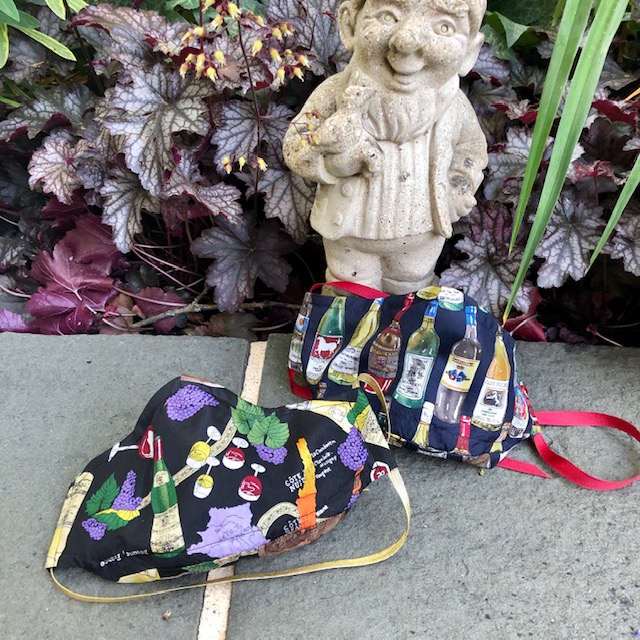 On days I have a planned outing, I plan my outfit to match one of my 2 masks.  In a previous post you have seen the Liberty of London floral print mask I made to coordinate with a new jacket.  As it  has got warmer, I made myself one in a blue and white toile print.  This greatly expanded my available outfit options.   This is not to sound smug, but I find that if I look good, I feel good.  I enjoy adding a bit of beauty to this rather gray world.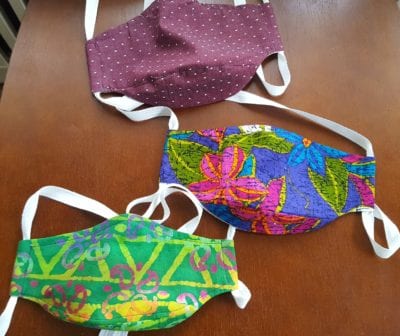 It seems to me that face masks are going to be part of the wardrobe for many months to come. A couple of weeks ago The Baltimore Sun printed an article that first appeared in the New York Times on finding masks that are functional and look good.  I realized that the ones I make look so much better and have personalized fitting options. unavailable through online retailers.   If you have to wear a mask, why not make it a beautiful or fun one that coordinates with your favorite clothing.
One Great Mask Pattern
Our favorite mask pattern is available as a free download accompanied by photo illustrated directions.  We borrowed the design from our friend Pam Damour, The Decorating Diva.  We wrote the directions and scaled it down for a children's size and up for a Man's size.
This beautifully shaped mask is comfortable to wear and easy to personalize. It is a mask to delight sewists.  No raw edges, pleats or seams to distort the fabric's beauty but fitting options abound. Because masks will be a fashion accessory for many months, offer your family and friends functional, well fitting,  beautifully constructed face masks that will keep them coordinated and stylish as they return to work and play in our new landscape.
Size and Sew Smart
Take advantage of the tips we included in our step by step directions on fabric layering, nose wires and ties to stitch up these non-medical masks.  Read our blog for Sew News Magazine on fitting tips for reliably safe masks.  Share them with your sewing friends or send them to Fit for Art Patterns to follow all the links "In The News".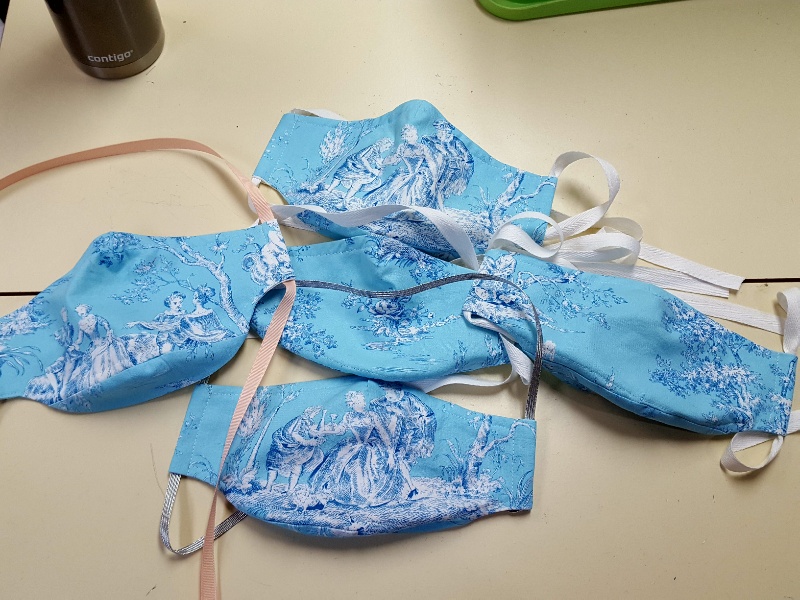 Thankfully we have moved past the need for quick mask manufacturing where any fabric will do and custom fit is not possible.  Choose fabrics that remind you of the person who will receive the mask.  Trace off a tissue paper pattern so you can fussy cut the mask, positioning fabric to its best advantage.
Pick Successful Fabrics
Our friend and fiber artist Laura Murray newsletter said "The American Chemical Society recently reported that a combination of cotton with natural silk provided protection to nearly that of a N95 mask.  (More info here: sciencedaily.com)  I made a few with my kimono silks, lined with cotton. Naturally, you could use a silk lining with an interesting cotton print; the silk feels wonderful against skin."
I took her advice and made one in Nicole Miller martini print silk with a cotton lining for a gentleman's 90th birthday present.  I am anxious to make one from kimono silk myself, but cannot decide which color I am most in need of.
Carrie made some lovely summer masks with a cotton batik layer and a cotton lining layer.  Batik is also considered very good at filtering out unwanted germs.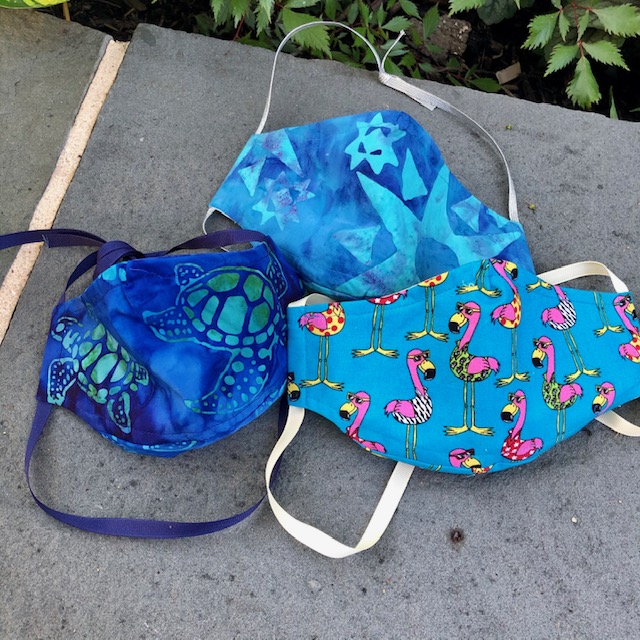 Personalize each mask for the wearer
Add some bling with Rhinestone Genie templates and their ingenious method of attaching these sparklie little lovelies to your favorite fabric.  Here is a pair of birthday masks I made for my niece and her 2 year old daughter.  They match last week's mother daughter beach coats in fine cotton batiste.
When I got my first haircut, hurrah, I made a new mask with ear loops.  My behind the head ties or elastic, which are so secure, would have been in the way.  I also took each of the 4 salon employees a mask that coordinated with the salon's Red, White and Black color theme.
If you are using very thin fabric like china silk prints or cotton batiste, add a layer of Envy Silk woven fusible interfacing.  It is so light weight but adds enough support for the thin fabrics to hold their shape or their embellished accents.
Make your mask creations special
As creative stitchers, you can personalize this mask to delight yourself and everyone you sew for.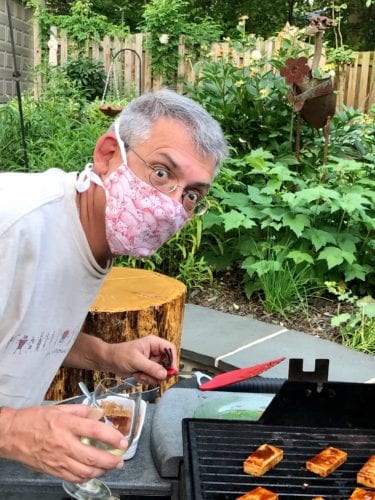 Use some of the same techniques we introduced to you with our Sleep Masks at the holidays.  Check out our beautiful Silk Face Mask Kit which contain either the silver or gold elastic and coordinating ribbon options you have seen in this post.  Get ready for holiday gift giving by making matching face mask/sleep masks for future travel.  Watch Facebook and Instagram to see folks sporting our masks and a little video demonstrating our method for inserting the nose wire into the seam allowance.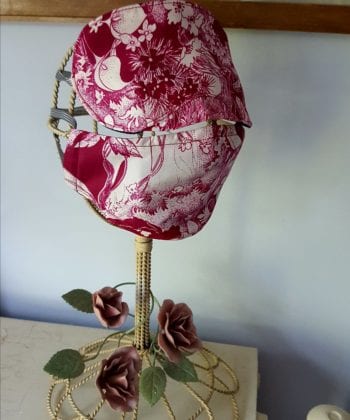 Show off your mask creations on Facebook or Instagram with the hashtag #sewsuccessfulmasks so we can all celebrate your creativity and your good health.
Stay well and Sew Happy,  Rae and Carrie
PS    In case you missed our social media posts yesterday, spend some time meditating on this quote we first saw in the Capital Quilts Newsletter last week.
Do not be dismayed by the brokenness of the world.  All things break and all things can be mended.  Not with time, as they say, but with intention.  So go, love intentionally, extravagantly, unconditionally.  The broken world waits in darkness for the light that is you.  L.R. Knost
As stitchers, we certainly know about the wholeness that can be accomplished through careful mending.  These words spoke to us of the need to be reflective and open to loving, intentional change as our country moves through these challenging and thought provoking times.  We believe our sewing community is filled with remarkably wonderful people of every age and color and we hope to grow, evolve and be light in ways that will keep us moving forward together one stitch at a time.