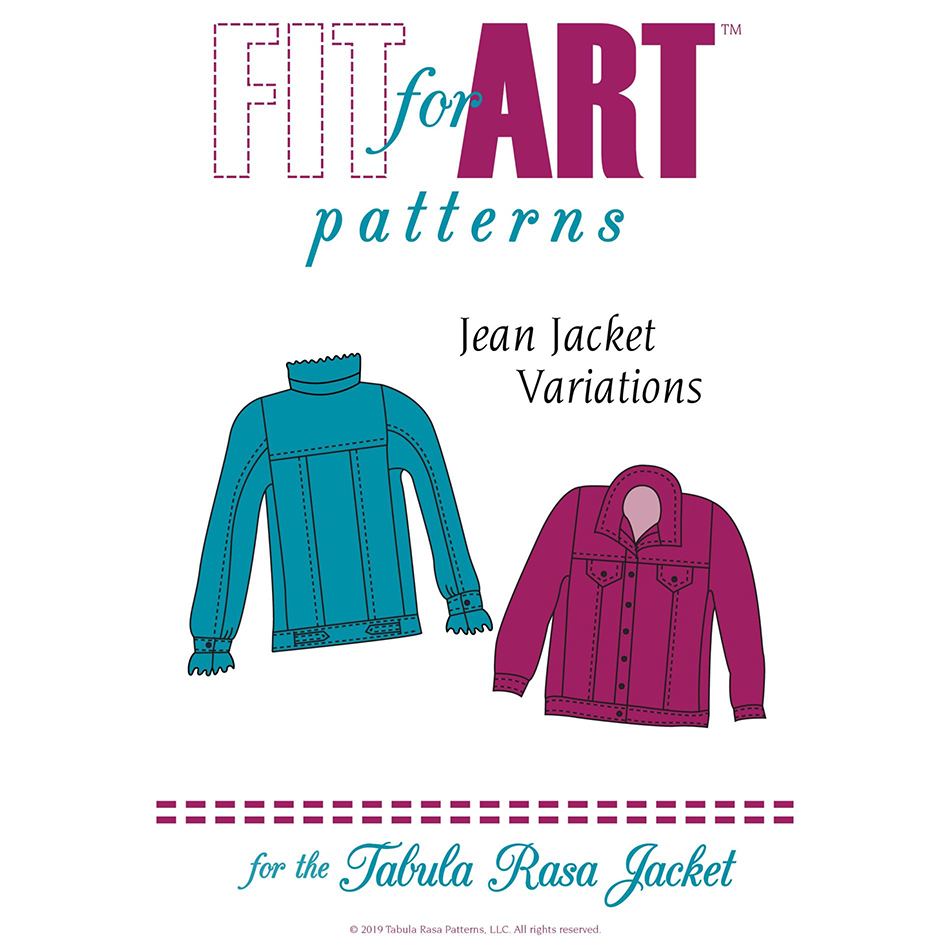 We are delighted to announce that the long-anticipated Jean Jacket Variations for the Tabula Rasa Jacket is ready just in time for the annual conference of the American Sewing Guild!  Enjoy a preview of the pattern and samples today and come see them live August 1 – 4 at the ASG Conference in Danvers, MA.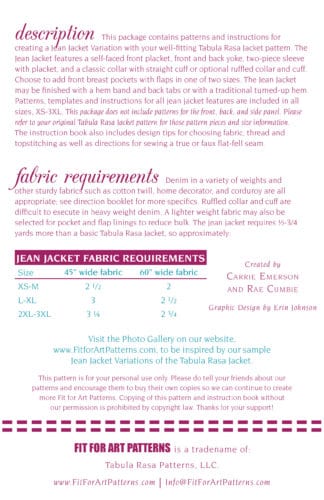 The boxy nature of the Tabula Rasa Jacket lends itself well to the shape and seams of a classic jean jacket.  As with all of our variations, a bit of pattern work is required in order to incorporate your personalized fit of the original TRJ.  A template is used to extend the basic TRJ front for a self-faced front finish, and then front and back patterns are sliced and diced horizontally to create a yoke and vertically to create the traditional jean jacket seams.  The illustrated instruction book walks you step-by-step through this pattern work, as well as pattern adjustments to fit the sleeve, cuff the hem band.  New pattern pieces are included for the breast pockets and pocket flaps, the two-piece sleeve, cuff and collar options – choose between a classic collar and straight cuff or ruffled collar and cuff, and back tabs. The booklet's design section addresses fabric choices, flat-fell seam technique options (true vs. faux), top stitching, button and buttonhole considerations to achieve a classic jean jacket look.
We hope you will have fun with all of the possible variations and that our Jean Jacket samples will inspire you to create your own classic or fanciful jean jacket.  Click on the links below to see more detailed photos and descriptions of these samples in our photo gallery.
Developing a new pattern always requires a bit of trial and error!  Carrie's first Classic Jean Jacket sample features a very traditional jean jacket look with contrast top stitching, front breast pockets and flaps, classic collar and straight cuff, hem band, and jean tack buttons.  On a closer examination, you'll discover that she used the original TRJ Sleeve pattern, inserting a continuous bound placket to create the cuff opening.  Her second sample, African Savannah Jean Jacket, includes the two-piece sleeve that is part of the final pattern package, contrast top stitching, and tries out front patch pockets instead of the breast pockets and flaps.
Rae created some more fanciful versions of the jean jacket.  The Ruffled Jean Jacket features the optional ruffle collar and cuffs and regular hem instead of a hem band.  Rae mixed several denim scraps in this jacket, including some embroidered pieces that make a fun pocket flap!  Rae's Paris Postcards Jean Jacket is enchanting in light gray denim and contrasting floral trim fabric with appliqued fabric postcards commemorating trips to Paris.  Read more about making the "postcards" in this blog post Sew Parisian Postcards.
Last but not least, Carrie experimented with a jean jacket vest.  The Recycled Denim Vest was created from 3 pairs of her husband's Levi jeans that she rescued from the discard pile.  Some of the existing flat fell seams of the jeans were incorporated into the vest, as were a pair of back pockets. It also features recycled wood buttons, classic red-orange top stitching, and a hem band with tabs.
Jean Jacket Variations for the TRJ will be available for sale at our ASG Conference booth starting August 1; it may be pre-ordered on line now, but shipping will not start until August 6th, after we have returned from Boston.
We can't wait to see what you create with Jean Jacket Variations!  If you'd like a little guidance working through the pattern work or construction process, register to join us at our Sew Successfully Summer Retreat later this month.
Happy Sewing, Carrie