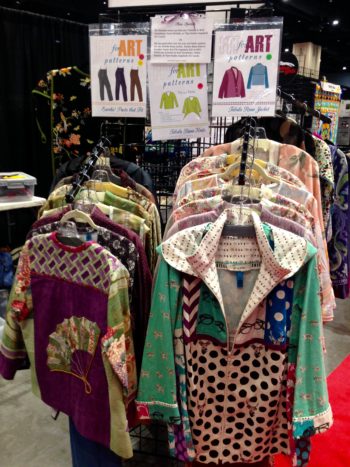 Sewing ideas are everywhere at an Original Sewing and Quilt Expo and we are proud to be part of the inspiration.  Since we are now on the road south from the Raleigh OSQE to the ASG Annual conference in Orlando, we decided to share with you some highlights from our Raleigh experience.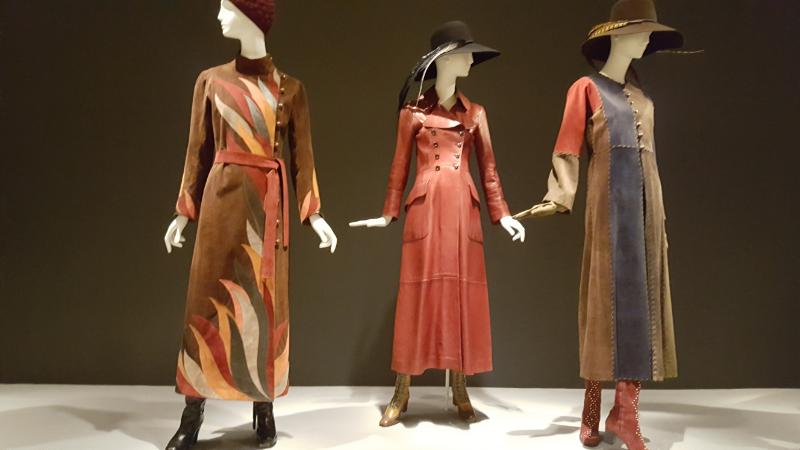 We departed Baltimore on Tuesday in our packed van and headed to Richmond for a visual treat, the Yves Saint Laurent: The Perfection of Style exhibit at the Virginia Museum of Fine Arts.  It was a walk down memory lane with 100 beautiful ensembles from 1959-2002.  There are also movie clips, mood boards, sketches, jewelry, and much more.  We were delighted to see several wonderful square armholes, he was an inspired designer!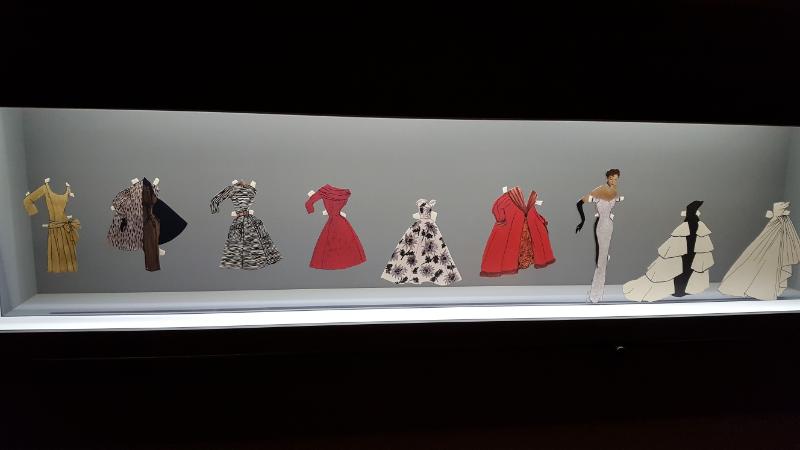 Then, on to Raleigh where we set up our booth Wednesday afternoon.  We had planned some new displays so our set up went slowly as we made fun new choices to perk up the booth.
Our set-up starts with building the gridwall frames that support our displays and our pretty pink fitting room.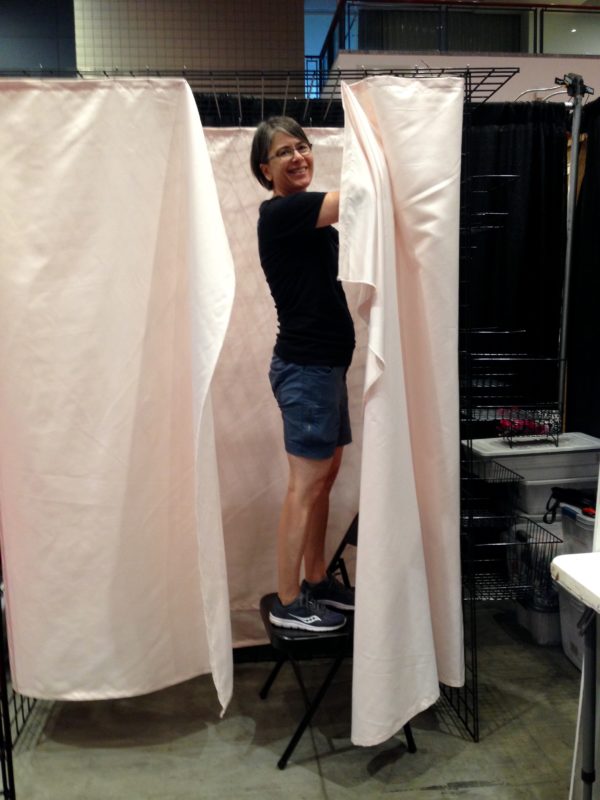 We are so grateful for flat-bed hand carts to transport them from the van to the show floor and our large bag of rip-ties to hold the walls together.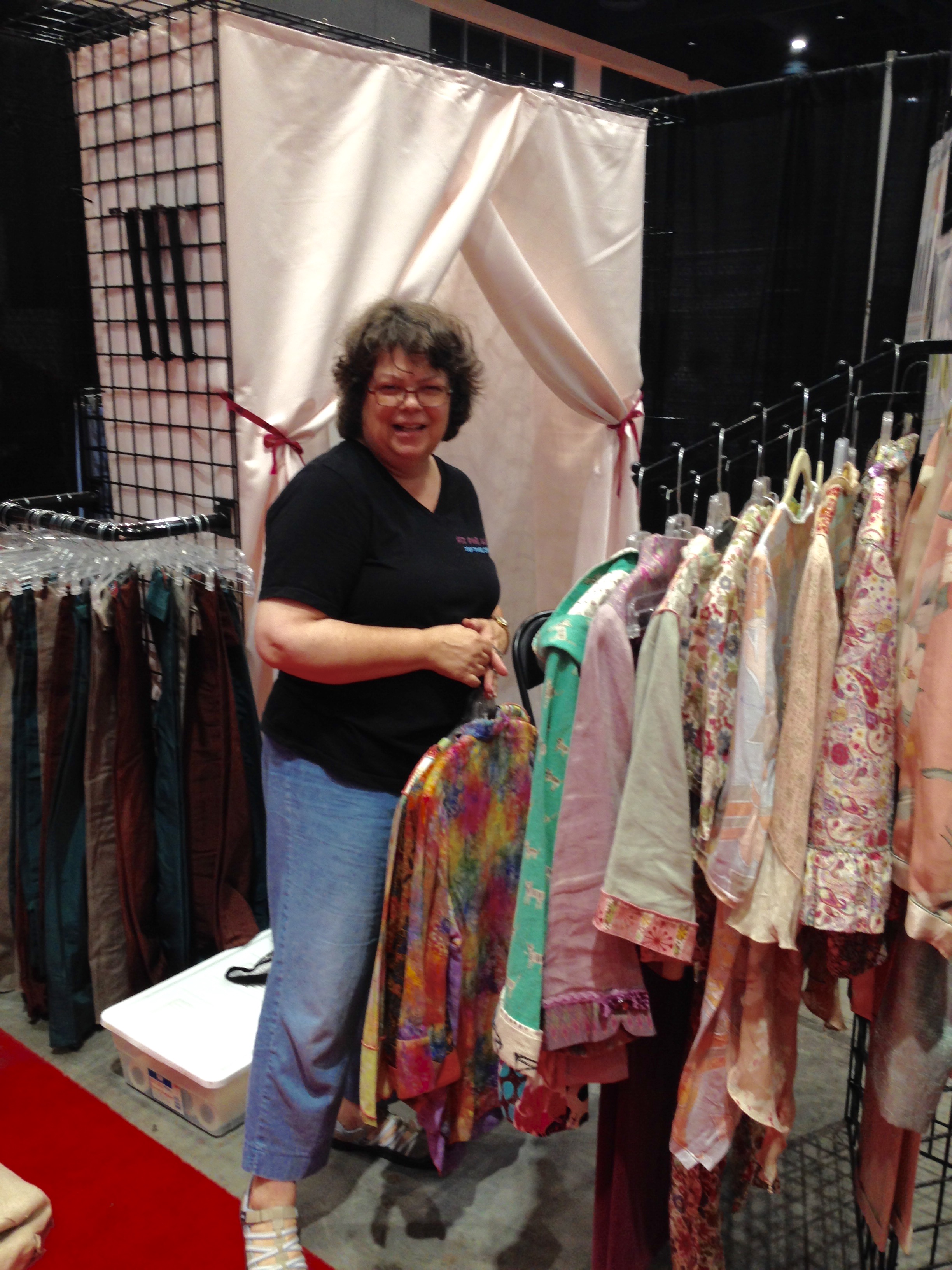 The new display features a wall of Fit for Art garments in the soft pantone colors of the year.  It is refreshing to look at considering the blistering heat and humidity outside.  We also have a fun orange wall, another trendy color.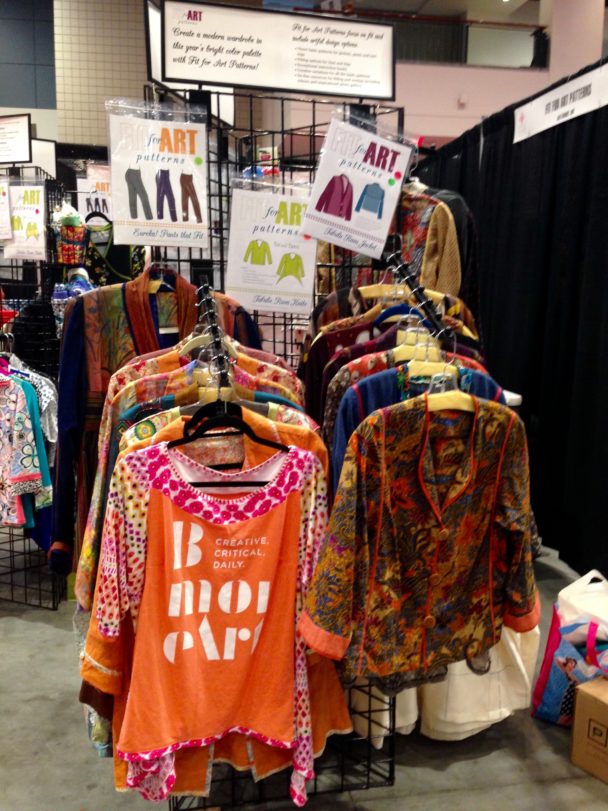 We include Tabula Rasa Knits, Eureka! Pants, Trouser Details, Sporty Details, basic Tabula Rasa Jackets and a sample or two featuring each of the 5 TRJ Variations, and quilting technique.
One wall becomes a pattern wall so we can introduce new sewing friends to our color coded basic patterns and their variations.  On another wall, we have the knit bundles, interfacing packs, rulers and paper rolls, the tools of the trade.  Around the corner is our jacket fitting nook.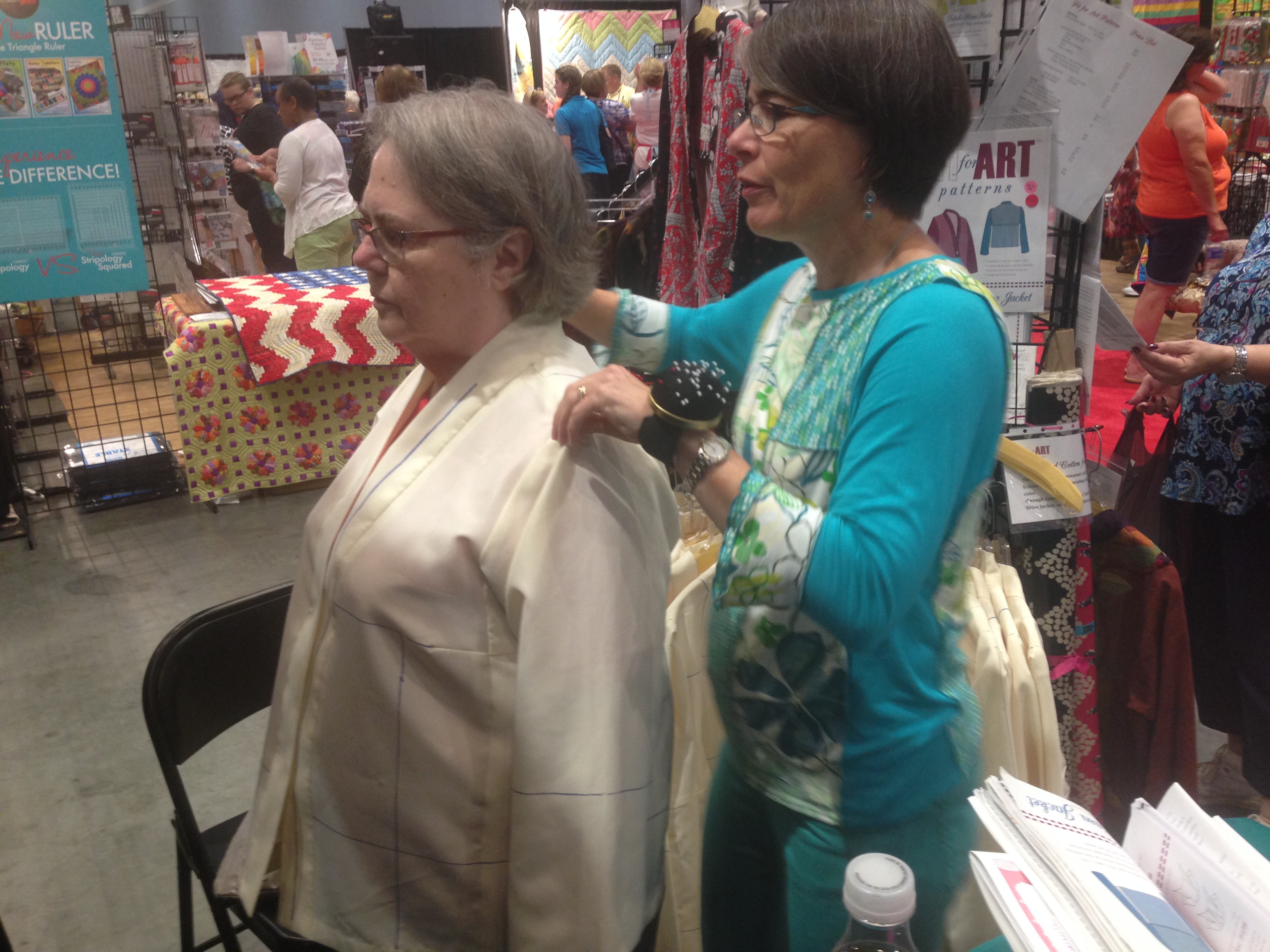 We love offering this sizing service so buyers can go home, adjust the pattern quickly and start sewing.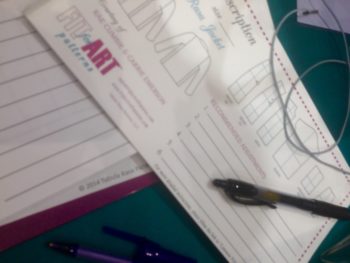 Along the back wall we hang some lovely wardrobe combinations with artful coats, tops and knits in additional colors.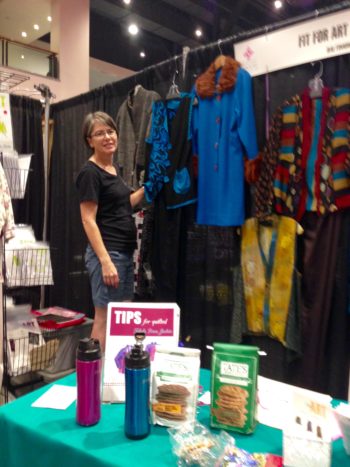 On this trip, our ensembles are teal with brown, black and white, bright blue with hot pink and navy with red.
Purchases and pants fitting appointments are made at our check out desk, in front of the wardrobe wall. The women who make those pants fitting appointments, always feel like it was a well spent ½ hour.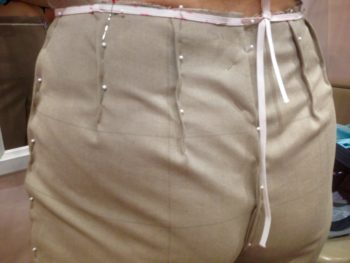 We park the rolling rack and extra product behind the fitting room.  The rack has to be readily available to accompany me to class and Carrie to the main stage for her Knockout Knits trunk show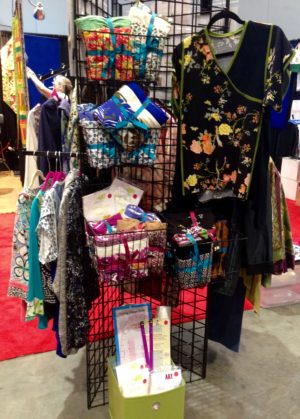 .
We both love showing off our new knits made with the Clever Crossing Variations.  They are taking center stage on one gridwall tower.
Once the show closes on Saturday afternoon the breakdown begins.  We didn't remember to photograph the breakdown as we were busy packing up patterns, bagging garments, taking apart the grid walls and loading it all back in its place in the van.  Now on to Orlando where we are looking forward to making more sewing friends at the ASG annual conference.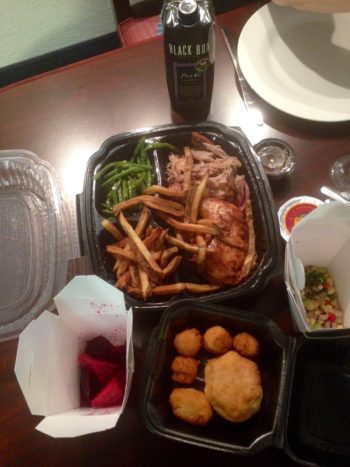 As a treat, we picked up some BBQ at Raleigh's famous Pit restaurant on our way back to the hotel.  It was just what we needed, especially the hush puppies!
Have you had fun in the Fit for Art booth at a sewing show or conference?  If not, why not plan to attend one near you in the next year so you can see what the fun is all about?  If you have, send your friends our way and come back to see what's new.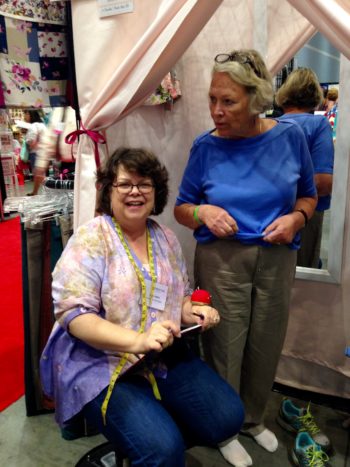 If you will be at ASG, come see our new garment displays and the fabulous new Clever Crossing Variations for Tabula Rasa Knits, schedule a pants fitting or pick up a jacket pattern and fit prescription.  If you have a Fit for Art creation, please bring it by the booth so we can snap your photo and put it on our Facebook page.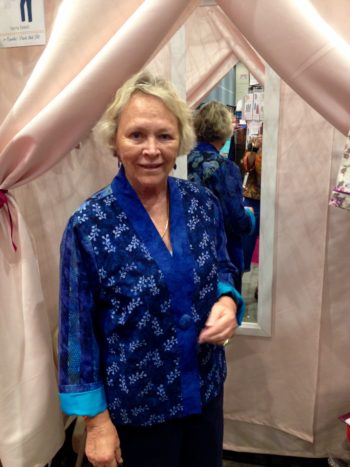 Happy Sewing, RAE