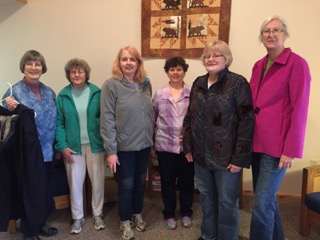 Sewing together is such fun.  You are energized by the projects and ideas of the friends and teachers sewing around you and better yet, there are no distractions that take you away from the sewing machine.  Well, perhaps eating diverts you, but in my opinion it is almost as fun as sewing.
We were delighted to receive an e-mail recently from our friends in the Central PA  chapter of the American Sewing Guild with a report from their winter retreat.  I know these are some very serious garment stitchers because I spent a weekend with them a year ago making and fitting Eureka! Pants.  We worked together for 2 days in a State College hotel conference room fueled by our pancake house breakfasts and catered lunches.   All 8 students had a terrific pants pattern by the time they broke down their sewing stations late Sunday afternoon.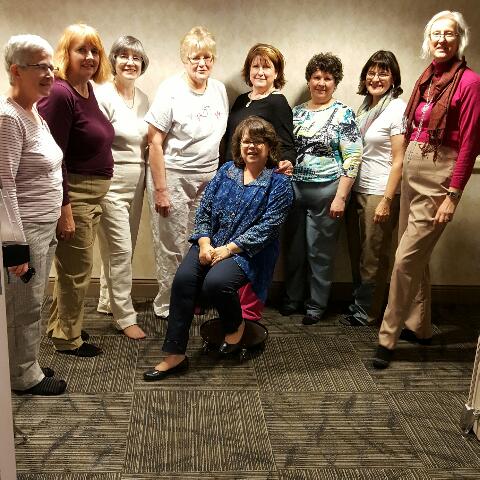 We began the weekend Friday night with a Trunk show for the entire chapter.  I showed lots of Tabula Rasa Jackets (TRJ), Knits and Eureka! Pants.  That evening and during the weekend I did a number of jacket sizings as well.
In January, I started getting fun e-mails from my State College friends.  Where do you buy laminated cotton?  Which variations did you use for the It's a Spectacle Jacket?  I was so excited that they were getting ready for a retreat where everyone would be sewing TRJs.
Here is the post retreat report and the jackets that were cut and stitched in their mountain hide away: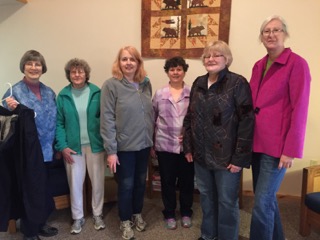 " Hi Rae,
Everyone made a different variation of the jacket. Taking the weekend and working on the same project proved to be extremely successful.   The 7 of us were all able to help each other maneuver through some of the more challenging bits (adding lining, attaching the hood), providing moral support at yet another seam to un-sew, and cheering each other on when something turned out perfectly.
We found so many advantages to having one pattern that we were all working on.  Making it especially educational was the fact that the jacket had so many variations to choose from.  We each had the TRJ, the RS variation, and some had the Shirt/collar/cuff/sleeve variations.  Different backs, sleeves, pockets, collars, cuffs, hems, and hoods – it was dizzying!  Not one of us chose the same fabric or pattern combination, making this a truly fun and insightful weekend."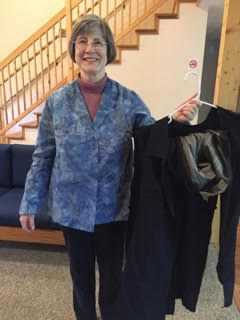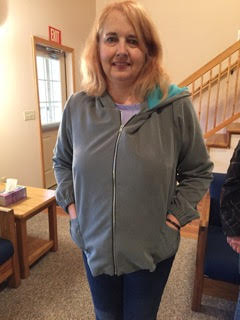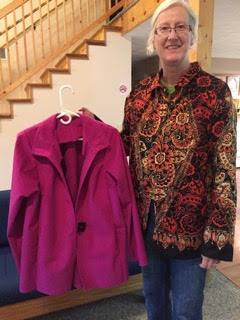 Because they are so fun, we decided to share them with you.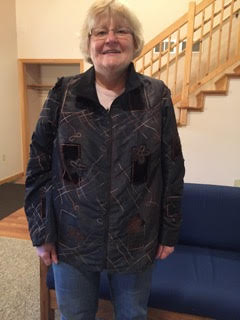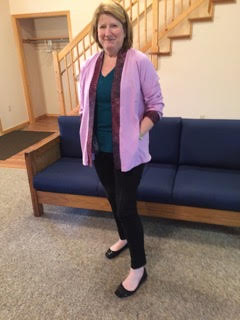 Is there a jacket or top you want to sew, or pants you want to fit?  Plan to join us in August for our Summer's End Sew In.  Come for up to 4 days of sewing and lunch with Fit for Art friends.   We always have a friendly group so even if you aren't used to sewing in a retreat setting, you will settle in quickly.
Happy Sewing! RAE
PS – Last week I taught knits at Capital Quilts and an old Fit for Art friend was there having finally recovered from several health set-backs.  She wanted me to look at her recent mock-ups of other independent patterns.  One she had chosen because she liked the pleat in the back – which of course is a design element in the Rain or Shine Variations.  Another resembled a traditional Turkish coat, an easy set of adjustments for the TRJ (and a blog post coming soon!).  Both mock ups were quite oversized in the shoulders and armholes, making a good fit pretty challenging.  She exclaimed: "I should have used the TRJ, it offers so many design possibilities and fits so well!"  And that my friends, is the last word for this week.