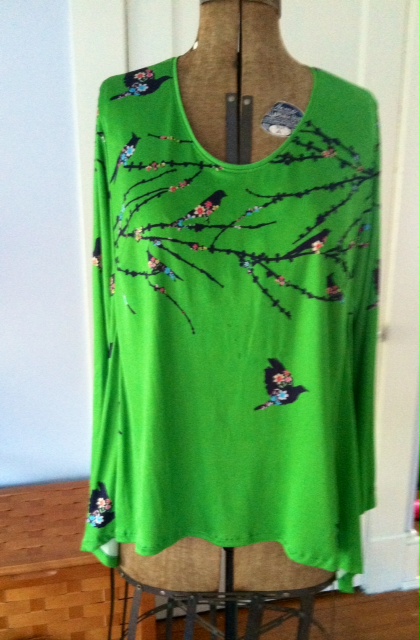 In any garment sewing, it is wise to be observant when placing a print on the body.  Usually I am trying not to draw attention to my bust line and full arms, so my habit is to drape my printed fabric on the dress form or over my body in front of the mirror and make an honest assessment.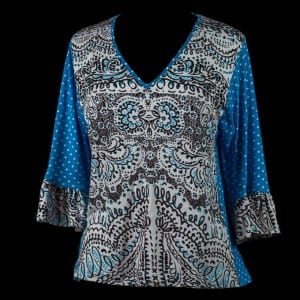 Knits seem to be particularly tricky with regard to the print effect.  I guess it is because they are so soft and drapey.  I am often caught off guard by the drama of a particular print.  This Tabula Rasa Knit Tee is a fine example.  When I purchased it, I thought the fabric had an overall floral, but it took quite a bit of maneuvering to place the print gracefully.
Let's look at a couple of other prints to imagine their possibilities.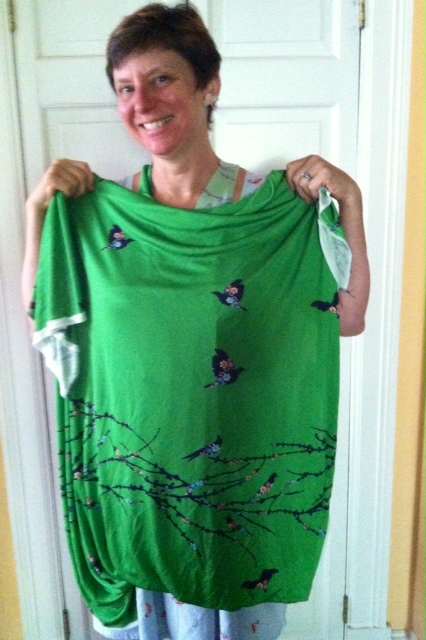 Because I have not mastered the art of the selfie, I enlisted the help of my sewing friend and Eureka! Pants Professional, Edye Sanford.  In the first photo, she is holding up a beautiful piece of green silk jersey.  Don't you love the lovely spring scene of branches, blossoms and birds in a wide repeat.
First we tried the branches near the hem, and then we shifted the yardage to position the pattern closer to the chest.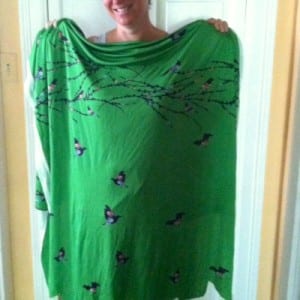 Which placement do you prefer?  I chose to use the branches in the shoulders and chest with the hope that the pretty pattern would draw attention to my face.  While it ended up a bit busy over my bust, I think the tunic came out nicely and I enjoy wearing it.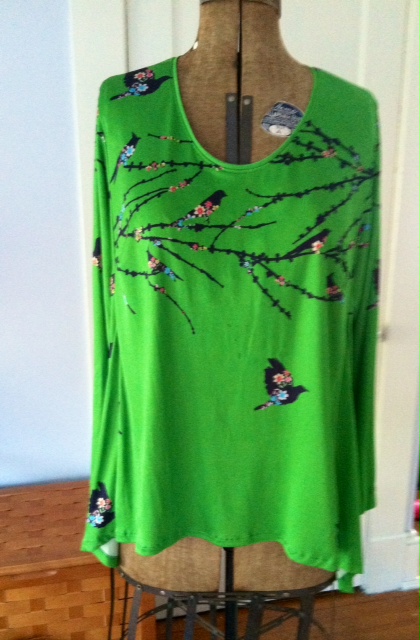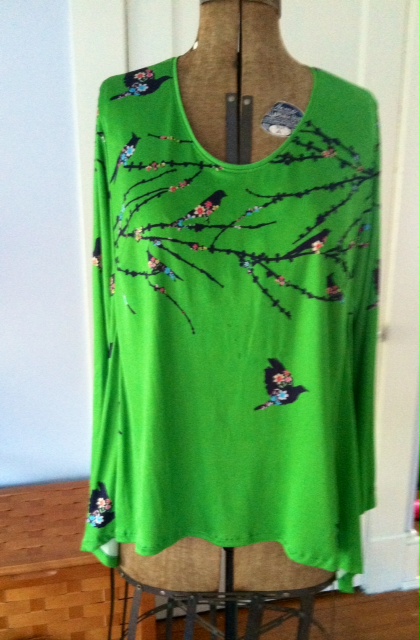 The second fabric is a cotton and lycra jersey. I hope to stitch it up and wear it this spring.  It has more of an allover print, but its scale and composition were surprising to me when Edye held it up.  As you can see, the pattern  seems too reflective of the female form as it is draped in the first photo.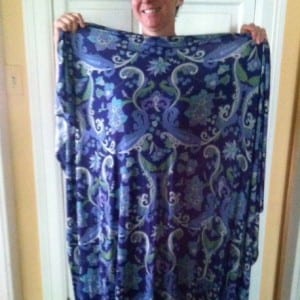 But, when the pattern was shifted 8" to the right, the pattern seemed random rather than suggestive.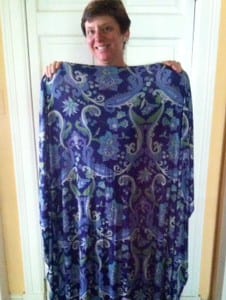 Which pattern placement do you prefer on this purple, blue and green knit?  Have you ever been surprised by the way a print fell on the body?
I get a real kick out of sewing blogger Oonaballoona.  She recently wrote about a dress she made where the print was quite artfully positioned!  I love it on her, as does her entourage, but I am quite sure I am not that bold!
Happy Sewing,  RAE