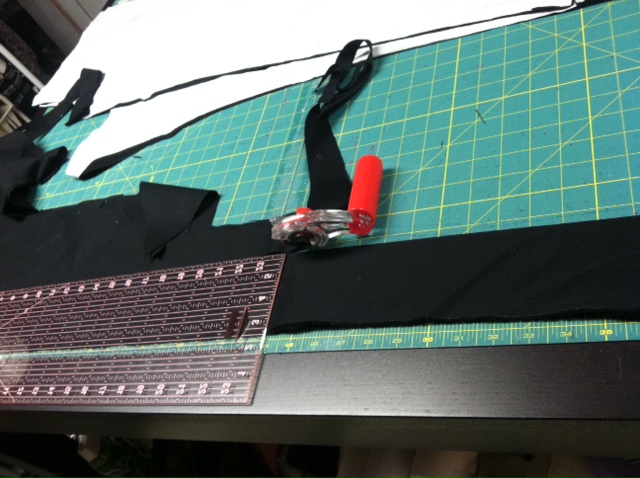 This weekend was my annual Eureka! Pants that Fit  black pants sewing date.  You see, black pants are the basics upon which my wardrobe is built and except for the dead of winter when I wear black corduroy or wool pants and the dead of summer when I wear black linen pants, I make these wardrobe staples in cotton with a bit of spandex. Their only long term imperfection is a tendency to fade and shrink over time.  Even when they are washed in cold water with dark gentle detergent and hung to dry, they show their age after being worn week in and week out. It is not that they are completely dead, in fact, I will wear them for years to come on days that I am not making "public appearances".  However, they look worn enough that they are no longer neat and professional. I have known for several months that this black pants weekend was long overdue so I had been on the prowl for good quality fabric.  Early this spring I found a light weight black stretch cotton sateen in the Sawyer Brook mailer that brightens my mailbox on a regular basis.  Knowing these fabrics sell fast, I immediately went to the computer and took the plunge ordering enough for 2 pairs.  I needed a pair of full length Eureka! Pants with a slight boot cut for wearing with wedges and heels paired with short or mid length tops and jackets.  I also needed a Eureka! pair cut a bit narrower and shorter to wear with the tunic tops and flats I have been adding to my wardrobe. In order to be prepared for my marathon black pants weekend, I pre-washed the fabric soon after it arrived and picked up a couple of 9 inch standard black zippers.  When some sewing time opened up, I would be ready to sew. The other preparation I had completed ( over a 2 year period) was getting  my Eureka! Pants patterns ready for action.  I first fit my Eureka! Pants ( medium with a #3 back) to my formidable curves and short waist and tested the fit by making and wearing a couple pairs in non stretch fabric.  After a few pattern tweaks, I then traced off  a new version of the pattern for woven fabrics that have some stretch.  Reducing the original pattern by 1/4" on each side seam is how I started.  I tested this pattern, too, by making and wearing some woven stretch cotton pants.  I tweaked them a bit  based on their comfort and style and then adjusted the pattern and labeled it boldly, for fabrics with stretch.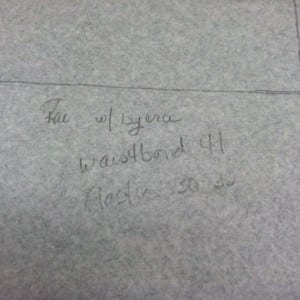 I never fit my woven stretch cotton pants too tightly because I don't find a body hugging fit is flattering or comfortable for me.   That said, this winter, I did trace off my stretch Eureka! pattern and develop a version with a closer fitting leg to wear with the longer tunic tops that have become fashionable. Now to work! Early Saturday afternoon I pressed the fabric and with my two previously developed patterns in hand, I was able to lay out both pairs of pants at once.   Knowing that the sateen finish might catch the light a bit differently in each direction, I cut each pattern going a different direction.  Placing them side by side was a great way to use the fabric efficiently.  I also layed it out strategically so I could cut my two 41" by 3 1/4" waistbands along the selvage which is my preferred finish for the inside of a waistband.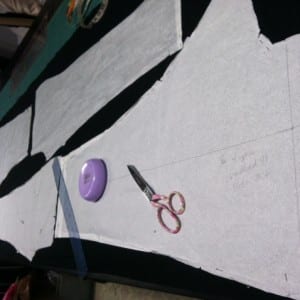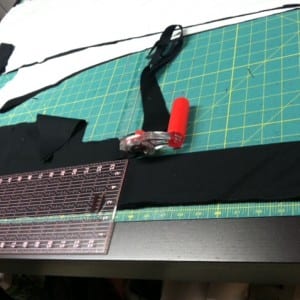 After cutting out the two pairs of pants, I marked the darts and pocket placements, interfaced the pocket openings and took a break. Stay tuned next week for the rest of my weekend's process and get started developing your own Eureka! Pants that Fit pattern.  Admittedly it takes as bit of persistence and some diligence with the instructions to get the pattern adjusted and tested the first time.   Once it's done, you can whip up new pants in the amount of time it would take you to go shopping and find a pair that fit "pretty well" with a few alterations. Feel like you need some help?   Invite us or one of our Licensed Eureka! Pants Professionals  to teach a Eureka! Pants that Fit class in your area.  See us at a sewing show for your personal fitting appointment or schedule some fitting time with a dressmaker who can help you develop and tweak the fit of your personal Eureka! Pants that Fit.