Bookmaking with Fabric and Paper in the Languadoc
La Cascade, Durfort France
August 16, 2024
–
August 23, 2024
Join Rae* and her artistic friends Aline Cauvin** and Dayle Doroshow*** for a restful and fanciful week of making in the village of Durfort, France.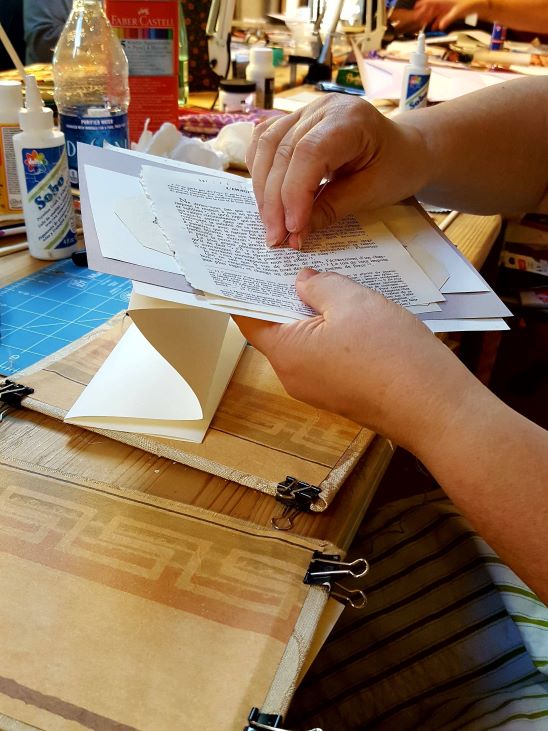 The La Cascade studio will be filled with vintage papers, trims, lace and fabulous fabric for creating unique books to give or keep — for recording thoughts, travel highlights, words to live by, or whatever strikes your fancy. Of course there will be paints and pens, needles and threads and all manner of tools for creating. The teaching team will provide gentle guidance in how to make and organize pages in a variety of paper based constructions. Outings in the surrounding countryside, including to the "Village of Books," Montolieu, will inspire each day's activities.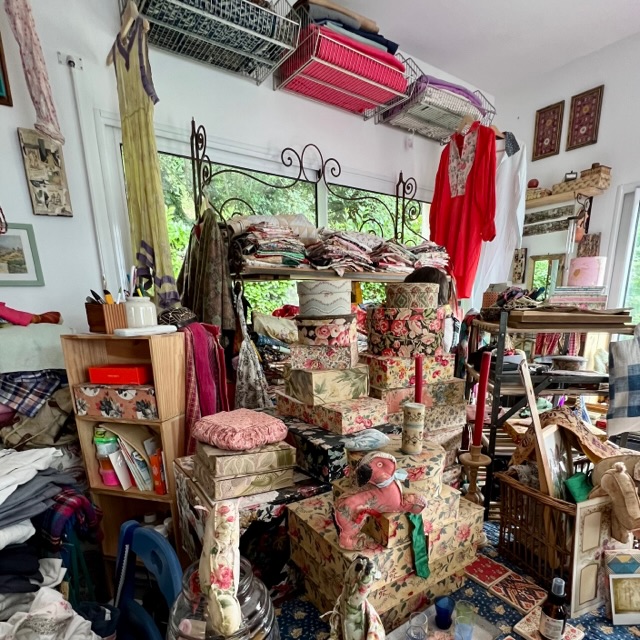 Our home away from home is a medieval townhouse in a copper making village nestled in the shadow of the Black Mountains. Life here has long been grounded in creativity. The cool stream that falls down the mountain and cascades beside the back patio of La Cascade sets the tone for interesting days and restful nights. Our host, Nese, will keep us nourished with lovely local food from the summer's bounty. The cozy atmosphere is magical and inspirational discoveries are around every corner.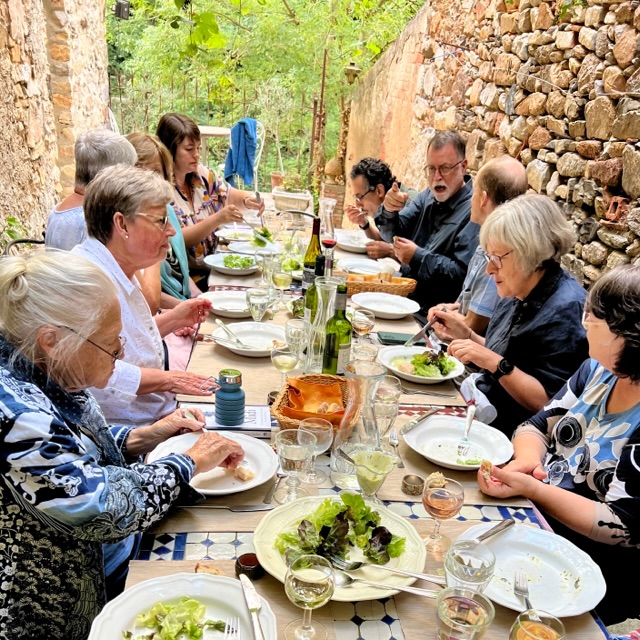 Please take note that this retreat is held in a charming but very old house in France; the only access to the 2d floor bedroom accommodations and 3d floor studio is by stairs. There is no air conditioning other than the natural air and cool stream running along side the premises; summer in Southern France can be quite warm.
Included accommodations are double occupancy with shared baths. A limited number of single rooms are available for an additional fee of $800. We'll travel in shared rental cars from the Toulouse airport to La Cascade and environs.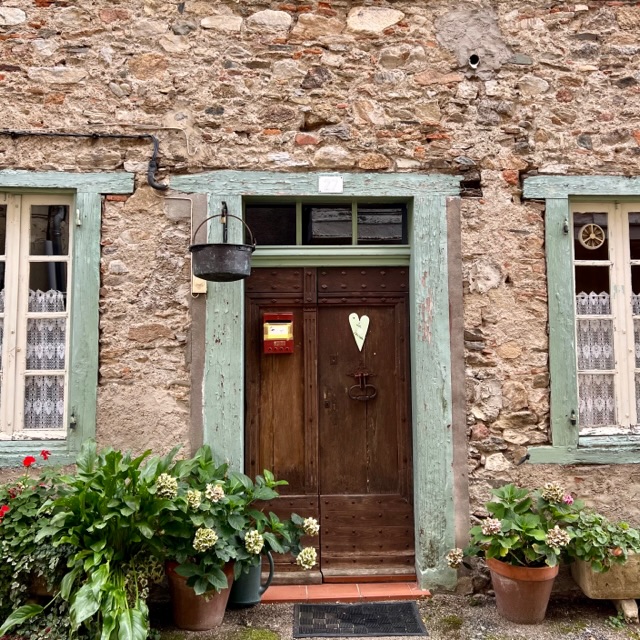 The retreat fee of $3150 includes most materials, room, board, field trips and priceless experiences. Class size is limited to 9. The nonrefundable registration fee is $650. (Please take note of our event cancellation policy**** before registering.) Not included: your airfare to and from Toulouse, travel insurance (required), an occasional restaurant meal, and personal purchases. We welcome you to contact rae@fitforartpatterns.com with questions.
Event Organizers and Policies
*Rae Cumbie is an award-winning wearable artist, sewing author, instructor and co-owner of Fit for Art Patterns. Read an extensive bio and see a listing of her published works at http://www.raecumbie.com/.
Carrie Emerson is the managing director and co-owner of Fit for Art Patterns. Read her bio at fitforartpatterns.com.
**Guest instructor Aline Cauvin grew up in Paris and started collecting Antique Textiles and designs in 1968. She has had an exciting career introducing her extensive collection of textiles and paper to inspire book makers, authors and designers in fashion for the body and home in Europe and NYC. Since 2020 she has also shared her collection on Instagram @antiquetextileshop. Aline now enjoys a peaceful life in Durfort where you are welcome to spend time in her workspace.
***Guest instructor Dayle Dorshow is a mixed media artist and owner of design studio Zingaro, stamp of distinction. She trained in traditional ceramics at Columbia University Extension program in New York City and sold her pottery in Greenwich Village shops. She continued with the study of Book Arts at California Crafts College and San Francisco Center for the Book. She studied jewelry with mentors Gwen Gibson and Tory Hughes and her large textile wall hangings incorporate the jewelry she makes. Her work is featured in over eighteen publications. Dayle has taught in the Unites States, Canada, Mexico and at La Cascade Art Center in southern France for the last twenty years. www.dayledoroshow.com @dayledoroshow
****Event Cancellation Policy: Retreat deposits are non-refundable if the registrant cancels. If the registrant cancels after April 15, the balance that has been paid will be refunded only if Fit for Art is able to fill the vacancy. If the event is cancelled due to circumstances beyond the control of Fit for Art Patterns, such as the host facility being closed or France closing it borders, we will offer the attendee the option to credit the full amount paid toward a future Fit For Art event or to receive a refund of the amount less a 10% service fee.
Fit for Art Patterns
410-377-0706
info@fitforartpatterns.com