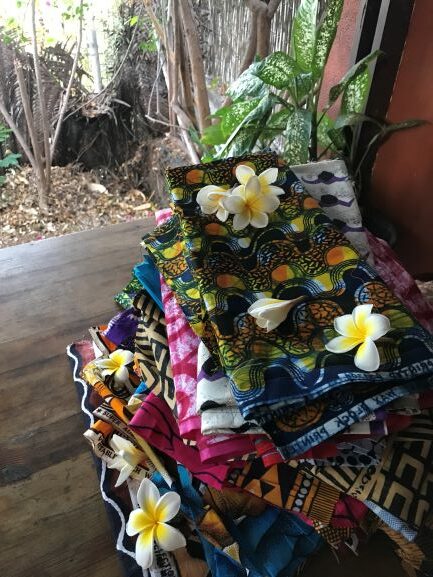 As part of our series about fabrics from afar, enjoy this story about the most recent fabric my "French" daughter Anna gave me for Christmas. It was an exploding bag full of African Wax Cloth remnants she purchased in Mayotte last summer while visiting friends who live there.   What fun garments these fabrics will become.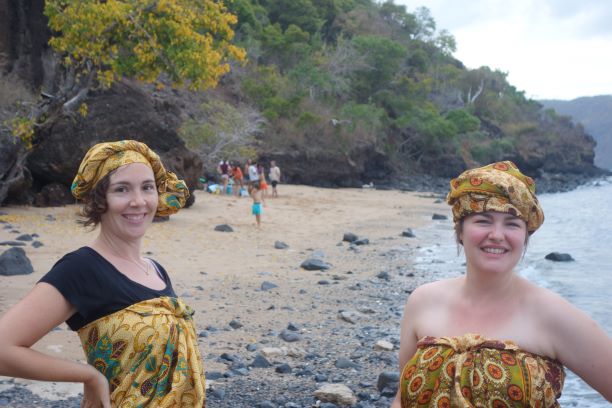 A Tourist in Mayotte
The island of Mayotte is off the east coast of Africa. I am going to let Anna tell you a bit about her trip.  "I arrived in Mayotte after 2 stopovers and felt the island welcome right away. In addition to the local greeting of « Karibou » I was given a complimentary coconut sorbet to enjoy while I waited for my checked bag, and adorned with a handmade fresh flower necklace courtesy of my friends who had invited me to the island.
(« Karibou » is the word for « welcome » in Shimaoré, the local language, which is related to Swahili. The island is administratively part of France but French is a second language for many.)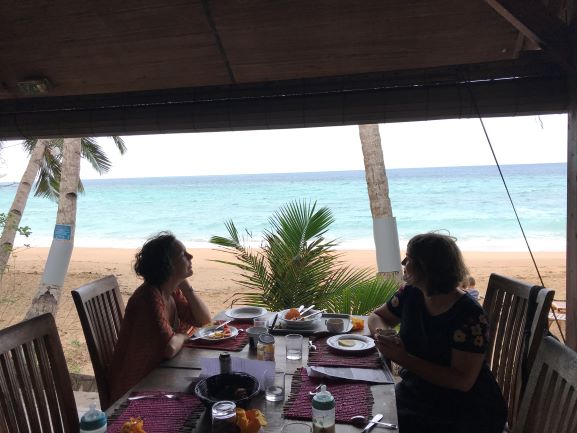 One night we enjoyed a stay at local hotel on the N'gouja beach. N'gouja is famous for its sea turtles, so we took a ride out in a sea kayak to see them and also did some snorkeling. The hotel restaurant is on the beach front and has a thatched roof made of woven palm fronds.
My friend Maria Paz couldn't wait to take me to her favorite clothing store, "Afrique Elégance" in Mamoudzou. They have gorgeous fabrics including African wax and traditional African woven textiles, accessories, and a selection of clothing made in-store and tailored to fit you once you choose your favorite piece.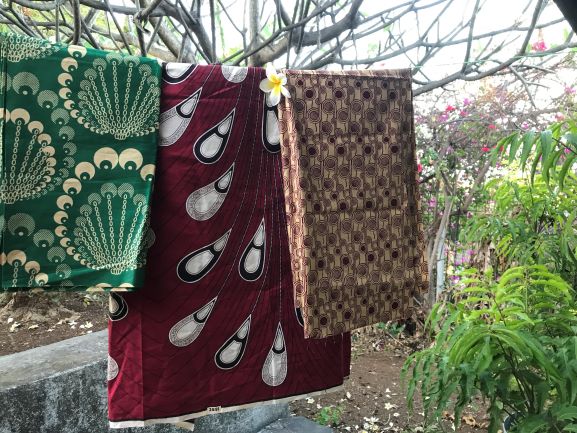 I knew I had to bring some fabric home to play with and even more to give my mom as a gift. The fabric selection was so beautiful and varied that I couldn't make a choice. Lucky for me, they had big bags of remnants so I got two of those to bring back. Never have I felt more like my mother's child than packing to go home and realizing that more than half the contents of my suitcase was fabric!!"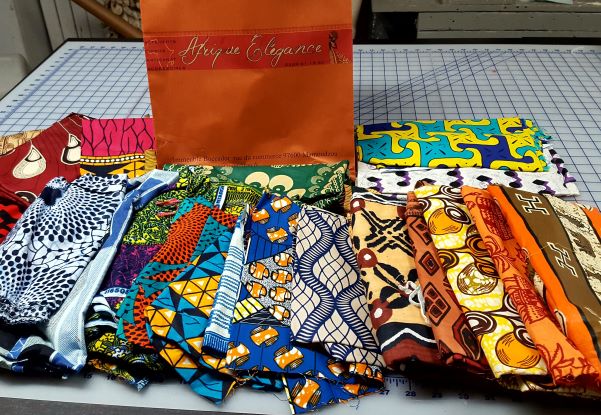 A Bag full of Wax Cloth Fabric
The bag of fabric Anna gifted me was such a welcome diversion once I settled into pandemic life. I got out the bag and sorted it by color on my cutting table.  Two groups of fabric called my name, both with summer colors, generous sized pieces and turquoise accents.  I returned all the rest of the fabric to the bag where they are awaiting another project.  Best to start small.
I used the fabrics to make a top for Anna and one for me.  They are similar, incorporating some new Tabula Rasa Jacket variation ideas that are not yet ready for prime time.  But I am getting ahead of myself.
Preparing the African Fabric
First, I had to do some reading about African Wax Cloth, remove their labels, coax away the sticky residue the labels left behind and pre wash the colorful fabrics.  After some online research, I tested the fabrics for color fastness.  A corner of each fabric was saturated with water, then pressed dry with a hot iron on top and a white cloth underneath.  One of the fabrics did bleed when it was pressed.  So, I washed it all by itself and also washed the red fabric by itself, since red often runs in my experience. All the fabrics came through the washing process beautifully but still a bit stiff so the design needed to be crisp, not drapey.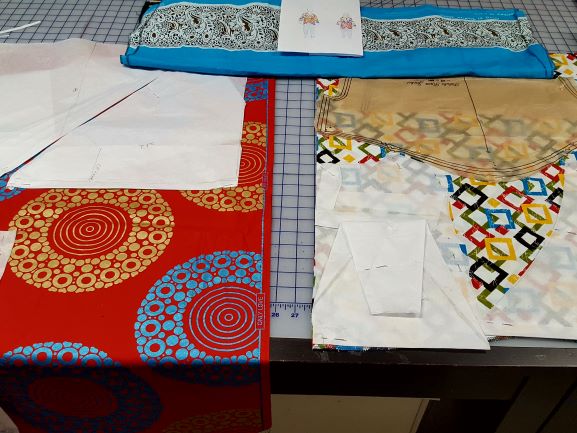 Planning the Design
Some sketches were drawn and colored for my top which was made first.   The sketches offered some reassurance that these bright geometrics would work well together.  I used the Summer Sleeve and band cuff from the Sleeve and Cuff Variation Pattern, now available as a digital download.  The top is crisp, but not at all hot.  It is partially lined in the upper body, otherwise it is unlined cotton.  The fabric content and bright colors have proven to be as refreshing during the dog days of our Baltimore Summer as they are in their tropical home country of Mayotte.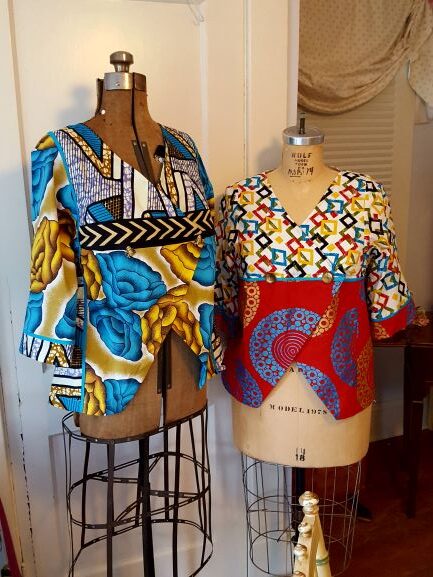 Gifted Fabric Presents New Challenges
I love it when Anna travels to new places because it often yields new fabric treasures for my stash.  When she gifts fabric, it is an opportunity to go in a new direction.  Read about the Spectacle Coat's fabric and design to see another project that started with a gift of fabric from Anna.
Do you gift sewing friends with fabric from your travels?  Tell us about what they made, and what you have made with fabric gifts from others.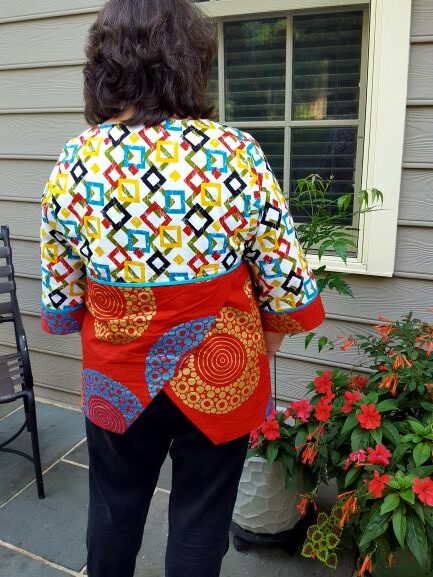 Watch our social media for photos of other fabrics Anna has given me that are awaiting inspiration.  Visit my Successful Fabric Mixes page on Pinterest to see ideas I have been saving for the fabrics that remain.
Stay Well and Sew Happy!  RAE
PS.  See photos of the fabric store here.