Sewing & Stitchery Expo
February 27, 2020

-

March 1, 2020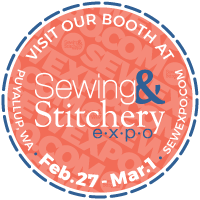 Fit for Art is excited to announce that we will be teaching and vending for the first time at the Sewing & Stitchery Expo in Puyallup, WA!    Please register for Rae's classes and visit our booth.
The Sewing & Stitchery Expo is where your creative community comes together. It is four full days of learning, connecting, and inspiration for sewing enthusiasts of all levels. Whether you're a lifetime quilter, seasoned maker, devoted cosplayer, or a whimsical DIY-er, you'll find a wide variety of activities and resources to spark your imagination and help bring your creative vision to life.
Rae's Classes
One Needle:  1006 Fitting the Body, Mind and Spirit (TH 1:30-2:15, SAT 11:30-12:15); 1007 Knit Fit Nuances (TH 2:30-3:15)
Two Needle:  2007 Embellish a Contemporary Wardrobe (TH 8:30-10:00), 2008 Your Pants – Your Way (FR 2:30-4:00)
Free Stage: Fashion Forward Quilted Jackets (FR 9:30), Wow! Wearable Art Jackets (SUN 8:30)
Vendor Shopping Hours
Thursday: 8:30 a.m. – 6:00 p.m.
Friday: 8:30 a.m. – 6:00 p.m.
Saturday: 8:30 a.m. – 6:00 p.m.
Sunday: 8:30 a.m. – 4:00 p.m.