Original Sewing & Quilt Expo – Fredericksburg VA
September 27, 2022
–
October 1, 2022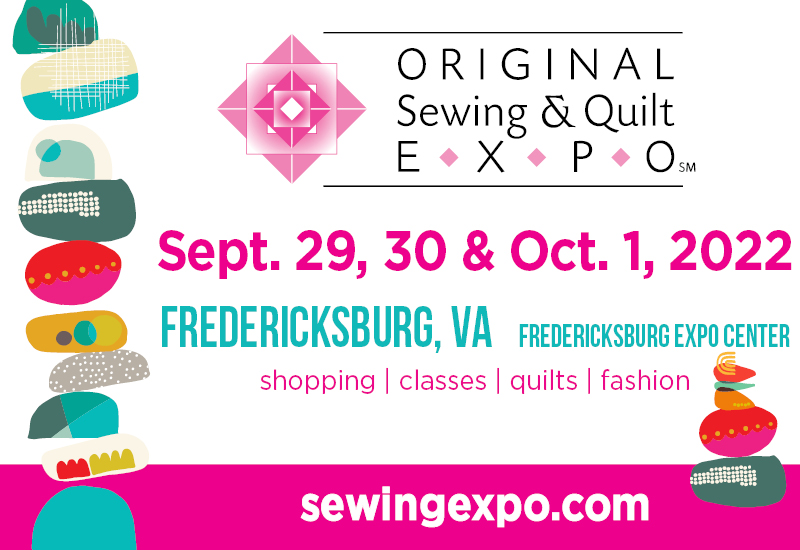 Fit for Art looks forward to returning to Fredericksburg for the 2022 Original Sewing & Quilt Expo!  Rae is teaching several classes during the Expo, and Fit for Art is hosting a 2-day pants workshop, selling our patterns and other merchandise, and doing both jacket and pant fittings in our booth.   Registration for classes and our Eureka! Pants Workshop is open so REGISTER NOW!  Be inspired by Carrie's presentation Four Core Patterns – One Great Wardrobe at The Spot on Thursday at 11:15 a.m. or on Saturday at 3:15 p.m.
More the Days Before
Rae and Carrie are teaching a 2-day Eureka! Pants that Fit workshop on Tuesday and Wednesday, Sept. 27-28.  By the end of the workshop, you'll take home a personalized pants pattern and be well on your way to completing your first pair of fabulous pants.  Register early as spaces are limited to give you the maximum personal attention.
Expo Classes
Layering, A Trending Technique: Thursday 9:00 – 10:00 a.m.
Creative Hemlines for Distinctive Garments: Thursday 2:30 – 3:30 p.m.
DIY A Contemporary Pants Wardrobe: Friday 10:30 a.m. – 12:00 p.m.
Notable Knits: Friday 2:30-3:30 p.m.
Fabrics that Make the Best Clothing: Saturday 10:30 – 11:30 a.m.
Make Clothes that Scratch your Creative Itch: Saturday 2:00 – 3:00 p.m.
Exhibit Hall Hours
Thursday & Friday 10:00 a.m. – 5:30 p.m.
Saturday 10:00 a.m. – 5:00 p.m.
And don't forget to register to participate in the Runway Fashion Show wearing your own garment makes!