Original Sewing & Quilt Expo – Atlanta GA
March 10, 2022
–
March 12, 2022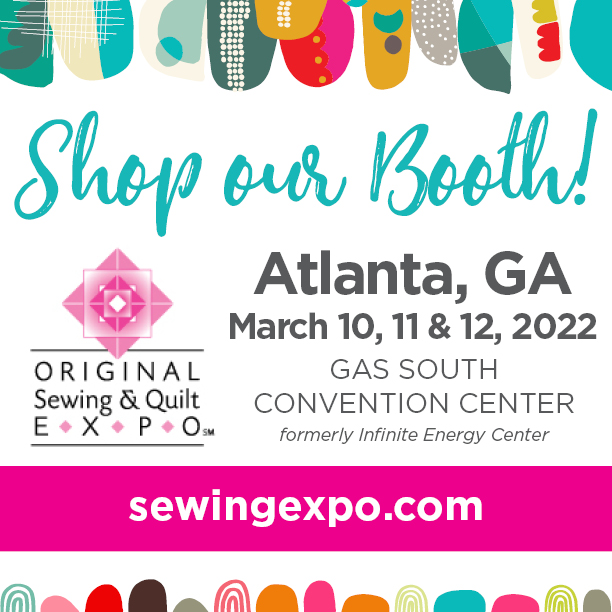 We are looking forward to meeting old friends and new at the Atlanta OSQE!  Visit us in Booth 218 where you'll find many new garment samples, especially of the Carpe Diem Dress & Tunic,  complimentary fittings for the Tabula Rasa Jacket and Knit top, Eureka! Pants fittings by reservation for a fee, and of course the full line of print Fit for Art patterns and other products.   Rae is teaching several classes and registration is now open, so don't delay!  Enjoy our trunk show "Four Core Patterns – One Great Wardrobe" Thursday at 11:15.
We are doing something new this year – a runway Fashion Show!  Rae will host a celebration of fashion sewing on the Expo Stage at 12:00 on Friday.  You are invited to participate! Walk the Expo Runway to show off the Fit for Art Makes you have been sewing.  To participate in the Runway Fashion Show, click HERE to register in advance.  All participants will receive FREE General Admission on Friday.  
Rae's Classes
Notable Knits, Thursday 3/10 at 9:00 a.m.
Layering, a Trending Technique, Thursday 3/10 at 1:00 p.m.
DIY A Contemporary Pants Wardrobe, Friday 3/11 at 8:30 a.m.
Creative Hemlines for Distinctive Garments, Friday 3/11 at 2:30 p.m.
Fabrics that Make the Best Clothing, Saturday 3/12 at 12:30 p.m.
Make Clothes that Scratch Your Creative Itch, Saturday 3/12 at 2:00 p.m.
Exhibit Hall Hours
Thursday & Friday 10:00 a.m. to 5:30 p.m.
Saturday 10:00 a.m. to 5:00 p.m.