Licensing Seminar for Eureka! Pants Professionals
October 15, 2019

-

October 19, 2019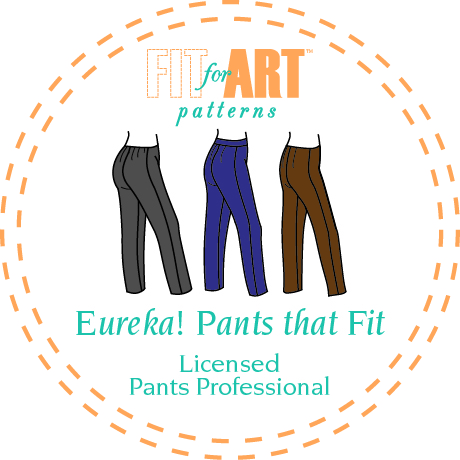 Fit for Art is very excited to announce that our 2019 Licensing Seminar will be held in conjunction with the annual educational conference of the Association of Sewing and Design Professionals.  If you aren't already a member, this will give you the opportunity to meet and network with sewing professionals from all over the country while training to become a licensed Eureka! Pants Professional.  Consider joining ASDP in advance to take advantage of early registration  and discounted prices for members only.  The Seminar will be taught by pants fitting experts Rae Cumbie and Sarah Veblen commencing at 5:00 p.m. on Tuesday, October 15th through Saturday afternoon, October 19th.
Registration for members opened on April 15th and will open to non-members on June 15th.  Visit the ASDP Website for conference details and registration.  Registration for the Licensing Seminar will include full access to the core conference, so you can join in the welcoming reception, keynote speaker luncheon, beloved Fashion Show featuring both a member showcase and Threads Challenge entries, and Sunday conference classes.
You are welcome to contact us if you have questions about the Licensing Seminar.  Please direct general conference questions to ASDP.
Enjoy this reprint of a testimonal from the ASDP Newsletter in 2017
One of the things I love the most about ASDP is the never-ending information sharing among our members. I recently received an email from a member who was curious about Fit for Art's licensing seminar for Eureka! Pants that Fit. In my response, I was able to share with her how valuable this tool, created by three ASDP members (Rae Cumbie, Carrie Emerson, and Sarah Veblen), has been to my business and my skill set. And then I thought it might be helpful to reach out to some other licensees so we could share our experiences with the greater ASDP membership.
Unlike other pants patterns, the Eureka! pattern comes in a range of sizes AND has three different backs for each size. This starting point, with extensive horizontal balance lines (HBLs), allows each sewist to create a mock-up that that is the key to a great-fitting pant.  At the licensing seminar, attendees have the opportunity to learn the ins-and-outs of fitting for themselves and for their clients of various shapes and sizes, "All on real bodies, [with] volunteers daily!" said licensee Cari Loschen of CariKim Couturier.
Barbie McCormick of Sew Good already had extensive experience with patterns and fitting before attending the Eureka! licensing seminar. But after spending five days with the Fit for Art team she, "learned SO much- So many nuances and tricks with adjusting and truing up pattern lines, as well as so many 'Aha!' moments with fitting different bodies, proper and improper pinning and pattern adjustments." She went on to say, "The Eureka! pants fitting pattern has so many attributes that I have never seen before (And I've been to many other pants fitting classes, studied and used many pant drafting books) but make SO much sense! The seminar brought my understanding of pants and patterns to a whole new level!"
I couldn't agree more. I'd never been able to get my fit, "just right." There just always seemed to be something I wasn't happy with. Now, I not only have an excellent wardrobe of comfortable, flattering pants, in a variety of styles, but I'm also able to bring that to my clients. Whether it's a great fit in the crotch and hips (the key to the Eureka! method), selecting a waist treatment, or placing darts, this licensing seminar has you covered – all in a professional-but-fun environment.
And speaking of the environment, Rae, Carrie, and Sarah always make sure the licensing seminar is held in a wonderful space. There's plenty of room to work with lots of light. All meals are provided and there's even an on-site housing option for attendees who come from out of town.
Cari aptly summed up this great opportunity saying, "Since attending the Eureka! Pants seminar, I finally wear pants that fit!!  I've honed my pant fitting skills, but most importantly I've been able to bring an innovative pattern and fitting technique to my area. Sign up. Go. Get fearless about pant fitting too!  You'll be glad you did!  It's a fantastic hands-on learning experience!"
To learn more about Eureka! Pants that Fit and the licensing seminar  visit fitforartpatterns.com.
Edye Sanford
Designs from the Edge Custom Clothing
President, Baltimore Chapter of ASDP
edyesanford.com
January 31, 2017