Original Sewing & Quilt Expo – Atlanta
March 8, 2018

-

March 10, 2018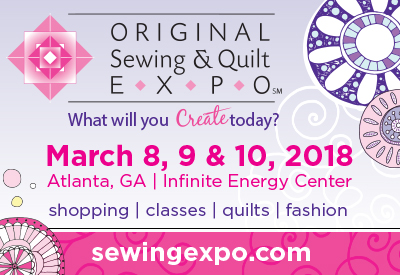 We look forward to meeting new friends and catching up with old friends from the Atlanta area and environs again this year at the Expo! #OriginalSewing We will be offering complimentary Tabula Rasa Jacket fittings, as always, with a pattern purchase and pants fittings by appointment.  Come by our booth # 633 early in the show to reserve your Eureka! Pants that Fit appointment as spaces are limited!
Rae is teaching several classes, so register now on the Original Sewing and Quilt Expo site to reserve your space.  Carrie will present a trunk show "Simple to Simply Amazing" on the Spot at 12:00 on Thursday and on the Stage at 10:30 on Friday.  Hope to see you there!
Rae's Classes
Knit Fit Nuances                                               3/8  10:30-11:30
Stash Busting Fashion Piecing                       3/8  2:30-3:30
Fabulous Knit Finishes Tutorial                    3/9  12:30-2:00
New Life for Old Favorites                              3/9 4:00-5:00
A Zipper Sampler                                               3/10  10:30-12:00
Stitch up a Contemporary Pant Wardrobe    3/10 2:00-3:00
Exhibit Hall Hours
Thursday March 8 and Friday March 9 10:00 a.m. – 6:00 p.m.
Saturday March 10  10:00 a.m. – 5:00 p.m.