Eureka! Pants Professional Licensing Seminar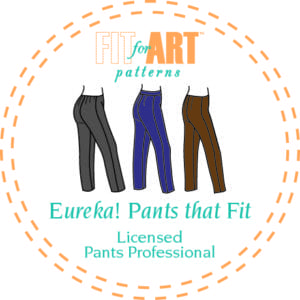 Fit for Art Patterns is pleased to announce our next licensing seminar for Eureka! Pants Professionals.  The Eureka! Pants that Fit pattern is a great tool for creating pants that fit for yourself and your clients and for teaching pant fitting classes. During the Eureka! Pants Professional training you will study and practice with Rae Cumbie, Sarah Veblen and Carrie Emerson, learning how to utilize and fit the Eureka! Pants pattern for your business and how to teach Eureka! Pants classes and workshops.  Please click on these links to learn more or to download the seminar brochure and registration form.  Please contact us with questions or for more information.
Seminar meets daily from 9:00 a.m. to 5:00 p.m, June 25 – 29, 2018.