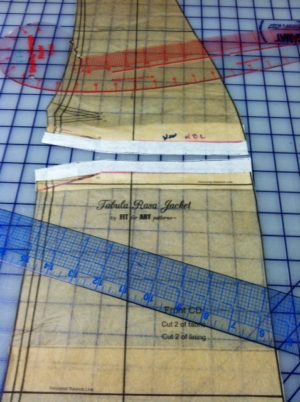 Welcome to our newest friends from the ASG conference and online shopping!  This week we are going review the resources available on our website in Helpful Hints and Video Tutorials to help you sew successfully with your new patterns.  In addition, don't miss the inspiration offered in our Photo Gallery of Tabula Rasa Jacket, Vest and Knit samples and the many step-by-step tutorials in our searchable Blog Archive.  We are gradually adding more photos to the gallery, so if there is a garment sample you saw in our booth or trunk show that you can't find in the Gallery, drop us a line and we'll post it too.
The Tabula Rasa Jacket was our very first core pattern and so has the biggest collection of photos, blog posts, free downloads, fitting resources and Variation patterns.  For starters, you are going to want to check out our written fitting guide, Common Fitting Adjustments for the Tabula Rasa Jacket.  Because the square armhole construction of our Tabula Rasa patterns is a little different from standard inset sleeves, some of the fitting adjustments are approached differently too.  This downloadable PDF keys our explanations of the most common fitting adjustments to what you see the grainlines and horizontal balance lines (a/k/a HBLs) doing on your mock-up.  Are the HBLS drooping down or rising up from the ideal of parallel to the floor?  Are the grainlines bowing in or out from the ideal of perpendicular to the floor?  Take a careful look in the mirror straight on and in profile, then consult Common Fitting Adjustments for TRJs for our advice.
We also have a series of videos posted on our YouTube channel in which Rae demonstrates the pattern work for six of the most common fitting adjustments for the Tabula Rasa Jacket.  The one we refer to most often during booth fittings demonstrates how to make the adjustment for a rounded back, adding material into the back and small darts to the neckline.
The other video jacket adjustments include the petite adjustment, changing the front darts, and adding to the sleeve cap.  Find links to all seven posted in Video Tutorials or in Jacket Help. The Jacket Help page offers several more great resources including additional downloadable PDF tutorials for mixing fabrics and trimming the waistline, and a jacket sketch to use for planning your artful TRJ.
The core pattern Tabula Rasa Knit Tee & Tunic is constructed in the same way as the TRJ with a square armhole and choice of side panels, and so many of the fitting adjustments are similar.  There are a few adjustments, however, that we recommend doing differently, which is why we also offer a downloadable PDF Common Fitting Adjustments for Tabula Rasa Knits.  The most notably different adjustment for Tabula Rasa Knits is the rounded back adjustment; this different method takes advantage of the properties of knit fabric to add into the upper back without requiring darts at the neckline.  Find the illustrated explanation for this adjustment and several more in Common Fitting Adjustments for TRKs.  Find additional resources for Tabula Rasa Knits, including flats for sketching, on the Knits Help page.
Directions for fitting adjustments for Eureka! Pants that Fit are built into the extensive instruction book that comes with this core pattern.  For sewers with a different learning style, we have also created four videos to get you started on fitting and pattern work for Eureka! Pants; find links to our You Tube channel on the Video Tutorials or Pants Help pages of the website.
Most pants sewers will want to print out our Guide to Zipper Application with instructions for inserting a lapped or invisible zipper in your pants.  There are many additional resources for Eureka! Pants on the Pants Help page of the website including tutorials for eliminating darts in a shaped waistband, underlining pants, and tracing off the pattern to start changing the style of your Eureka! Pants.
In addition to all of these goodies, you'll find links to practical sewing basics, such as guides to seam finishes, sewing a beautiful dart, choosing the right interfacing, and hand hemming, from the Helpful Hints and other hints page.  Links to fun stuff, such as free patterns to make an obi belt, pintuck pocket, and several varieties of fabric flowers, can be found on the Free Downloads page.
This still isn't everything you'll find on the website, so we encourage you to noodle around and make some discoveries on your own.  Want to catch up with us in person?  Find our upcoming events in the Event Calendar and subscribe to our newsletter and blog to keep up-to-date.  Need some of the tools we refer to in those video tutorials?  Shop for pattern paper and the curved ruler in Tools & Kits and our favorite interfacings in Fabrics in the online Shop.  Ready to start making style changes to your Fit for Art Patterns?  Check out the variation and detail patterns available for jacket patterns, knit patterns and pants patterns.
Have questions?  Contact Us and we'll do our best to help you sew successfully with Fit for Art patterns!
Happy Sewing, Carrie